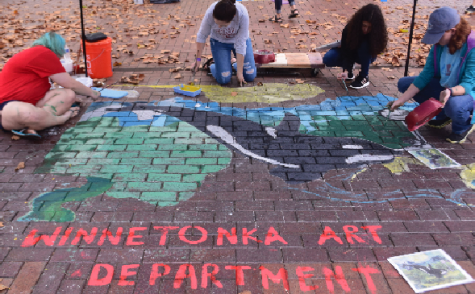 Matthew Payton, Layout Editor

October 19, 2018

Filed under Arts, Literary and visual
Adding color to Crown Center Square, Winnetonka's Art Department attended Kansas City's Chalk and Walk festival. Students who attended this event spent Sept. 8 and 9 painting the sidewalk at Crown Center. Among the students was sophomore Sadie Waggerman, who had also attended the festival last y...
Gage Rabideaux, Staff Writer

January 9, 2018

Filed under Arts, Literary and visual
An artist must be bold when preparing for figure drawing. When tracing the form of another human on a piece of paper, the line cannot be shaky, it cannot show hesitation. Instead it must be confident. Not only are these strokes daring and poised, but so are the artists behind each drawing. Whi...