A Game for All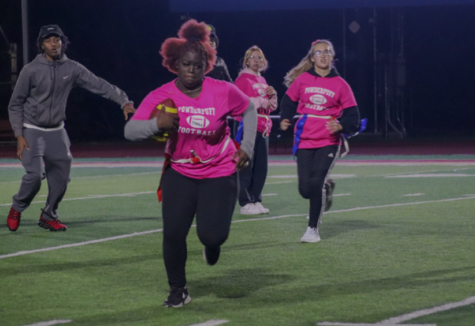 By Cheyenne Brown
Across the nation, schools host events to raise morale among their student bodies. Winnetonka has a special tradition of its own for this cause. Encouraging the students to work and engage with peers, Student Council held an annual event called Powderpuff.
"Powderpuff is a game between juniors and seniors, and they play flag football. The girls play flag football and the boys do cheerleading," junior Luiza Wakeman said, "It's done in two 20-minute halves where the juniors play the juniors and the seniors play the seniors. The winners from each of those play each other for the championship." 
Powderpuff presents a unique opportunity to have the junior and senior class interact in a team building, graduation class-oriented game. Underclassmen are given the opportunity to watch from the spectator stands in the new stadium. It also gives underclassmen something to look forward to. This event had been cancelled last year due to the pandemic. To make up for lost time, senior Eva Tracy made the decision to participate.
"What really encouraged me to play is that I am a senior and didn't get to do it last year and I really thought this was a good chance for me to participate in something," Tracy said, "It was really fun getting to have a group of girls to coach with and having an opportunity to represent my class and show that girls can do it too."
The game switches the typical gender roles expected of a game of football. It reinforces a more positive and accepting environment for the school. The game isn't just a simple game, but an event meant to create bonds and encourage friendly rivalries among what Tonka is now calling "scholars".
"Powderpuff definitely benefits the student body by encouraging us to work together as a team to do something we don't necessarily do," senior Gracie Brendle said, "Flag football is obviously not our expertise, but it's definitely a way to build trust and believe in each other to be there for a pass or the play."
Upperclassmen praise the game and encourage their younger peers to participate. It is a student led project and is interactive for each participant.
"It gives the student body a chance for the juniors and seniors to hang out with each other," Wakeman said, "The freshmen and sophomores get to come watch. It gives them something to look forward to when they're upperclassmen. It really is just a good experience."