Diving Through the Season
The Girls of Swim and Dive head to state at the end of their winter season.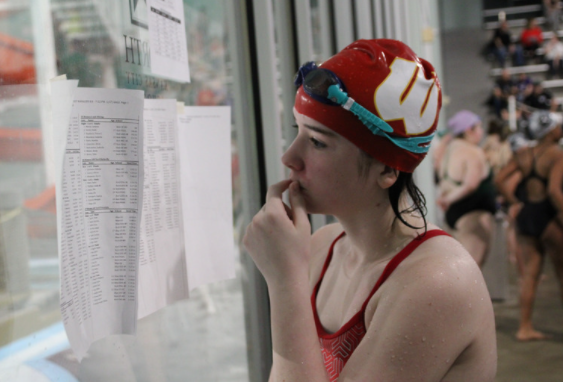 This winter season, six swimmers and one diver went to state on Feb. 17 and 18. Rebecca Callaway, math teacher and one of the swim and dive coaches, said that this was one of the best seasons they have had, with many new swimmers and even a new diver going to state, sophomore Caylen Weinzerl.
"Really anything that I do that's new, I'm very shy. I'm just a shy person in general at first, but with the help from coach Young and luckily I knew some girls on the swim team so it was like a very welcoming environment." Weinzerl said. "All the coaches there are amazing and luckily I had my friend Pinky [sophomore Layla Pina] there to kind of help me open up and be myself."
Even though swimming and diving are two different sports, the two work together by getting to know each other and competing at some of the same meets.
Though swim is mostly an individual sport, the athletes continue to help and encourage one another. Swim is a sport that is recommended by the participating athletes to try.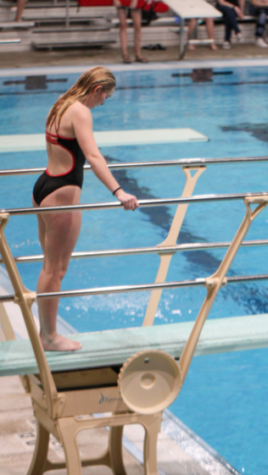 "I learned how to swim at the boys and girls club. We had a coach there that invited me to swim and I just really thought it would be a really good idea, you know? I was a shy kid, I didn't want to talk to anybody, I was like, 'Why not try something new?' She taught me how to swim when I was like nine or 10, so I've been swimming ever since." sophomore Sania Cay said.
Cay was one of the swimmers that went to state, placing top eight in one of her events. To qualify for state, the swimmers have to be top 32 in the state of their event. After qualifying for state, Cay and the other state swim and dive qualifiers walked through the hallway as students and teachers cheered for them. Six swimmers, one diver, and three relays made it to state, and Winnetonka placed 24 out of 50.
"Honestly, I feel good. I feel strong in the water, I know strength and conditioning is a big thing that helps me stay strong other than just swimming. I'm mentally strong, and so that also helps me in the water." Cay said.
Not only do the swimmers practice in the water, they also do strength and conditioning out of the water. Many of the swimmers have been swimming for years, with some also doing other sports like gymnastics that help with their technique when swimming or diving.
"It's exhilarating. It helps me drive, it helps me want to do more and just makes me feel really good about myself and just that feeling after you've done really well, just that feeling of accomplishment, it's amazing." Weinzerl said.