Principles of a Principal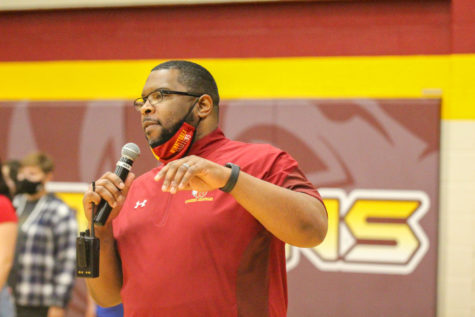 Winnetonka started the school year with a new principal, Dr. Edward Tate. Some students may be curious about who Tate is and what he wants for Tonka.When Tate first came to Winnetonka, there were multiple questions about who he was, especially coming back this new year after hybrid and online learning due to Covid. In the first week of school, students spent time with Tate in the auditorium, getting to know a little about him.
"Growing up, I had a pretty rough childhood, and I think that's one of the reasons I got into education," Tate said.
Tate explains that students' education means a great deal to him. He is trying to work on where we should be academically and believes that our school has a foundation to improve on.
"What I'd like to see from Tonka, is to be in a place where [we're] just really making huge strides and gains academically. I believe we have the scholars here that are intelligent enough, regardless of what their background is; what their home situation is, regardless of what color their skin is or how they identify," Tate said, "We have very intelligent young people walking the halls and sitting in the classrooms of this building."
Tate's view may be influenced by the perspective of an outsider. Before coming in as the school's new principal, Tate and former principal, Dr. Eric Johnson were in the Missouri Association of Secondary Principals together. Through this relationship, Tate got a better understanding of the school beforehand something Tate would like to see affect reaching our full potential. 
"I'd like for our freshmen to start off strong, I'd like for our sophomores to continue being strong, our juniors to stay strong, and we definitely need our seniors to finish strong," Tate said.
Tate believes that the students' limits are endless; that students at this school are strong and hard-working. He set goals for himself as the new principal, because he wants to be the best role model for the students as he can.
"[One] of the goals I set for myself is to be extremely visible to everyone," Tate said, "I want scholars here at Tonka to know that they have a principal that is here for them, is concerned about them and cares about them. One of the ways I feel I can show that is constantly being visible whether that's in the hallways, classroom and the cafeteria."