Charitable Pastries
To raise money for the Special Olympics, two groups banded together to organize a competition between staff.
During the Adam Sandler themed spirit week Mar. 31 through Feb. 4, the Booster club proposed partnering with Leadership to create a fundraiser for the Special Olympics.
"Booster club was personally in charge of the Special Olympics. When they came to us, our job was to create and host the fundraiser." Junior Leadership member Lan-Linh Tran said. "The partnership worked well since as Leadership alone, we aren't allowed to raise money, but the booster club didn't have the publicity or power to host something schoolwide as we did,"
After a brief planning period, Leadership had agreed to do a competition to pie staff in the face. Tran began searching for candidates for the competition.
"I started asking a selective group of freshmen, sophomores, juniors, and seniors [which] teachers they wanted to see get pied in the face. Then I created a list out of the most popular picks and emailed those teachers asking if they would like to participate. Nine teachers responded positively. I could only choose six out of the nine contestants to compete, however." Tran said."We also ended up having Dr. Tate participate too. When I was talking to him face-to-face and asked if he would like to compete, he gave a confident 'Yes…Even though I'm gonna win. Do you think there'll even be a competition,' so we had to have him in."
The process of asking staff had to be carefully laid out. During the last pie-in-the-face event, the participants were all pied rather than just a few.
"There were a lot of teachers who wanted to be involved with the fundraiser, but were also afraid of being pied in the face. I was told that a while ago we had like three contestants with one winner, but all three of them got pied instead of just the one. Staff didn't forget that experience. I had to promise most of the teachers that not all of them would get pied," Tran Said.
With all of the candidates gathered, the competition finally began during the first lunch of spirit week. Some students coordinated their donations as a group to get their preferred staff member pied.
"On one shift, five to six boys from the football team and N2Sports came up to us. They were talking about how they wanted Dr. Mr. Callaway to get pied in the face and asked me how the whole thing works." Junior Leadership member Kylia Valenti said. "After telling them that having either the most and least money in your bucket gets you pied, they started dumping money into every bucket that they thought had more than Dr. Mr. Callaway."
Once the winter sports assembly came around, precautions had to be taken before the results were announced.
"We were setting up during the assembly since other activities needed a lot of space. We had chairs lined up for the contestants and then we had parchment paper lined on the floor." Valenti said. "We wanted to leave as little of a mark as possible so the custodians wouldn't have a workload. We had also bought bonnets, goggles, and trash bags for the competitors to stay clean and safe."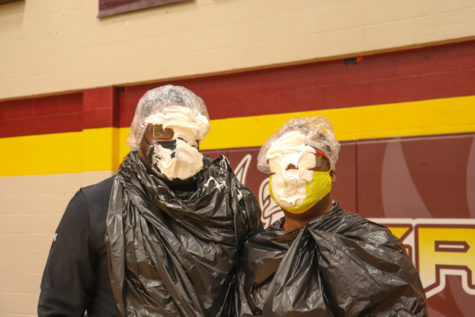 When Dr. Tate and Dr. Jason Callaway were announced as the winner and the loser, respectively, the student section had gone wild with excitement, according to Valenti.
"It took forever to get the freshmen to quiet down after the hype of pieing Dr. Tate and Dr. Callaway in the face. I think that's a good thing though." Valenti said. "It just seemed like the underclassmen were the ones that were amused the most. I heard students talking about wanting to do another pie-in-the-face next year as well."
Tran and Valenti also recognize that underclassmen donated the most money.
"Not only were they the most amused from the event, they were also the ones that donated the most money," Tran said.
With all of the fundraiser's successes, Leadership still feels that improvements are to be made in the next rendition.
"We didn't have time to print colorful pictures of the teachers' faces on the donation buckets. I remember some students coming up not knowing who some of the staff was by name. If we had pictures of their faces, students could very easily imagine donating to someone they haven't had in class." Tran said.