Brick by brick
The football team works on building foundations with new coaches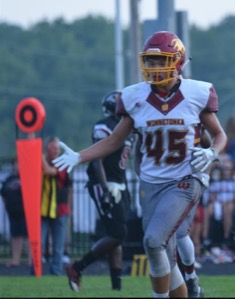 This year on the 2018 Winnetonka football team, positivity rains upon each player, promoting teamwork and a new mindset. A quote, introduced by the new football coaches, has motivated the teams to change. Among the few additions this year, such as new coaches and new players, their motto "Brick by Brick" stands out as their primary focus.
"'Brick by Brick' is about building our program from the ground up," inside linebacker Cozmo Crum said. "Our seniors are laying the foundation and are making a path for us to have success."
Although the last few years have not been the best for the team, they are focusing on the future.
"As almost everyone knows, we have not been the best in the last three years," Crum said. "We're changing that this year and building our program to a winning program."
Part of the new 'Brick by Brick' mentality includes dedicating time for football to improve the best they can.
"Our attitude is to win; that's our number one goal every week," Crum said. "Our breakdowns, warmups, and drills revolve around winning. We're always reminded that we are building a new program."
The players show how the motto has changed their attitudes through their practices.
"To me 'Brick by Brick' means coming in every single day and working to make yourself and the team better,"  cornerback Tyler Wilson said.
For the coaching staff, "Brick by Brick" has become a road map for the influence they hope to have on not only their athletes, but the Winnetonka community as well.
"It's a staple in our program as far as how we are going to build and change our culture among our kids," assistant coach Marcus Brinkley.