Awards at work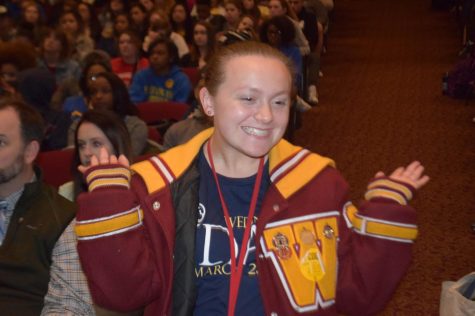 Sophomore Kelsey Cowden gets up in excitement when she hears her name for an award. Students like Cowden won awards for their work in journalism classes. Cowden won an All-Missouri award for her yearbook spread about clubs and what they do around the school, titled "Clubs at Work." All-Missouri is the first place award and is only given to approximately the top 10% of submissions. The Odyssey Yearbook, Griffin Rites and Broadcast staff attended Journalism Day at  the University of Missouri on March 28, where they hosted games and competitions to better their journalism skills. Students competed in photography, design, broadcasting and writing while some learned new techniques on how to stay organized and how to interview strangers.
"I was really surprised to hear my name for an All-Missouri award," Cowden said. "This was my first year in any kind of journalism class. I would want to go again. I learned so many new things and it was really fun!"
Photo by Derek Walsh.