Avid for AVID
Winnetonka selected as AVID National Demonstration Site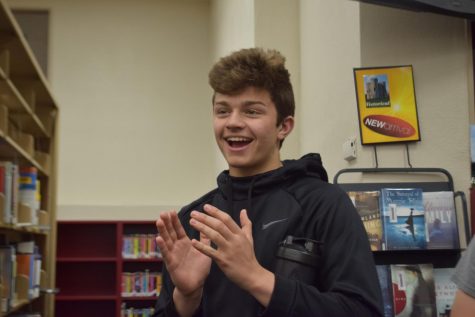 After months of preparation and meticulous evaluation, Winnetonka achieved the status as an AVID National Demonstration Site on March 14, the first high school in Missouri to do so.
AVID is a program designed to help students find success in high school and life outside of high school. AVID coordinator Todd Marcantonio and other staff worked to prepare students for this recognition since the beginning of the school year.
"I was pretty confident that we would get demonstration school status even though there were things that needed to happen in order to push through those last few barriers," Marcantonio said. "Winnetonka kids and families are very resilient. It's a community that is very proud and this just adds to this. We can say that we have something that no other school in the area has."
AVID students and staff traveled to the library at 1 p.m., where they were informed that they passed the criteria for the title of National Demonstration Site. In order to become a National Demonstration Site, a school must demonstrate school-wide achievement, an interest in college readiness, a committed AVID team and excellent use of AVID strategies, such as collaboration, inquiry and organization.
"This is a really big accomplishment for the school," junior AVID student Anna Rockers said. "We are the first demonstration high school. It's really an honor. The staff and the students have really been working hard to achieve this goal. Mr. Marcantonio has helped us be the best we can be by leading us and preparing us."
Winnetonka is the first high school in Missouri to achieve this status, leaving behind a legacy for the upcoming generations to maintain.
"I am excited about being a demonstration school because we worked all year for it," senior AVID student Katie Kalm said. "It's even more exciting since I am a senior, so we are the first seniors being a part of this legacy. We worked really hard for it."
Students are expected to have binders to hold their work, a key part of the organization piece of AVID. Also, to expand their collaboration and inquiry skills, students routinely participate in tutorial sessions where they collaborate with their peers to solve any homework problems they need help with.
"We worked on our binders, we perfected our tutorial sessions and so many other things," Kalm said. "We are leaving a legacy behind, everyone will know who we are and how hard we worked to get here."
During the ceremony, students and staff expressed their appreciation for the AVID program because of all the opportunities it has opened up for the students and community.
"It's pretty amazing because we're the first and I've been lucky enough to be a part of AVID since I got here, seven years ago," social studies teacher Jared Barge said. "There are so many great things about AVID, I can't even begin to tell you how good it is for our school."