Libraries for the little ones
Key Club accepts donations for Little Free Libraries project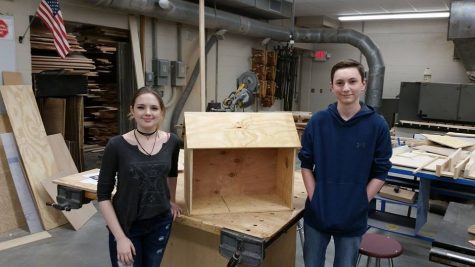 Key Club is requesting book donations for the Little Free Libraries project, a project that will allow elementary students access to free books all year round.
The project will place small boxes full of books outside of the six elementary schools whose students will eventually attend Winnetonka: Gracemor, Lakewood, Maple Woods, Ravenwood, Topping and Winnwood. 
"What we are doing right now is having a book drive so that we have books to go into the libraries," Key Club president senior Hannah Hernandez said. "We are planning to place the libraries in late April. We'd love to have those donations by then so we can set up the libraries outside the feeder schools fully-stocked."
Key Club hopes to positively impact elementary school students and allow them to read books at any time during the year.
"We are doing this because a whole lot of our elementary students are on free or reduced lunch, over half of our feeder elementary students I believe," Hernandez said. "They might not be able to go buy books or have their parents take them to a library in town, so having little libraries that are super local, a few blocks away, will help those students foster a love of reading and increase literacy rates."
The project is being funded by Key Club International, a youth service club sponsored by Kiwanis International, and the materials for construction will come from local sources.
"We have our prototype, built by Mr. [woodworking teacher Thomas] Fish and the woodworking department," Hernandez said. "Mr. Fish is also helping us get a lot of scraps. We are working with Ace Hardware to get us materials that have been damaged but are still useable. Most of the supplies are locally sourced."
Turn in any book donations to Carrie Marcantonio in C10A.