Celebrating World Hijab Day
MSA spreads knowledge of Islam and the hijab to students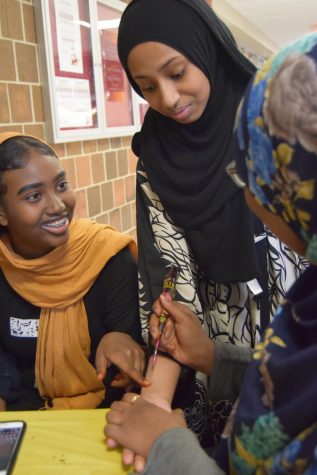 A group of Muslims and non-Muslims, all wearing hijabs, gather around a decorated background and smile together at a camera. At a table by a sign that says 'World Hijab Day,' Muslim students tattoo hennas onto the hands and wrists of other students, while they eat a traditional Sudanese cake. This is what the World Hijab Day looked like at Winnetonka.
"World Hijab Day empowers women who wear the hijab on a daily basis," president of the Muslim Student Association senior Arfon Abdi said. "I'm so happy that our school student body came out to support us and learn more information."
During their lunch period, many staff and students crowded around the tables that MSA set up outside the lunchroom – blocking most of the hallway – just to see what World Hijab Day was all about. Social activist Nazma Khan started World Hijab Day on Feb. 1, 2013, in order to negate the negative stereotypes facing Muslim women.
"Growing up in the Bronx, in New York City, I experienced a great deal of discrimination due to my hijab," Khan said on worldhijabday.com. "In middle school, I was 'Batman' or 'ninja'. When I entered University after 9/11, I was called 'Osama bin Laden' or 'terrorist.' It was awful. I figured the only way to end discrimination is if we ask our fellow sisters to experience hijab themselves."
World Hijab Day is also about empowering women who wear the hijab. Outside of the lunchroom, members of MSA put hijabs on other students and staff members.
"I wear a hijab for my religion basically… Hijab is to be modest, but not only in your appearance, also in your character," Adbi said. "I definitely think that hijab empowers me, and allows me to be myself."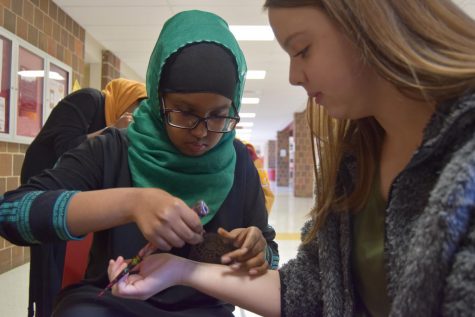 MSA also set up tables where any other students could eat traditional Sudanese desserts, get a henna or play a true/false game about Islam.
"For MSA, we hold a lot of informative events, and we try to make them really fun stuff," Abdi said. "So what we try to do is enlighten our total peers about our religion and to break the stereotype, so they understand who we are and what our religion is about."
MSA is open to sharing about their culture and religion to anyone interested, according to sophomore Ramla Ahmed.
"I just want you guys to know that we love all," Ahmed said. "We don't hate. Everybody's welcome. You guys can come [to MSA] if you all want to learn about Islam, you guys are welcome any day."
______________
Also, to find about more about the Muslim students at Winnetonka and their advocacy for acceptance go to https://tonkanews.com/3528/showcase/us-or-usa/ and scroll down the the feature story 'The image of Islam.'