Winnetonka publications earn First-Class national rating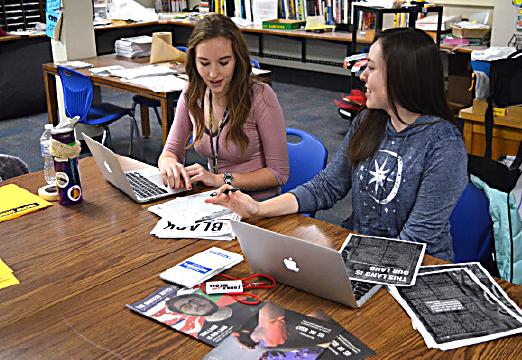 Both Winnetonka High School print publications, Griffin Rites newsmagazine and Odyssey yearbook, received a first-class rating from the National Scholastic Press Association (NSPA) based on publications produced during the 2016-2017 school year.
The publications are scored in different categories, including coverage, photography, writing, and design.
Griffin Rites staff submitted six of their last year's issues for the critique last summer and received the final critique back on Jan. 19. In addition to the First-Class rating, Griffin Rites staff earned two Marks of Distinction from the judges in Coverage & Content and Presentation for exemplary work in those areas. Last year's Griffin Rites editor-in-chief was Rachel Adamson.
"Overall the Winnetonka High School paper is very well done and demonstrates great editorial direction," NSPA judge Natalie Maitland said. "There were numerous visual layouts which I found especially creative and refreshing. From the use of illustration to infographics, these elements demonstrated a sense of teamwork at the paper (as they take the skills of more than one) to put together the copy, layout and creative design elements to pull off these great looking pages. There were some fresh ways this content was presented that I hadn't seen in other student newspapers before."
Last year's Odyssey editor-in-chief was Mia Norsworthy. Both publications staff members received compliments from the judges for outstanding photography work.
"Your photographers have proven they have the ability to take great action shots," NSPA judge H.L. Hall said. "Overall, you have created a book your school and community can take pride in."
Earlier last year, Winnetonka's online news site Tonka News Online also received a First-Class rating and was nominated for a national Pacemaker award, NSPA's top award for high school journalists.
"I'm super proud of our journalism students and the work that they did last year and that they continue to do this year," journalism adviser Laura Williams said. "We go over both the strengths and the weaknesses that the judges give us with this year's staff members and use them as a learning tool. They are really working to maintain the high level of quality they produced last year and push just that little bit extra they need to make their publications even better this year."