A helping hand
Senior Arfon Abdi honored with President's Volunteer Service Award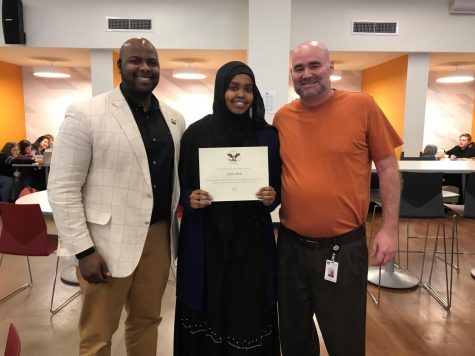 After being inspired by mentors and teachers in her community, Senior Arfon Abdi's love for helping people led her to receive the President's Volunteer Award on Feb. 21 for her volunteerism.
The award is given to Americans of all ages who have dedicated a copious amount of hours volunteering in their community. For young adults, the award can be achieved by volunteering for over 100 hours in a 12-month time period, and is awarded by the The Prudential Spirit of Community Awards program. Abdi has volunteered at her mosque for over eight years and has been working with school organizations since her freshman year.
"My love for service has been inspired by so many different people in our community, especially my mosque mentors and Mrs. Marcantonio who introduced me to volunteering here at Winnetonka during my freshman," Abdi said.
Abdi has been working toward receiving the Prudential Scholarship since the fall of 2017, when she was nominated by the school, but she said her love for serving the community goes far beyond wanting an award.
"I believe that dedicating your time to helping others and trying to make a difference is incredibly valuable," Abdi said. "I think that service is all about devoting the time and energy you have been blessed with to those who need assistance."
Abdi has spent over 100 hours volunteering at Chouteau Elementary, where she believes she positively impacts students as well as herself.
"Not only have my service experiences made a positive difference within my school and community, they have allowed me to grow as an individual," Adbi said. "I will continue to strive to make our world a better place because I have been blessed with the opportunity to create change."
Adbi said she was "incredibly surprised" when she was presented the award by principal Eric Johnson and AVID coordinator Todd Marcantonio.
"The President's Volunteer Service Award is difficult to achieve," Adbi said. "I am extremely humbled to have received this honor."