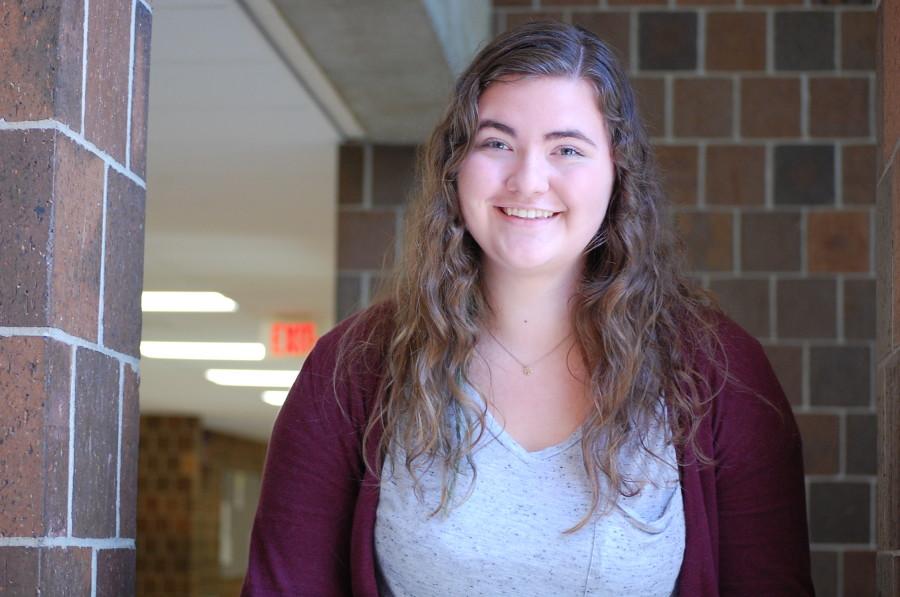 By Paige Hale
Senior Mallery Zion is the Griffin Rites editorial editor and poll editor. She has been in newspaper for two years. Zion is passionate about newspaper and hopes to make journalism a career for herself.
"Being on staff is a cool, bonding experience. That strengthens my love for writing, and this is the first time I've gotten my writing published and that was an awesome experience," Zion said.
Zion is super involved in school activities including:  newspaper, orchestra, national honors society, quill and scroll, German four and Gold Medallion. Zion wants to major in English and Journalism at Missouri State.
This summer Zion visited Germany for three weeks and was an exchange student.
While being involved in church, Mallery is also involved with instruments. She can play the bass, guitar, harp, mandolin, piano, viola, and the ukulele.
"I'm grateful to have this experience with the staff so far, I'm glad to spend my last year with the newspaper family," Zion said
Mallery Zion, Editor
May 01, 2016

State Music Festival

(Story)

Apr 24, 2016

Fiddles in fiddle country

(Story)

Mar 22, 2016

Theatre department in New York

(Story)

Jan 04, 2016

Future is near in downtown KC

(Story)

Jan 02, 2016

Opinions uploaded to The Cloud

(Story)

Dec 24, 2015

Orchestra inspires community

(Story)

Oct 27, 2015

Soccer comes to an end

(Story)

Oct 07, 2015

Winnetonka Homecoming 2015: Night of the Dragon

(Media)

Feb 10, 2015

The Secret Life Of Your Favorite Teachers; Henry Bullock

(Story)

Jan 14, 2015

Middle schoolers expand technology resources

(Story)

Nov 04, 2014

Suspensful thriller keeps viewers on the edge

(Story)

Oct 01, 2014

Tonka teens take to Jamaica to rebuild homes

(Story)

Oct 01, 2014

KC Man charged with murder

(Story)

Oct 01, 2014

Robotics swears to secrecy of bot in progress

(Media)