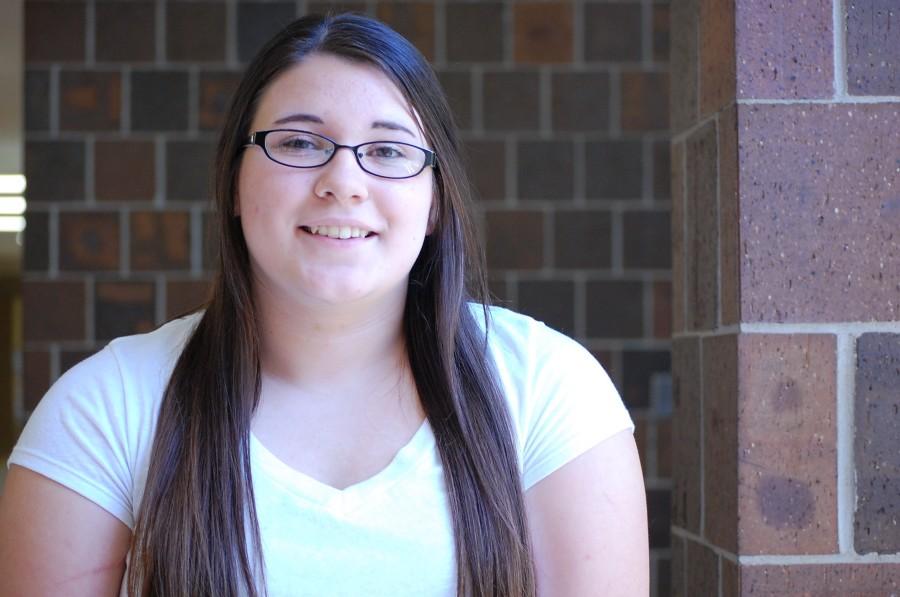 By Marley Kennaley
Junior Kaitlyn Minet is a writer and photographer for the Griffin Rites. This is Minet's first year on the staff.
"This year I'm trying to become more involved at school," Minet said, "I feel like this goal has helped me come out of my shell and meet new people."
Minet enjoys reading and writing and she hopes that she can make a career out of writing.
When she is not doing things for the paper, she participates in the environment club and she helps out her neighborhood by babysitting.
Minet believes that being on staff will help her achieve her goal of connecting with others and being involved in the world around her.
"Being on the paper has helped me communicate more and be more open," Minet said.
Kaitlyn Minet, Writer
May 17, 2017
May 17, 2017

Behind the win

(Story/Media)

Apr 15, 2017

Artists adventure around the city

(Story/Media)

Mar 14, 2017

Band, choir and orchestra students go to State

(Story)

Mar 13, 2017

Tonkanews announced as finalist for Pacemaker award

(Story)

Mar 11, 2017

Senioritis: stressful or stress-free

(Story/Media)

Mar 10, 2017

Hardwork paid off

(Story/Media)

Mar 08, 2017

Regional showcase success

(Media)

Feb 23, 2017

Wrestling to state

(Story)

Feb 16, 2017

We know the answer

(Story/Media)

Feb 14, 2017

Behind the broadcast

(Story)

Feb 13, 2017

Never too young to cheer

(Story/Media)

Feb 11, 2017

Foreign teammates

(Story/Media)

Feb 09, 2017

Wrong answer, right practice

(Story)

Jan 24, 2017

These boots were made for marching

(Story)

Jan 24, 2017
Jan 18, 2017
Jan 13, 2017

School ensures safety

(Story)

Dec 14, 2016

Huddle for Hope

(Story/Media)

Nov 30, 2016

All-District Choir

(Story/Media)

Nov 30, 2016

All-District Band

(Story)

Nov 14, 2016

The growth of Griffin Grounds

(Story)

Nov 05, 2016

Election: Millennials vs. Gen. X

(Story)

Nov 02, 2016

Lights Out Day

(Story/Media)

Oct 19, 2016

Senior Night for Football

(Story/Media)

Oct 19, 2016

Senior Night Football

(Story/Media)

Sep 21, 2016

Modernized buses save money

(Story/Media)

Aug 12, 2016

Football Jamboree

(Story)

Mar 25, 2016
Mar 17, 2016
Feb 11, 2016

Green grams

(Story/Media)

Jan 03, 2016

Executive orders on the way

(Story)

Dec 29, 2015

China taking a step back?

(Story)

Nov 18, 2015

Winnetonka Blood Drive 2015

(Media)

Oct 28, 2015

Chicago man charged with Child Endangerment

(Story)

Sep 10, 2015
Sep 08, 2015

Fall play is in action

(Story)