Speaking up
Students participate in walkout to end gun violence
March 15, 2018
One month after the shooting at Stoneman Marjory Douglas High School in Parkland, Florida, more than 500 students participated in the #Enoughisenough national school walkout during Tonka Time from 10 to 10:50 a.m. on March 14 to raise awareness about the effect of gun violence on school safety.
The students wore orange, representing the national school safety color and the official color of the #Enoughisenough movement. Hunters wear the color orange to order to let other hunters know that they are nearby and to not to shoot, and according to junior Joe Bell, this also symbolizes awareness of student safety – to 'not shoot'.
"I am here because I believe that the voices of the students will be the change in the world," junior Rosie Rodriguez said. "And if we can show that our voices are heard, then in these types of situations we can get through them together rather than having someone struggle. We can be a community to help each other and have love and know that we are safe."
Carson Smith
Bell, junior Katie Bullock and senior Danielle Dodd organized the march and are also organizers of March For Our Lives Kansas City which will take place in Theis Park in downtown Kansas City on March 24. The purpose of this walkout was to bring unity as well as to emphasize the value of student lives and their right to a safe learning environment, according to the organizers.
"This is not just a walkout. It's not just a march," Bullock said in her speech during the walkout demonstration. "This, us, we are a generation and I hope we are the generation that can turn around the proliferation of gun violence because I never want there to be another Parkland."
Though many students participated in the walkout, some decisively did not, including junior Donna Zack.
"I decided not to go because I don't think that walking around a track and talking about something will make a big difference," Zack said. "I feel like most people went out there for the wrong reason. There was a majority of people that went out there to actually be supportive and raise awareness, but I think that some people saw media attention, they wanted to post things on Snapchat and make fools of themselves instead of actually be there for the cause."
Although the walkout itself took fifty minutes, Bullock emphasized in her speech that the purpose of the march must carry on past that time.
"But it doesn't stop here. It doesn't stop on this track. This has to carry into your classrooms and your living rooms," Bullock said. "This is not just a march, it's a movement. And I ask that we carry this movement in our thoughts and in our voices instead of in our backpacks because silence will not change a thing like this."
According to teachers and administrators, the National Education Association told teachers they were not allowed to participate in the student march. However, in the organization of the walkout, student-organizers discussed the plans with the principal Eric Johnson regarding possible safety concerns.
"A few days after Joe and I initially met with Johnson, he pulled us back into his office and told us he was worried that this many people in one place would spell just another tragedy," Bullock said. "I didn't understand what he meant at first. I was confused, and then it hit me. When you plan a march for peace, you should not be worried that it will turn into a shooting. This is why I march."
In an email to parents, Johnson stated the impact of the walkout on the school day.
"Finally, I want to reiterate that there was very little interruption to instructional time. We continued school schedule as normal, so when the bell rang for Advisory, teachers went to those locations to serve the kids who chose not to participate in the demonstration," Johnson said. "I can say with pride that the focus of the demonstration was on unity and not promoting partisan discussions. The students were well-organized and purposeful in their actions."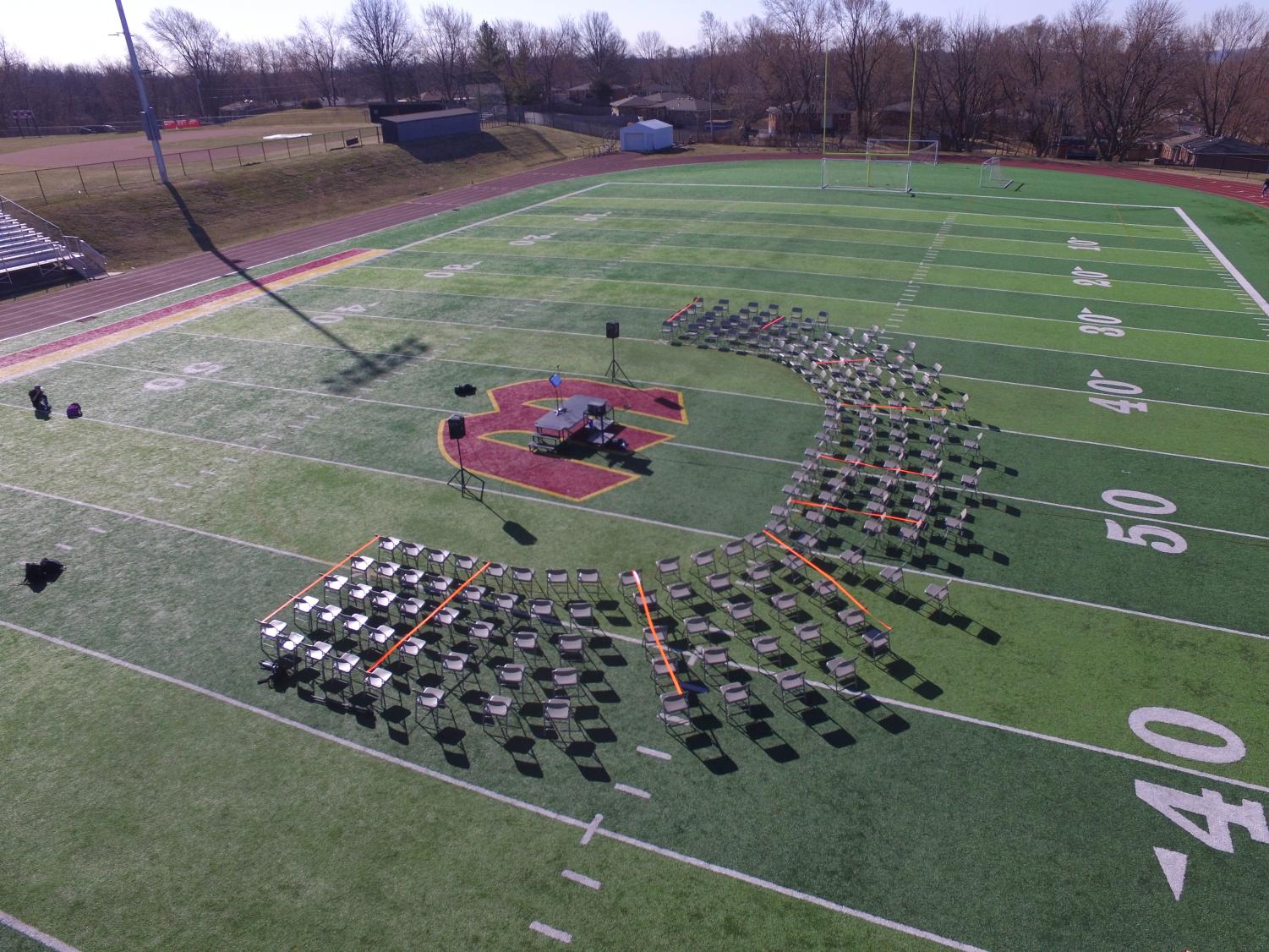 Nearly 170 taped-off chairs were set-up behind the stage to represent the number of student lives lost in school shootings since Columbine, a shooting that took place in 1999 – the birth year of many seniors. Bell started the walkout by addressing this fact, as well as the purpose of the walkout.
"No matter what race, religion, gender or background you are, as students we are all affected by school shootings," Bell said. "It could've been here. It could've just as easily been me, or you, or you, or you, or any of us here today… The reasons we have gathered here to demonstrate and project our voices is for our fallen students and staff around our country who no longer have the voices to speak for themselves because they have been gunned down. We must not lose this chance to demand action. We should not be marching for our lives, but that's exactly what this is."
After Bell's speech, demonstrating students marched on the track for 17 minutes, in memory of the  17 victims of the school shooting in Parkland, Florida. Students also led chants during the march such as "Just love. No hate. We just want to graduate," and "Our lives matter," and "We want change." When the walk concluded, three more speakers – Bullock, Dodd and senior Harper Ross – shared their own speeches with the participating students.
"Change is something that is hard to come by. Change is something that takes pushing and pulling and a never-ending amount of work," Dodd said in her speech. "…The prerogative to learn should always trump the prerogative of weaponry. I want to feel safe in my school. I want my 10-year-old brother to feel safe in school. I want my 6-year-old brother to feel safe in his school. I want the kids I see every day to be safe in our school. It is ours. It is our place that we create and add to and whether you hate this place or pour your heart and soul into Winnetonka, you deserve to be safe. We all deserve to be safe."
Ross concluded the walkout telling students how they can make a difference beyond the walkout.
"I just want to, just as everyone else has, thank you all for coming out here today, for using your presence, your voice to stand up for something you believe in and something that affects us all – school safety," Ross said. "Today we were given the opportunity to exercise our voices for our cause. And in a world rich with injustice, we cashed in our right to speak out. Today at the end of our march, our protest will end, but at 10:17, we do not have to go silent. While it may seem sometimes what we think means nothing, today we proved that it means something, today we made our thoughts mean something. And through the most basic forms of activism and community engagement, we can continue to make them mean something."
Ross then urged students old enough to vote to do so and encouraged students to text the word RESIST to 50409 to find who the representatives are in the area where they live, so they can contact them. At the end of the demonstration, students were given orange slips of paper to write down their thoughts regarding gun violence in schools, which were placed on the inside pillars by the main entrance.
According to Johnson, the demonstration was finished by 10:50 a.m., in time for students to go to their third block class. Johnson stated that though "students missed their academic intervention time, classroom instruction time was safeguarded," in an email sent to parents after the walkout.
Other schools such as Park Hill South reportedly penalized students for their participation in the national high school walkout by counting them as tardy and administering lunch detentions. While the administration at Winnetonka did not condone this walkout, they did not stop or discipline students in any way but instead provided additional police security on campus to ensure student safety.
"I want to say thank you to them [police officers at the school]," Bell said. "Student safety is why we're here, and they provided it for us."