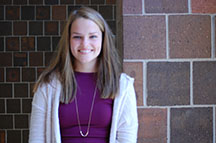 By Emily Elliott
Junior Rachel Adamson has been on the Griffin Rites for two years now and is currently the Design Editor.
"I think that being on staff will help affect my career choice," Adamson said.
She enjoys the laying out pages and photography because she is able to use her creativity on paper.
Other than newspaper, Adamson is involved in swim and track.
Although she does not know what she wants to do after high school, she is set on attending the University of Missouri in Columbia.
Adamson's goal this year is to win All-Missouri at Journalism Day for the paper and the website.
Rachel Adamson, Online editor in chief and lead design editor
May 17, 2017
Apr 24, 2017

Wall of positivity

(Story/Media)

May 17, 2017
Apr 15, 2017
Jan 18, 2017
Feb 24, 2017

Hungry Hippo

(Story/Media)

Mar 10, 2017

LTAB poetry club moving onto semifinals

(Story)

Mar 07, 2017
Mar 07, 2017
Mar 08, 2017

Regional showcase success

(Media)

Mar 02, 2017

Mike Espinosa receives coach of the year

(Story/Media)

Jan 30, 2017

Griffinettes Get the Gold

(Media)

Jan 12, 2017

Interim principal appointed after principal is arrested

(Story)

Jan 11, 2017

Carolyn Knapp wins Teachers Who Inspire award

(Media)

Dec 21, 2016

Warming the holidays

(Story/Media)

Nov 30, 2016

All-District Band

(Media)

Nov 11, 2016

Bleeding Red and Gold

(Media)

Nov 30, 2016

Land of the free, home of the fearful

(Story)

Nov 14, 2016

The growth of Griffin Grounds

(Media)

Oct 05, 2016

The Crowning Moment

(Media)

Oct 27, 2016

Academic Lettering Ceremony

(Media)

Sep 23, 2016
May 13, 2016
May 08, 2016
Mar 30, 2016

McTeacher Night

(Story/Media)

Mar 22, 2016

4 flowers blooming in Kansas City

(Media)

Mar 18, 2016
Mar 14, 2016

Cheerleading tryouts

(Media)

Feb 23, 2016

8 clubs you may not have known about

(Media)

Feb 22, 2016
Feb 08, 2016

Blackout dance

(Story/Media)

Feb 04, 2016

More than just a number

(Story/Media)

Feb 04, 2016

#blackoutbullying

(Media)

Feb 02, 2016

Hammer the Grammar visits for encouragement

(Media)

Dec 01, 2015

Double the dedication

(Story)

Nov 24, 2015

All the way for United Way

(Story/Media)

Nov 05, 2015

Royals Celebration

(Media)

Nov 02, 2015

School cancelation for Royals celebration

(Story)

Oct 28, 2015

Coming to 48th Street

(Media)

Oct 27, 2015

Cross Country Districts

(Story/Media)

Oct 27, 2015

STUCO Haunted House

(Media)

Oct 09, 2015
Oct 07, 2015

Winnetonka Homecoming 2015: Night of the Dragon

(Media)

Oct 01, 2015

Westboro Baptist Church pickets Oak Park High School

(Story/Media)

Sep 28, 2015

Super Blood Moon Eclipse

(Story/Media)

Sep 18, 2015

2015 Homecoming candidates

(Story/Media)

Sep 10, 2015

Fire at apartment complex in Claycomo

(Story/Media)

Sep 04, 2015

Cross Country Nationals Race

(Story)

Feb 11, 2015

Tonka in 650 students

(Story)

Feb 10, 2015

The "Putnam" bee was a site to see

(Story)

Jan 15, 2015

In the blink of an eye

(Story)