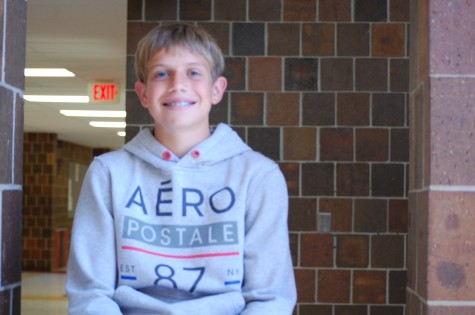 By Emily Elliott
Sophomore Hayden Weatherman is a writer and photographer for the Griffin Rites.
Weatherman has a passion for soccer and Photoshop, and hopes to use more of his Photoshop skills throughout the newspaper.
"Photoshop lets me do whatever I want. It lets me so stuff I never thought I could do," Weatherman said
He wants to become a sports reporter because he enjoys reading sports statistics and fantasy football.
"Fantasy football gives me something to do since I don't play football," Weatherman said.
Hayden Weatherman, Writer
Jan 03, 2017

Heading in the right direction

(Story)

Dec 21, 2016

Where the fundraising money goes

(Story)

Dec 16, 2016

Tumbling into second

(Story)

Nov 09, 2016

Griffin Grounds up close

(Story)

Aug 12, 2016

Football Jamboree

(Media)

Apr 13, 2016

5 of Kobe Bryant's memorable moments

(Story)

Dec 01, 2015
Nov 09, 2015

Hunger Strike Stands on Mizzou Campus

(Story)

Oct 28, 2015

Game One of the World Series

(Story)

Oct 26, 2015

Royals take the pennant for second season in a row

(Story)

Oct 26, 2015

Game Five of the American League Championship Series

(Story)

Sep 14, 2015

Military Appreciation Football Game

(Media)