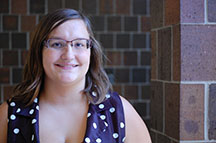 By Abi Hutton
Senior Amber Murray is the co-copy editor of the Griffin Rites and has held an editor position in the newspaper since her sophomore year.
"I joined the newspaper staff because my sister was editor in chief my freshman year and I wanted to follow in her footsteps," Murray said.
Besides being on the newspaper staff, Murray is also in Key Club, Scholar Bowl, and Theater.
While balancing these extracurricular activities, Murray is also eighth in her senior class and the only person left in the fourth year of the Biomedical Program, which she considers her greatest accomplishment thus far since she did all of this while overcoming the limitations of a heart condition.
Murray is aiming to graduate with the Gold Medallion diploma while remaining in the top ten of her class.
Post high school she would like to go to the University of Minnesota, where she plans on getting her undergraduate degree and then going through their medical program in order to graduate as a Forensic Pathologist.
"Even though I have a heart condition, it doesn't define me. The only thing that defines me is my work," Murray said.
Amber Murray, Co-copy editor
Apr 06, 2016

Journalism today at Mizzou

(Story)

Mar 10, 2016

6 spring sports to look forward to

(Story)

Feb 22, 2016

Robotics rushes to finish

(Story/Media)

Dec 24, 2015

Wrestling team works on safety feature

(Story)

Dec 21, 2015

Winter is officially here

(Story)

Dec 16, 2015

Environmental Action

(Story)

Oct 16, 2015

School threat update

(Story)

Oct 16, 2015

School threat leads to investigation

(Media)

Oct 09, 2015

48th Street Players debut improv show

(Story)

Sep 08, 2015

Academic team strives to surpass expectations

(Story)

Aug 20, 2015

Winnetonka; Safe Sports School

(Story)

Feb 10, 2015

Priest looks like a lady

(Story)

Jan 15, 2015

Schools bury the hatchet to collaborate on stage

(Story)

Nov 04, 2014

Reeves urges kids to grow as individuals

(Story)

Nov 04, 2014

Smith expands postsecondary options

(Story/Media)

Oct 03, 2014

District test scores soar

(Story)

Oct 01, 2014

Robotics swears to secrecy of bot in progress

(Story)