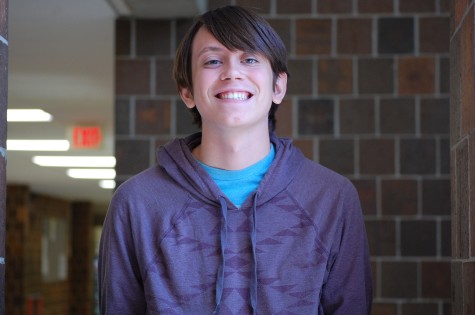 By Kaitlyn Minet
Junior, Marley Kennaley is a cartoonist and writer. This is his second year on the Griffin Rites staff.
"My goal is just for things to go the right way like getting a car, college and a job." Kennaley said.
Marley wants to go to the University of Missouri in Columbia and pursue a job in journalism.
He enjoys drawing and animating comics.
He is also fascinated with movies and how they are created. He enjoys observing the way movies are made because it is his favorite pastime.
He wants to continue in journalism as a career and get an internship at Kansas City Star. If he does not get an internship he would like to shadow a cartoonist.
"I've been the happiest I've ever been since I joined newspaper," Kennaley said.
Marley Kennaley, Comic strip and writer
May 13, 2016
Feb 14, 2016

New decal for the Tonka Nation

(Story)

Dec 11, 2015

Key Club Expands to Help Around the World

(Story)

Oct 29, 2015

Why Didn't the Skeleton get Invited to the Party?

(Story)

Oct 26, 2015

Tennis team grows

(Story)

Sep 08, 2015

Local store offers inexpensive fun

(Story)

Jan 14, 2015

Cookies, coffee and caroling for charity

(Story)

Oct 28, 2014

Veterans deserve a fighting chance

(Media)