Park provides haven for nature lovers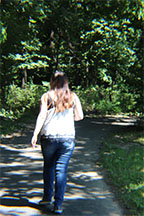 When suburbs and building have become a norm for the community, Happy Rock Park is a sanctuary for the nature lover.
Happy Rock Park is located in Gladstone on NE Antioch Road, making it a short distance to travel to have fun and unplug from technology.
The park offers a variety of spaces for various activities including a play ground for children, several soccer and baseball fields for athletes, and a mile-long waling trail that is well suited for runners.
While the park does not allow bicycles or roller-skates on their trail, it allows all ages to enjoy a leisurely walk or run.
What is truly unique about Happy Rock is the nature trails that are able to paint a landscape away from the technological world.
The trails lead down to a wide creek teeming with life. It is perfect for children to play and stomp in the mud, or for the painter looking for a beautiful nature landscape.
Junior Marina Sakata visited the park on Sunday, August 23, where she enjoyed the escape from  modernized culture.
"It[the park] felt like I was in the middle of nowhere. It was nice to be able to feel connected to nature and get away from our fast paced society," Sakata said.
While the park offers a space for nature enthusiasts, the park offers so much more for anyone who just wants to get away from home and feel the sunshine and enjoyment of outdoor activities.
Overall, Happy Rock Park deserves an A rating.