Smith expands postsecondary options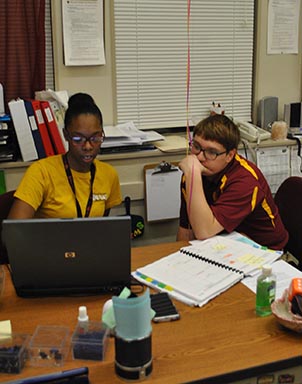 Pebble Smith is a new college advisor who has set high expectations towards herself for the year.
Before coming to Winnetonka Smith worked on campus at the university of Missouri-Columbia.
"I just graduated from the University of Missouri-[Columbia]. I worked in the department of student activates on campus and at the girls and boys town off campus," Smith said.
So far Smith is enjoying her time as a college advisor.
"Winnetonka is very supportive. I love that it is so welcoming, and how everyone is so friendly," Smith said.
The students enjoy how friendly Smith is.
"She is a sweetheart. I see her in the hallways and she is always upbeat and cheery," senior Desiree Brown said.
The advisors only complaint is that they have not seen as many students as they would like.
"We would love to see more seniors and juniors in our office," Reeves said.
She plans on giving students ample opportunities to prepare for college.
"We have a UCM tour coming up in November. We have other events too but the dates are tentative. We have a Spanish college info night, a military info night and a financial aid night," Smith said.
College Advisor Paul Reeves is grateful to have Smith working with him.
"I can't imagine myself being anywhere else," he said.
Smith's hope is to help more students go to college.
"Our goal is to increase the college going culture at Winnetonka," Smith said.
Together Smith and Reeves hope to give more students options after high school.