Galloway retires to the woods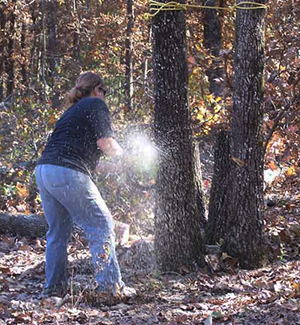 While some spend their retirement on expensive cars and big boats, English teacher Amy Galloway has another plan to spend her earnings.
In 2008, Galloway started constructing her own cabin that she plans to make her home.
She hopes to finish and move in around May of this year and retire from teaching.
"I love teaching and I love the kids. The thing is… I just want to do this," she said.
Galloway plans to have a fully functional farm. Her property
sits on 40 acres and, if everything goes as planned, will make her completely self-sufficient.
"I want to have a kind of green-living retreat. I want to be able to teach people how to live off the fat of the land," Galloway said.
When she finally makes the move from city life to farm life, part of her income will come from the retreat and the rest will come from the product she raises.
"I want to be able to raise goats and animals without chemicals," Galloway said.
This dream of hers began in 2008. Since then, she has made tremendous progress, having family and friends help her reach her goal.
Although she receives help every so often, she does most of the work herself.
"It's a regular building right now. Actually, a lot like a Lego house. But it began with an eight foot frame," Galloway said.
The cabin does not have running water
or any type of indoor plumbing.
Using water barrels, Galloway catches rainwater in order to bathe while staying there.
"It makes you very conscious of the things we have in our society," she said.
Galloway is fully invested
in her dream and plans on using retirement money to give her the last push she needs.
"My whole point is, yes it's terrifying, but there's something to be said about seeing the process of your work and appreciating what comes out of it," Galloway said.
With the accomplishment of this dream comes another; with more time on her hands, Galloway plans to finish writing her own book.
Her fear of failure is minimal compared to the yearning she has for reaching her life goals.