Tonka teens take to Jamaica to rebuild homes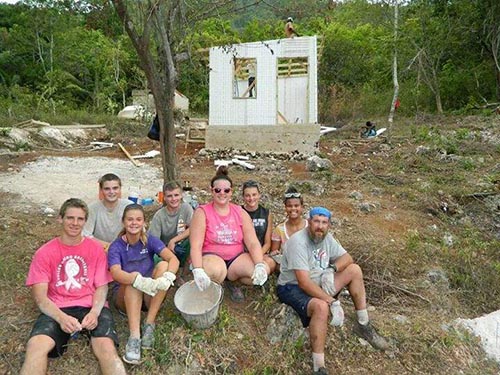 This past summer senior Amber Parker journeyed to Jamaica for a humbling mission trip with her youth group from Winnwood Baptist Church.
After strategic planning and fundraising, Parker and her group traveled to their destination; Harmons, Jamaica.
"We did over a year and a half of fundraising," Parker said.
The group and their parents fundraised in a variety a ways from having soup and venders at their church, to a car wash at Quiznos and also having the parents work concession stands at Chiefs and Royals games.
Amber's mother, Susan Parker, was a great contributor to the group effort and went along on the trip.
"All of it was hard work, but we had lots of fun doing it as well," Susan said.
It took them an hour and a half flight to North Carolina and three more hours to Jamaica. The plane ride was worth it to help a family who needs it.
"You don't have to take a trip to Jamaica to be able to help someone in need," Susan said.
The group has numerous permanent memories the citizens instilled in their minds.
"We met this deaf local boy while working on a house and he was protective of the Americans and wouldn't let the Jamaicans talk to them even though we couldn't really communicate anyways," Amber said.
The parents treasured seeing their youth absorbing such a cultural exposure.
"We had one free afternoon where the kids could take a walk up the mountain to Stickman's house, or they could go play soccer with the kids of the community, while others stayed at Harmony House, got their nails done by a lady in the community or there was a barber that came to shave designs in your hair," Susan said.
Experiencing the high poverty rates and conditions of Harmons, the group is much more grateful for what they have here at home.
"It was very eye opening for the kids to see that the life they have here in the United States isn't such a hard life compared to what the men, women and children of Harmons Jamaica live," Susan said.
After a week of work, the group stayed in Ocho Rios at a resort, visited the beach and loaded into a boat to go snorkeling. They appreciated the refreshing water after such a hot workweek.