Robotics swears to secrecy of bot in progress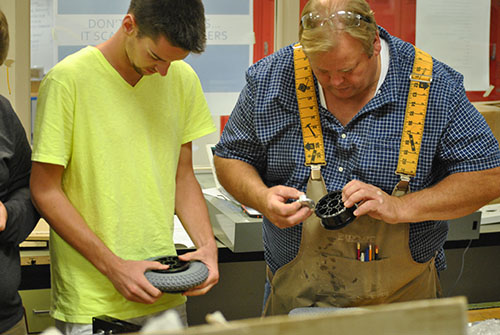 Robotics is doubling their teams and efforts to create a bigger, better bot. They have added another section to their team.
"We are building up a business side of the team. The business side is accountants, programing staff for the website, fundraising, and marketing," advisor Joseph Morse said.
The new business team will be in charge of contacting corporations and encouraging them to support robotics.
"The business team must come together to find any corporate contacts, and solicit support, by presenting Winnetonka robotics to them," Morse said.
There are many parts to the robotics team each member must master.
"Students are divided into different departments such as pit crew, builders, designers, programmers, while also divided into the business side. We all work together but we are specialized," senior Lindi Oyler said.
The first priority of the robotics team is a pride bot.
"We are going to build Griff, the pride bot," Morse said.
However, the entire robotics team was sworn to secrecy on the details of Griff.
The robotics team has already started collecting funds.
"Reach for the Stars Inc. gave us $2,000, our fundraising goal is $15,000," Morse said.
The size change in robotics could be a blessing or a curse.
"From a design perspective two or three or four or five eyes are better than one. From a build perspective it is nice to have more people to know the ins and outs of the bots," Oyler said.
The team will continue moving forward towards their goals with Griff and their competition bot.