Tackling goals off the field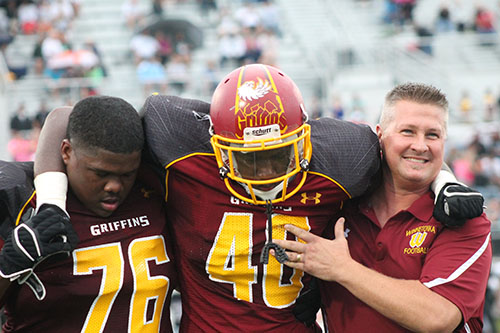 Brianna Hartleb, Social Media Editor, Business Manager, Staff Writer, Photographer
October 1, 2014
Through a little hard work and determination the football team will continue their dreams.
Football coach Sterling Edwards strives to help athletes achieve their goals of continuing to play football.
"My favorite part about coaching is helping kids chase their dreams," Edwards said.
For sophomore Djimon Colbert playing football in college is a dream that he is on his way to achieving.
"I have been offered a football scholarship to Iowa," Colbert said. "Its hard to keep school, grades, football and sleep balanced, but to get to your dreams its worth it and manageable."
Edwards is an inspiration for junior Keelon Jimison.
"Coach Edwards teaches us that 'you can't just quit something that you start,' and I'm one of those people who keeps doing something because I'm not going to be a quitter when I could practice to get better," Jimison said.
Working together is important and is a big part of success.
"Teamwork to me is, when we all come together and work hard towards our goals and plans together as a team for Friday night games," Colbert said.
This is equivelent to being part of a big family.
"To be on that football field with ten other people knowing that they have my back and that I have their backs makes us feel like one huge family who is always there for each other no matter what happens," Jimison said.
Teamwork, goals and family are just a few things that are important to the football brothers.