Prepared for exhibitions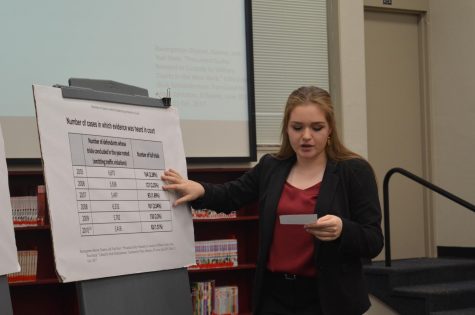 Senior Rana Ekilah presents her exhibition for Gold Medallion in the Winnetonka Library on Dec. 8. An exhibition is a presentation over a topic that a student is interested and passionate about. It is required that students in the Gold Medallion program present an exhibition and pass to receive their Gold Medallion honors diploma. The topic of Ekilah's exhibition was the Palestinian Israeli conflict. Ekilah's presentation focused on the political and military conflicts in Palestine and Israel over the last seventy years.Then, Ekilah had to answer questions asked by officials and staff in the district based on her topic and use knowledge she learned after eight months of research. Ekilah successfully presented her exhibition and passed.
"I was definitely very nervous for my upcoming exhibition, but I constantly reminded myself that my presentation was eight months in the making," said Ekilah. "I wouldn't be in this position if I weren't qualified or prepared."
Photo by Kelsey Cowden.