Today's uniqueness, tomorrow's acceptance
Staff and students support LGBTQ+ students in contrast to the international climate
December 15, 2017

Members of the LGBTQ+ community going to see the 2018 World Cup game in Russia were warned this month about governmental retaliation for showing affection toward each other, according to usatoday.com. This stigma against the LGBTQ+ community is not isolated, but rather international.
The amount of hate crimes against the LGBTQ+ community has gone up since last year, according to the Washington Post. Chief executive of the Anti-Defamation League Jonathan Greenblatt spoke about the effects of these hate crimes.
"Hate crimes demand priority attention because of their special impact," Greenblatt said. "They not only hurt one victim, but they also intimidate and isolate a victim's whole community and weaken the bonds of our society."
Part of that LGBTQ+ community is the students at Winnetonka who are fighting the world-wide stigma against them. But by encouraging personal diversity and remaining open to all students, regardless of who they identify as, English teacher and Gay-Straight Alliance (GSA) sponsor Andrea Caspari believes that Winnetonka does not have stigmas that are as prevalent as they are at other schools.
"I'm always bragging that our school is so open," Caspari said. "I think this is a really open, awesome environment and there is not a stigma here, but there are at other schools. I have to say Winnetonka is unusual in that respect. Everyone is just friends with everybody. We really don't see a designated table for certain types of people. I feel that we're very open and accepting."
Principal Eric Johnson, a self-described advocate for social justice, also believes that Winnetonka is accepting, but ex- plains that it is still far from perfect.

"Although we still have instances of bias, I think because of the climate and culture we try to set, those situations are a lot less common than they are at other places and spaces, not just at other schools, but even in greater society," Johnson said. "Winnetonka is an accepting place, but just like other schools, we have our own work to do."
Junior John Menlo* agrees that Winnetonka has progress to make in helping the LGBTQ+ community within the school. He, along with other transgender students, spoke last month with the administrators on topics such as PowerSchool rosters.
"There's a problem for trans [transgender] kids especially with sub [substitute teacher] rosters because teachers will put names up on the boards for attendance, and your birth name will come up instead of the name that you want to be called," Menlo sad. "A lot of the times if you've come out and are consistent with what people are calling you, people won't necessarily know your birth-name, and it will be displayed or a sub roster and the sub will call it out. Then everyone knows. That gives them the opportunity to ask questions and then they can make comments. I have a lot of friends that have been bullied because of that."
Johnson believes the inability to accept others for their differences lies in how people are raised or conditioned to think.
"We all have unconscious bias no matter who we are," Johnson said. "It doesn't make us racist, it doesn't make us homophobes, it doesn't make us sexist. It just means we've been wired in a certain way based on the messages we've received through media and just living."

Understanding individuals instead of thinking through bias is a concept that Johnson hopes to instill in students.
"Whether we are taught that [bias] explicitly or implicitly, we all have different things that we learn," Johnson said. "I think what I want us to do is unlearn some of those things and become more conscious and aware of the individual and what they bring to the table."
There are many external influences that can condition one to think a specific way, and according to freshman Kyle Herz, family beliefs are one of those influences.
"Since I grew up in a Christian household, that definitely influences my opinion of gays and transgenders," Herz said. "I just kind of look the other way. I don't really like them, but I tolerate it. I deal with it."
Despite his beliefs, Herz actively tries to avoid any form of discrimination against members of the LGBTQ+ community and keeps to himself. Senior A-Nedra Edwards appreciates this because she believes that students unique traits are a defining characteristic of Winnetonka.
"I really love it [Winnetonka]," Edwards said. "It's very open, very accepting and different. I love different. Everyone here is themselves. Everyone here has their own style. Each individual has their own personality."
In the United States, 53 percent of the LGBTQ+ com- munity have been victims of 'insensitive or offensive comments or negative assumptions', according to npr.org. Winnetonka is combating insensitive behavior by providing a place for students to express their individuality and creating an environment where everyone feels like they belong, according to Caspari.
"I just want every kid to know that they have a place and that they're celebrated for what they are and what they believe and how they feel," Caspari said. "I just want everyone to know that it's okay to be themselves and celebrate who you are."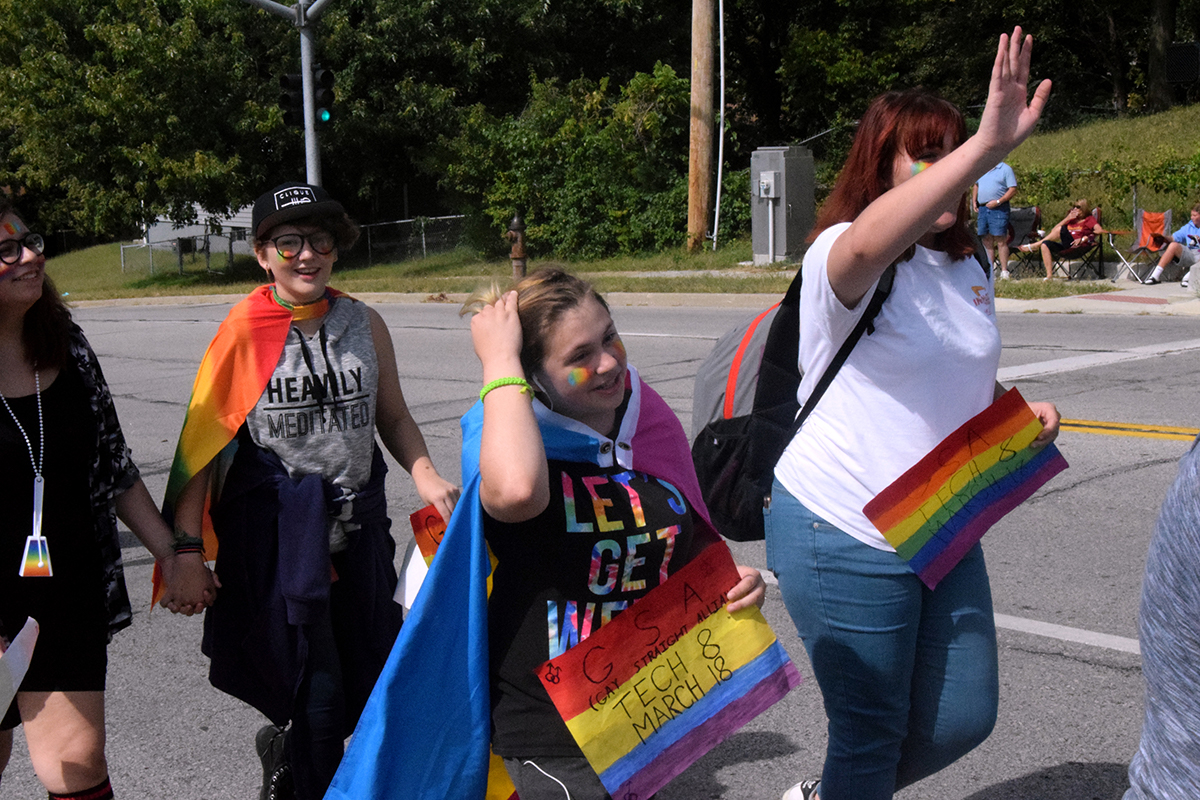 Caspari hopes that GSA is a place where students do not fear any form of discrimination.
"We've never felt discriminated against as a club and I can say that easily," Caspari said. "In 10 years there's never been one comment or anything by leadership, by administration, by other teachers. If there are any weird feelings, no one's ever shown them."
In times of discrimination, Edwards believes that the opinions of a group of people should not ruin someone's day.
"Don't let one person destroy you," Edwards said. "You shouldn't have to explain anything to anybody because this is your life. We are a symbol of us as individuals."
*A fictitious name was used at student request to protect their identity