Not black and white
National controversy sparks student discussion about the perpetuation of racial devisiveness
December 14, 2017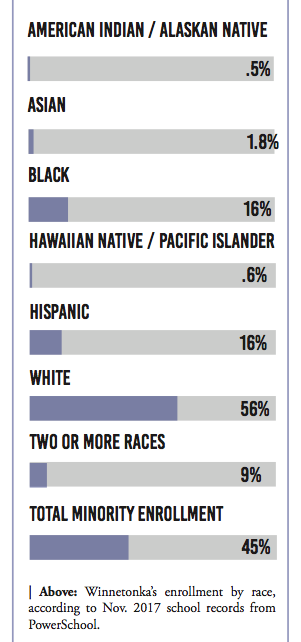 Government officials across the country are ripping down Confederate statues while protesters object, believing this action is destroying American history. NFL players kneel during pregame national anthems to the jeers of many fans. After a year in office, President Donald Trump is continually accused of perpetuating racial divisiveness through his words and actions. And at Winnetonka, students disagree about the moral integrity of students who sing lyrics that include racial slurs.
Since 2011, America has been engrossed in what the Huffington Post has dubbed "the second civil rights movement," and students have taken notice. According to junior Asase Jewel, racial discrimination has negative consequences that can range from simple neglect to more straightforward forms of abuse, exclusion and harassment when not addressed. The phrase, 'you know I'm just kidding' still echoes down the hallways after students make insensitive comments, according to Jewel.
"Even though this is a diverse school, there are still some 'clique-y' people and I think a lot of insensitive jokes are made," Jewel said. "I think they themselves don't know what it [discrimination] looks like and they never themselves have been discriminated against."
Today, racial discrimination seems to permeate all aspects of life – even entertainment. In his documentary released in November, American stand-up comedian Hari Kondabolu called out the character Apu from the long-running primetime cartoon "The Simpsons" for being racist.
"Of course he's funny, but that doesn't mean this repre- sentation is accurate or righteous," Kondabolu told the BBC, adding that it demonstrated "the insidiousness of racism… because you don't even notice it when it's right in front of you. It becomes so normal that you do

n't even think about it."
Although Jewel believes that racial discrimination is a real problem with harmful e ects, others, like junior Damon Carter, think that discrimination is sometimes used as a tool to gain sympathy.
"I have gotten into arguments with old friends because I am white and they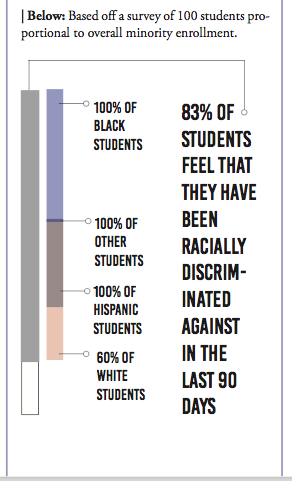 Graphic by Katie Bullock
believe that I don't get an opinion," Carter said.
Racial arguments are not an excuse to Jewel, but rather they are a result of the severity of the topic at hand.
"I think that a lot of the time peo- ple like to take situations and emotional- ly charge them," Jewel said. "People like to use things like this to their advantage. I had a Socratic Seminar last year and someone said something to see how African-Americans would react. People think that it is funny but they don't know the impact they have on people."
African-Americans reacted positively to the announcement that England's Prince Harry and American mixed-race actress Meghan Markle are engaged, helping to break racial barriers.
Heated discussions arose when GQ magazine gave Colin Kaepernick the Citizen of the Year honor in mid-November for protesting racial systemic oppression in America. Kaepernick began kneeling during the national anthem before 49ers football games in 2016 – a tradition that is carried on today by numerous NFL players, including Marcus Peters of the Kansas City Chiefs.
Racial representation such as this is important to junior Patrick Biggs, who says that discrimination occurs by either a lack of exposure to people of different ethnicities or a misunderstanding of what discrimination is.
"I think you have to be exposed to it in order to see that it is wrong," Biggs said. "You have to be able to see both sides of racism and then and only then can you see that it is wrong and be able to say 'I need to do my part to fix this.'"
Although Biggs said that acknowledging racism is the first step to fixing it, he also believes it can be hard to determine what is racist because of people's different backgrounds and sensitivities.
"Racism is wrong but there are lim- its to what is racist," Biggs said. "Anything someone says can be seen as racist. A lot of the time, it depends on the way people are brought up and the background of those people. e right side and the left side are both sort of extremist. en there are the 50 shades of gray in the middle. Just be kind to everyone. at's how I see it."
When it comes to conversations about race, Carter said he always ap- proaches disagreements politely.
"As long as you have a good social ground based on morals then you will have a better discussion rather than some- one who yells at you the whole time," Carter said.
Although conversations can be- come charged, Jewel believes that people should focus on listening to the other side during conversations about race.
"I think some people need to be able to open their minds and listen to someone else speak," Jewel said. "To un- derstand why they feel they are being discriminated against even if that person doesn't know that that is what they were doing," Jewel said.