Showcasing success
AVID showcase models Winnetonka program to school districts from two states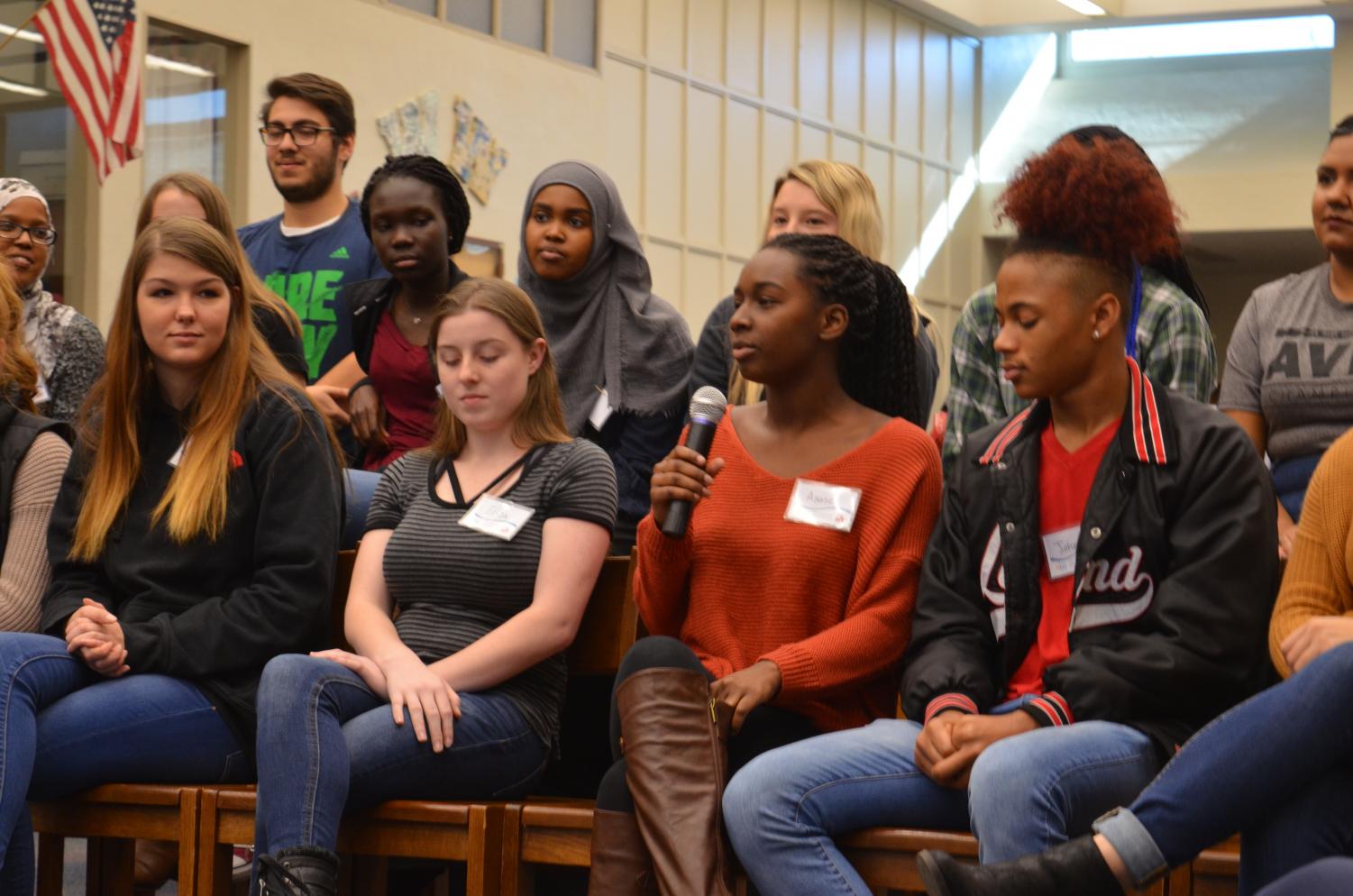 The AVID (Advancement via Individual Determination) program held a showcase for 70 visitors on Nov. 16 in order to display how Winnetonka uses AVID strategies throughout the school building.
AVID is a program that helps prepare students for college by teaching them different organizational skills and strategies. This is the seventh year AVID has been a program at Winnetonka and the fourth year that it has been showcased to other school administrators and teachers. This year's showcase was the largest in its history, hosting 70 people from districts across Missouri and Kansas.
"In addition to building-level educators, the participants included Board members, many of our central office administration and feeder school principals, the mayor of Pleasant Valley and a state representative," principal Eric Johnson said. "All were highly impressed with what they experienced at Tonka."
Winnetonka was chosen to showcase AVID because of the school's success in applying AVID strategies throughout the classrooms.
"We have been doing AVID and we do AVID so well, and it's a part of our culture and our life," teaching and learning coach Suzanne Forman said. "AVID national asked us to do showcases, to bring people to our school, to see how AVID lives and breathes inside the walls of Winnetonka."
During their tour of Winnetonka, the visitors were able to see the four main parts of AVID; instruction, culture, systems and leadership.
"There's instruction, so they got to go in and see classrooms that were doing, not necessarily AVID-specific strategies, but strategies that AVID encourages teachers to do," Forman said. "And there's culture. So they got to walk through the buildings. They get to see the college-and-career-readiness going culture. There are systems, so that's like what do principals do, what do school districts do to help support avid in our building. And then there is leadership, so how does the school leadership, either for students and admin and teachers, support AVID within the building."
Junior Elizabeth Chavez-Rincon has been an AVID student for five years and says AVID has helped her be more organized and responsible.
"If you are struggling, they will help you, but it just helps you become a better you," Chaves-Rincon said. "If I weren't in AVID then I wouldn't try so hard and just settle for whatever I got. AVID makes me different and helps me try to achieve more."
Chaves-Rincon was one of around 15 students to help with the AVID showcase. The students helped lead the adults in showing them bulletin boards and classrooms that show AVID techniques such as cornell notes, socratic seminars and WICOR (Writing, Inquiry, Collaboration, Organization, Reading). WICOR helps students analyze text collaboratively. The students also presented their AVID binders containing all of their school work to show AVID organization techniques, and they held a student panel to answer any questions regarding what AVID is and how it impacted their lives.
"I feel like with students involved, it shows more engagement in the AVID group," Chaves-Rincon said. "It just shows that students like and are willing to show the adults and teach them about what AVID is, and I think that the coordinators of AVID feel like they are more impressive when the students teach to a teacher."
Forman believes that AVID has spread to help all the students in the school, not just the students in the AVID elective class.
"What we are trying to do at Winnetonka is bring it out into the whole building," Forman said. "If you're not in AVID, you're still getting those note-taking skills, you're still getting help studying, you're still getting all of the strategies they get inside of the AVID classroom, so when you go to college you've had exposure to that, and you know how to do these things too."
AVID coordinator Todd Marcantonio finds that AVID is not just a class, but rather a resource for all students.
"The biggest thing that we wanted our participants to walk away with is that AVID is not just what happens inside the elective class," Marcantonio said. "It had a lot to do with special development for teachers and school leaders, looking at the systems inside of schools to make sure we have the best opportunity for all of our kids."
In an email to the staff, Johnson said that the AVID showcase helped him reflect on the intentionality of serving the staff and students.
"At times—especially in November—we can get so focused on the daily grind of school the big picture becomes less a part of our intentional consciousness," Johnson said. "Yesterday [the AVID showcase] was rejuvenating for me and inspiring to our visitors as it illuminated the big picture once again. It was a valuable reminder that we are preparing our students for postsecondary success, by closing gaps, instilling hope and providing pathways for all kids."