Welcoming inductees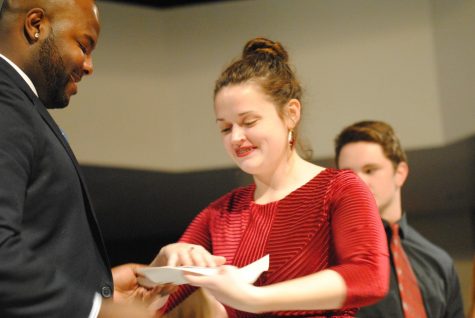 Junior Cora Daniel shakes Principal Eric Johnson's hand as she accepts her certificate during the National Honors Society induction on Nov.10. Several weeks prior to the ceremony, students that showed a high GPA were given an envelope with a packet they had to fill out to be considered for NHS. Then, students were either accepted or commended into NHS. At the ceremony, students that were accepted lit their candles as they were praised for their achievements at school and recited a pledge to be inducted into NHS. Afterwards inductees and their families went to the cafeteria for refreshments.
"I was excited because I was working on my application for three weeks," junior Cora Daniel said."I was nervous about it, but when I found out I made it I felt good."
Photo by Kelsey Cowden.