Breaking ties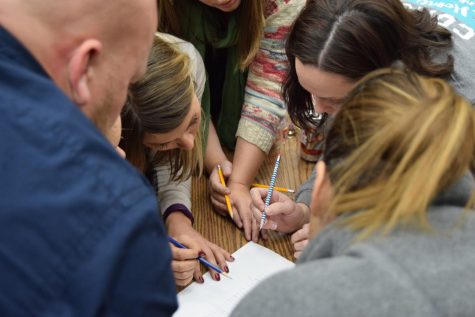 Trivia group, 21 Degrees and Counting, work together to win Trivia Night on Nov.10. Every year Scholar Bowl hosts Trivia Night for students and staff to participate in. The theme for trivia night this year was pop culture. After ten rounds of trivia, teams, 21 Degrees and Counting and The Treble Makers were tied. The tie breaker was a paper with questions about sports pop culture. Both teams got five minutes to complete the tie breaker. At the end of the tie breaker, 21 Degrees and Counting answer more questions correctly than The Treble Makers and they were the winners of trivia night.
"Even though it is a lot of work to write the questions, it's super fun to see the questions in front of people as they answer the questions," Scholar Bowl sponsor Melissa Camarda said. "It's a good atmosphere in trivia night and I like the fact that our questions help make trivia night what it is."
Photo by Kelsey Cowden.