When dedication wins
Junior Travion Franke recovers from a torn ACL to continue playing football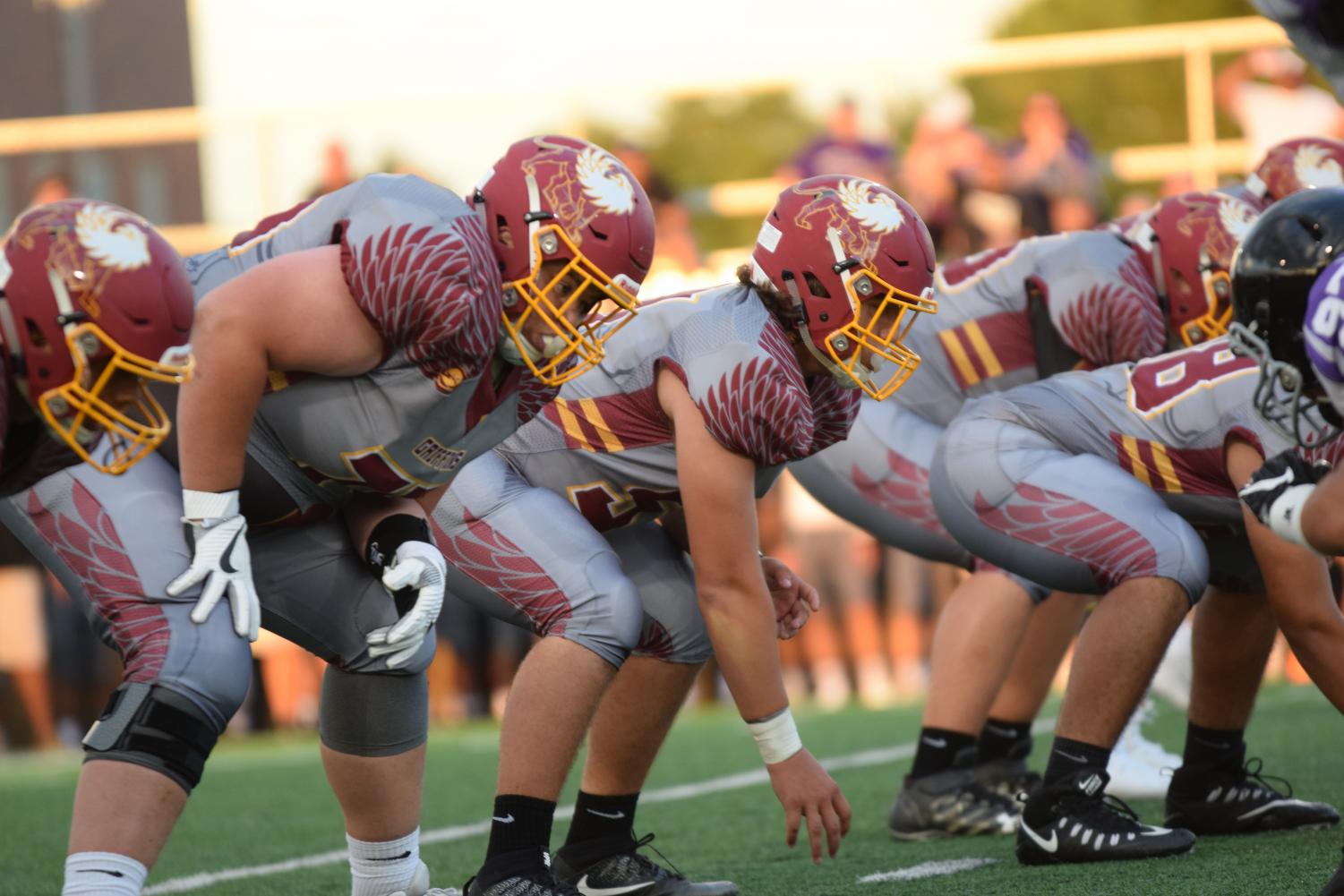 Junior Travion Franke's doctor told him in January that it would take him up to nine months to heal from a anterior cruciate ligament (ACL) and lateral meniscus tear in his knee. But just six months later, Travion was on the football field taking hits and helping to score points.
After tearing his ACL and meniscus on Jan. 28 at a wrestling match in Warrensburg, Franke attened physical therapy twice a day, every day through July in order to  be able to play football as an offensive lineman.
"I jumped on it wrong during a wrestling match. It just gave out. It hurt for a couple of minutes, but then it just felt weird," Franke said. "As soon as it happened the trainer at Warrensburg told me to ice it and then she looked at it, and she told me to go to the hospital and get X-rays."
Graphic by Jessica Glaszczak
Although his doctor estimated that it would take Franke up to nine months to recover, Franke was determined to play football, which started on July 31.

"[My doctor] wanted me to wait until September, and I came back in July," Franke said. "I got to play this season, so that's pretty good."
Head football coach Jared Barge believes that Franke's fast recovery can be attributed to the skills of the doctor that did Franke's surgery.
"Whoever did the surgery did a really good job," Barge said. "It used to be 10 or 15 years ago that with that kind of injury it was questionable if he'd ever come back."
According to Franke, working with the trainer was difficult, but his dedication to recover helped him through the challenges.
"It was painful getting it to bend like it's supposed to and learning how to run again and putting all your weight on it; getting it how it used to be and even better," Franke said.
Although there were struggles along the way, Franke is glad that he was able to play football this season.
"I love football. It's everything," Franke said. "[I like] the brotherhood, the bond and the teamwork. [I like] when you win how excited everyone is."
Franke contributed to the football team this season by playing offensive tackle.
"He's a really good kid. He's a really good football player," Barge said. "He's strong and aggressive. He's got what coaches call the eye test. He's a big kid. He's 6-foot-4, 300 pounds, so for his position that's what coaches want to see. He's one of our better offensive linemen. I wish I had about five more of him."
Franke's advice to athletes who have a sports-related injury is to keep going and work hard.
"Never give up," Franke said. "Just dedicate all your time to that injury, work hard on it and you'll be back and better than ever."