Busy Bee Makenzie
Junior Makenzie Jackson takes getting involved to the limit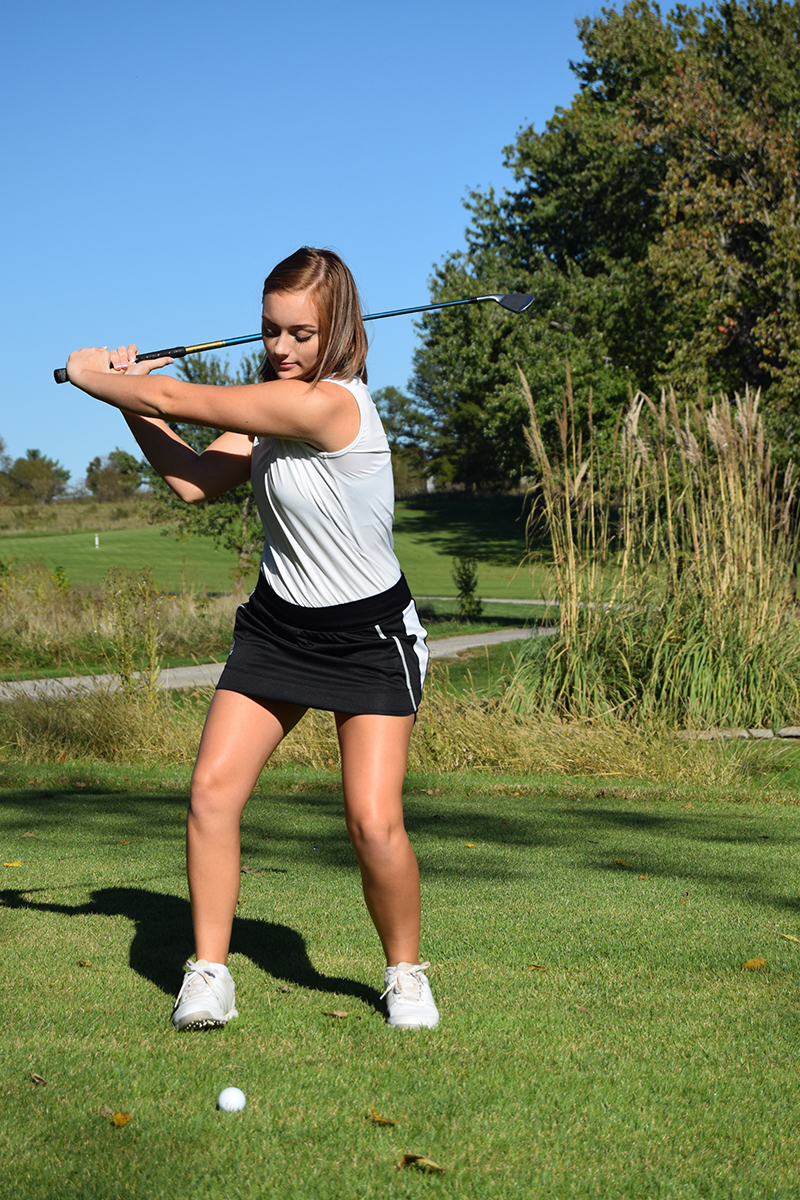 Seniors leaving Winnetonka always seem to have the same piece of advice for underclassmen: get involved. Some students listen, but junior Makenzie Jackson has taken this advice to a whole new level.
While being involved may mean particpating in one or two clubs to most students, Jackson is involved in five in addition to three varsity sports.
"It keeps me busy. I don't like sitting at home doing nothing," Jackson said.
The majority of Jackson's time is spent cheering, dancing or golfing. But besides sports, Jackson is also involved in leadership, prom committee, student council, and yearbook. This winter, Jackson also plans to return as a manager for the boys wrestling team.
"Typically, I would go to school, and then there's normally a student council meeting, or a prom committee meeting after school, so I go to that until 3 p.m. maybe," Jackson said. "Then I go to dance team practice from 4 p.m. to 5, and I go to cheer from 5 p.m. to 6. A lot of times, I have [to cheer at] a volleyball game after that so then I'll have to be at volleyball at 6:25 p.m. Then I go home to do my homework."
Although she is involved in many after-school activities, according to Jackson the hardest part of her day begins once practice is over. Finding time to finish homework and to sleep is nearly impossible.
"I don't sleep," Jackson said. "When I do sleep, it's probably like four hours."
As a student in multiple honors classes, getting homework done is another challenge for Jackson. Due to her busy schedule during the day, the only extra time Jackson has is at night or in the early morning.
"I stay up really late. I try to use Tonka Time, but that normally doesn't get everything done," Jackson said. "So I'll either stay up really late and do it, or I'll wake up at 5 in the morning and finish everything before I have to get ready."
Despite her busy schedule, head golf coach Nathan Stephenson still notices Makenzie's positivity at practice.
"She's a really hard worker," Stephenson said. "I know she's involved in a lot of things, but even though she's got a lot of things going, she's always got a great personality. She's always very cheerful, she takes instruction well. She's just a pleasure to be around. She's fun to have on the golf team."
According to Stephenson, Jackson's positivity affects the whole of the golf team.
"She's just a very positive person, and she's kind of bubbly, fun to be around," Stephenson said. "That brings the team up, so I think that's inspiring."
Although it may mean less sleep, at the end of the day Jackson hopes her involvment will inspire others to get active at Winnetonka.
"I hope my peers follow in my footsteps and come to love Tonka as much as I do," Jackson said. "I love seeing others involved and joining new things."