Beyond expectations
Three students overcome disabilities with confidence
November 1, 2017
No vision, no limits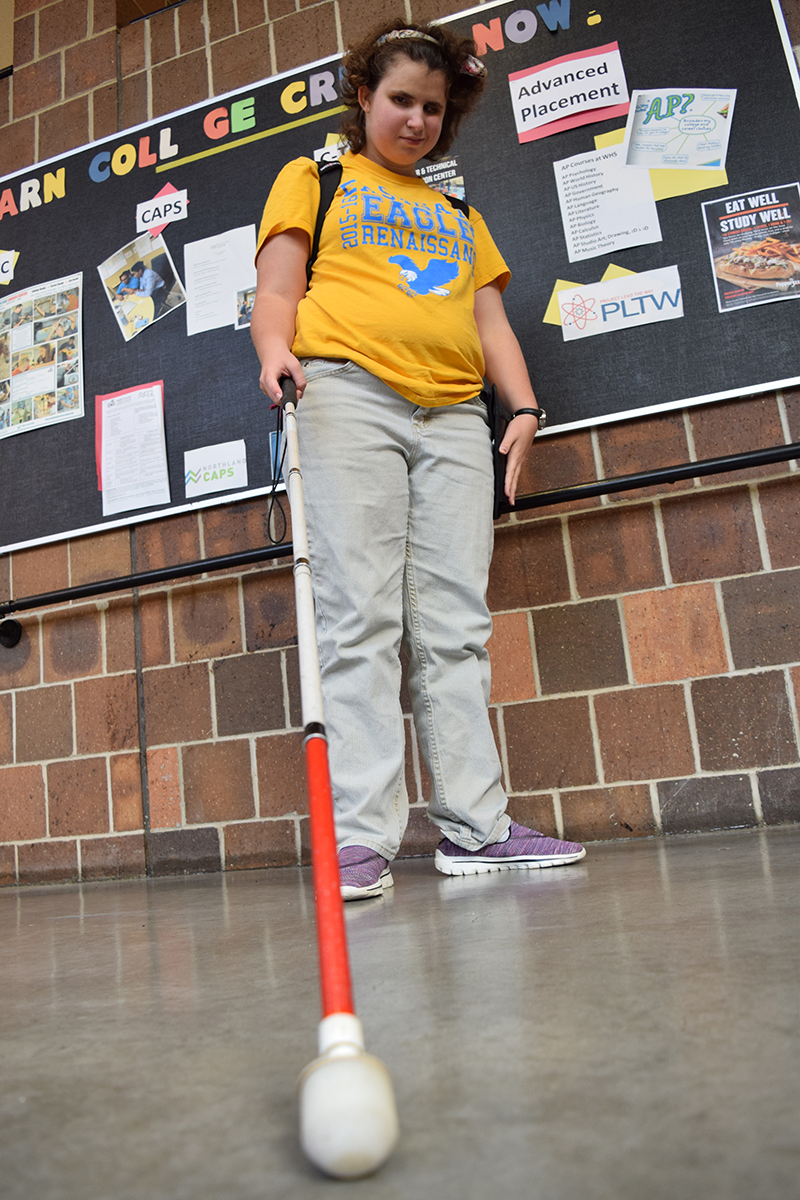 Usually, a student would walk to class without giving it much thought but freshman Sarah Coccovizzo grew up having to find her way around in the dark.
"I was born blind and my parents were trying to figure out what was wrong with me and why I didn't have any vision," Coccovizzo said.
Despite being a freshman and being blind, Coccovizzo already knew her way around the school by Aug. 16, the first day of school.
"I did a lot of orientations close to the end of summer and at Freshman Jumpstart Day," Coccovizzo said. "Last year, during my eighth-grade year, we came here a lot."
Coccovizzo finds her way around the school using a technique that lets her know where she is based on the location of landmarks such as doors, stairs and hallway walls.
"I use this thing called 'landmarks' and that's another way I get around," Coccovizzo said. "I use the different openings in the school like the elevator and the stairs."
Although the landmarks help Coccovizzo find her way around, they do not make up for the fact that she has no vision. Coccovizzo still cannot see colors. However, she has a unique way of interpreting them. Instead of seeing her colors, she tastes them.
"I can tell by the flavors what colors things are, like how sour or sweet something is," Coccovizzo said.
Coccovizzo's blindness hasn't stopped her from doing what she can to stay on top of things.
"Some students do kind of bad in some classes and I'm one of the only people who gets a good grade," Coccovizzo said. "Some of the students do get good grades but they just need to work a little harder."
Although not being able to see can make everyday tasks more difficult for Coccovizzo compared to other students, with the help of teachers that work to support her, Coccovizzo said that she is happy with her life and hopes to keep moving forward.
"I'm happy and I'm glad, even though I can't see," Coccovizzo said. "I feel like I'm overcoming things that I need to overcome."
Coccovizzo's current goal is to learn to play the piano. Although she cannot see the keys, she can still rely on her sense of feeling and hearing to memorize their placement.
"Once I do something and keep doing it, it gets easier," Coccovizzo said. "It gets easier every time you keep trying. I learned that from myself."
Optimism is key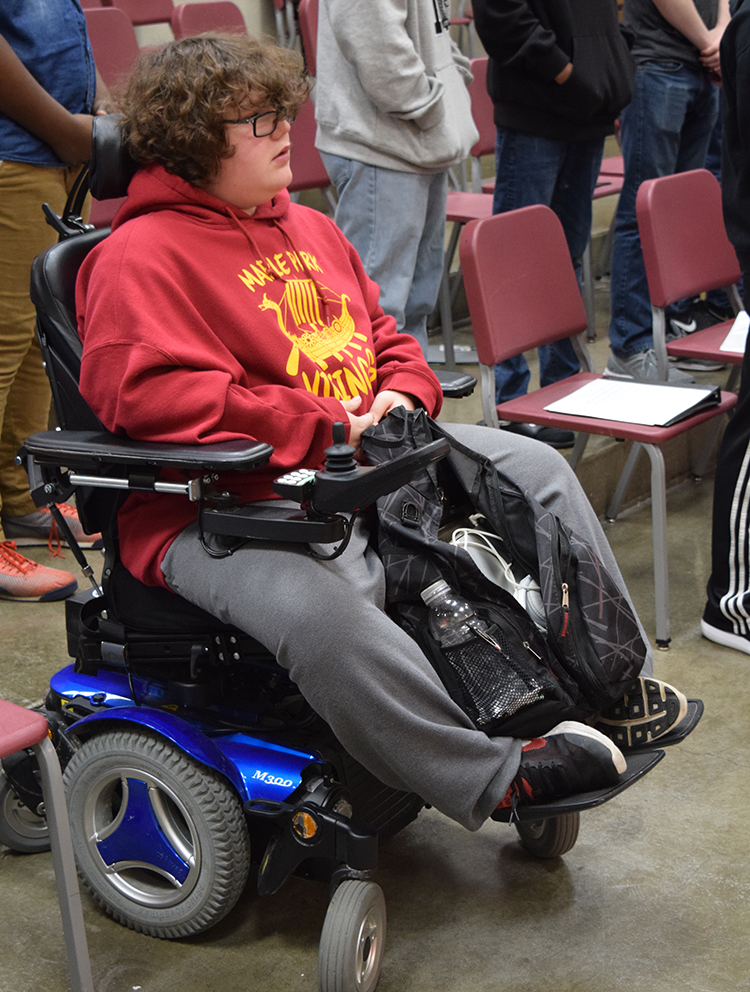 After school, freshman Matthew Dakon can be seen racing laps around the D Quad at speeds of up to six mph.
Dakon suffers from Duchenne muscular dystrophy (DMD) which is a disease that limits his mobility and causes difficulty walking, fatigue and muscle weakness.
"It makes me all around weaker because it's a disease that slowly destroys my muscles," Dakon said. "My major problems are that I can't get up from falling on my own. I'm more prone to fall. I can't lift heavy objects and I can't walk long distances."
Since Dakon was first diagnosed with muscular dystrophy when he was eight years old, he has learned to adapt to it.
"I can get around a lot faster because my wheelchair can get up to six mph," Dakon said. "I also get more staff members helping me to get around through doors and other things."
Although his dystrophy is a major factor in his life, Dakon said he also does what he can in his classes and keeps up with his work. According to Dakon, he is doing well in his classes.
"Everybody says that I'm really intelligent and because of that, I believe that I am and I take pride in that," Dakon said.
Dakon has created an environment where he feels like he is accepted no matter what happens. He has many different ways to keep himself preoccupied and thinking of other things other than his muscular dystrophy.
"I've figured out ways to keep myself from going off," Dakon said. "Life is fun with all of my weird friends and my passions. It feels great with the big loving family that I have."
Although living with his muscular dystrophy can be a challenge, Dakon believes that if he does not focus on his disease then he will not feel overwhelmed.
"Emotionally, having Duchenne is upsetting. I want to be able to do what every normal kid can do but then again I could have it a lot worse off," Dakon said. "Sometimes I feel like giving up because I feel like I'm not strong enough, but I usually just keep on keeping on."
Proud to prove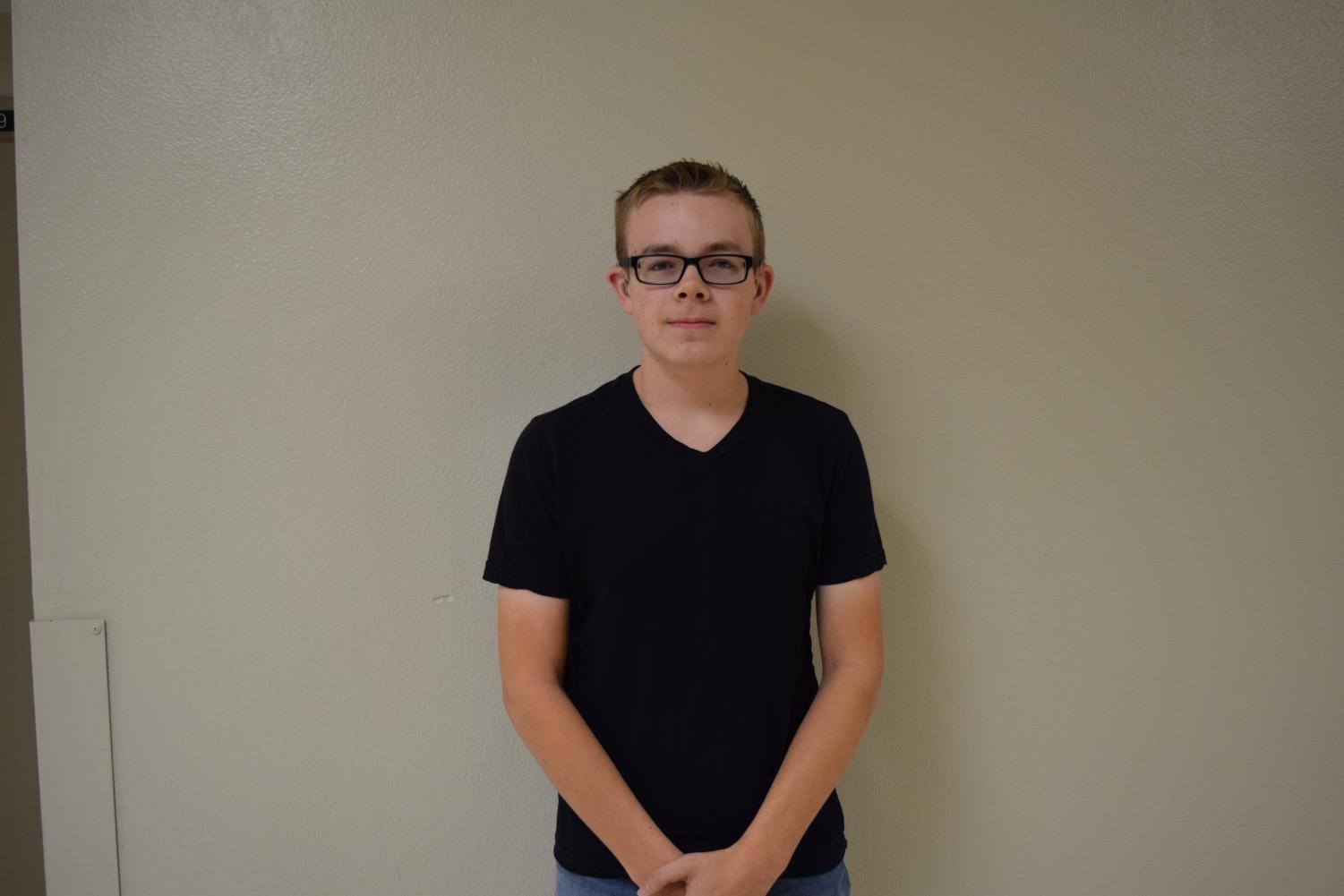 When junior Andrew Willis was three, his doctor told him that he would struggle with school throughout life because of his hearing loss. Now, Willis is proud to say that his doctor was wrong.
On Oct. 17, Willis received an Academic Letter Award, which he believes shows how he is overcoming the stereotypes that come with hearing loss.
"My life isn't any different from anyone else's. I can still drive a car, listen to classical music," Willis said. "All I know is that I can't really hear behind me, but I can still understand people who are in front of me without having to look at my interpreter."
Even without help from his interpreter, Willis is able to read the lips of the people who talk to him and around him. While many people assume that Willis is deaf, he stresses that he just has partial hearing loss.
"One thing that I've noticed that people do is that sometimes they associate me with special needs but it's just my hearing," Willis said. "Other than that I'm no different than anybody else."
According to Willis, having a disability should not stop anyone from doing the things they love.
"This [receiving an academic letter] just shows that I have the same opportunities as everyone else," Willis said. "You're capable of doing anything as long as you have the strength to do it."