Golfing to a tee
Junior Joelle Egeland advances to sectionals in girls golf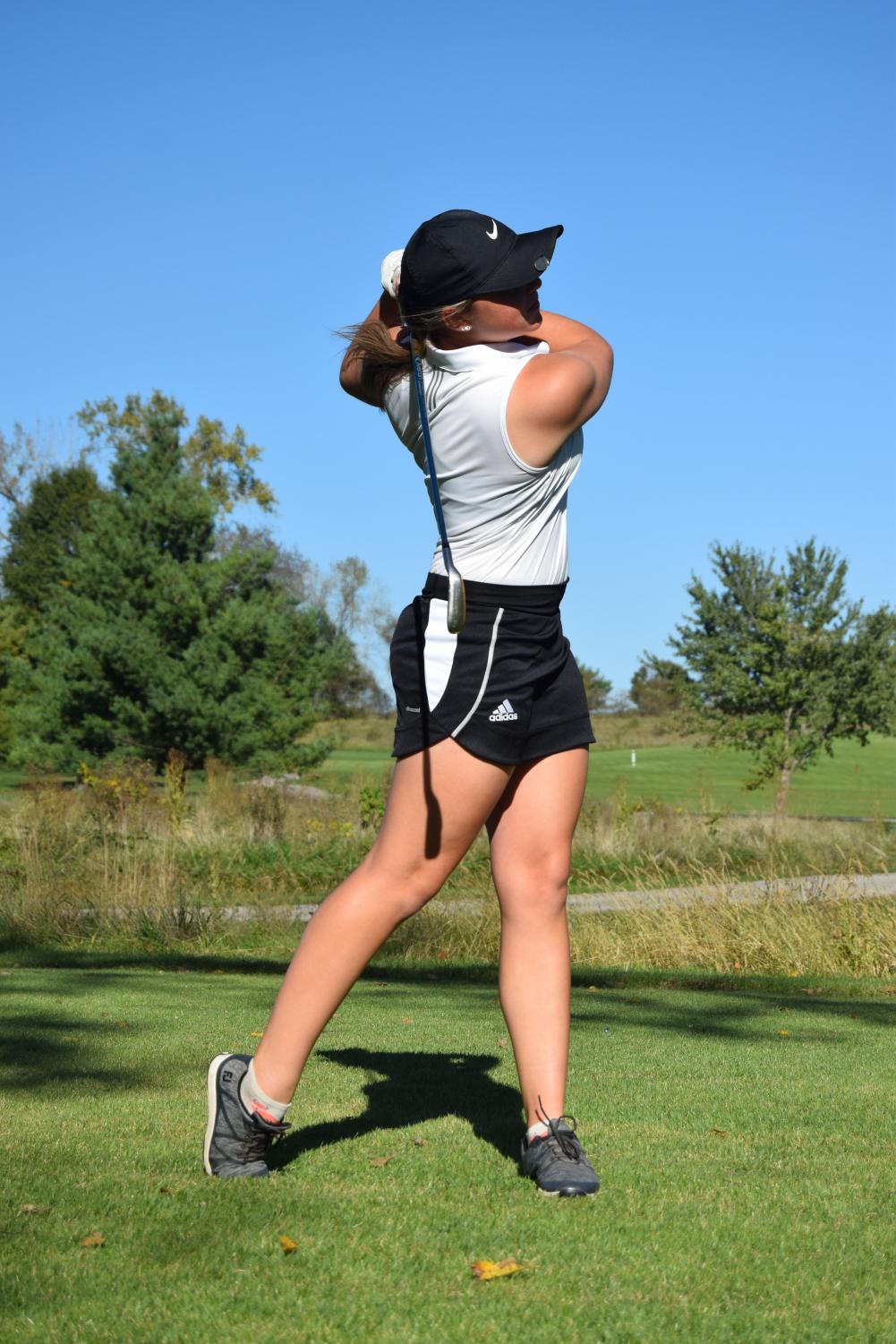 After skipping a year of playing golf, this golf season junior Joelle Egeland made it past districts to sectionals at Paradise Pointe The Posse on Oct. 2.
"I played my freshman year just to do something," Egeland said. "I played volleyball my sophomore year, so I didn't play [golf] at all my sophomore year. This year, I went back out for golf because I wanted to try to get a scholarship and get better."
Egeland made it to sectionals by being one of the top 25 golfers in the district. Her hard work and dedication led to her success, according to girls golf coach Nathan Stephenson.
"She made it to sectionals just by scoring low enough, but being able to score low enough takes a lot of practice," Stephenson said. "She worked really hard through the spring and through the summer, took private lessons, played often and then worked hard through the season to get herself to where she was consistent enough [and] until she was low enough to make it to sectionals."
Egeland said she enjoys golf because she does not have to worry about anything else.
"I like how you can just forget your day, just lay it out on the fairway." [/pullquote] Egeland said. "It takes away all your thoughts. It's something that [lets] you forget everything else."
England hopes to continue playing golf in college.
"
"I like how you can just forget your day, just lay it all on the fairway.""
— Junior Joelle Egeland
"At the beginning of the season, I told them I really wanted to focus on golf and go to college for it, so I told coach [Brett] Schmidt," Egeland said. "He got me a connection to a private lesson [with] a pro golfer."
Although Egeland did not make it past sectionals, her improvement and hard work still show according to Stephenson.
"She just missed the cut by a few golfers. The scores were pretty low this year, so she missed by just a few strokes. I want to say three or four strokes from being able to qualify for state," Stephenson said. "I think she made it as far as she did because of her consistency. By practicing and… her game's really come a long way. I think she's cut 20 strokes off of her game from her freshman year."