When tragedy strikes, so should the response
Discussions about new legislation should occur after tragedies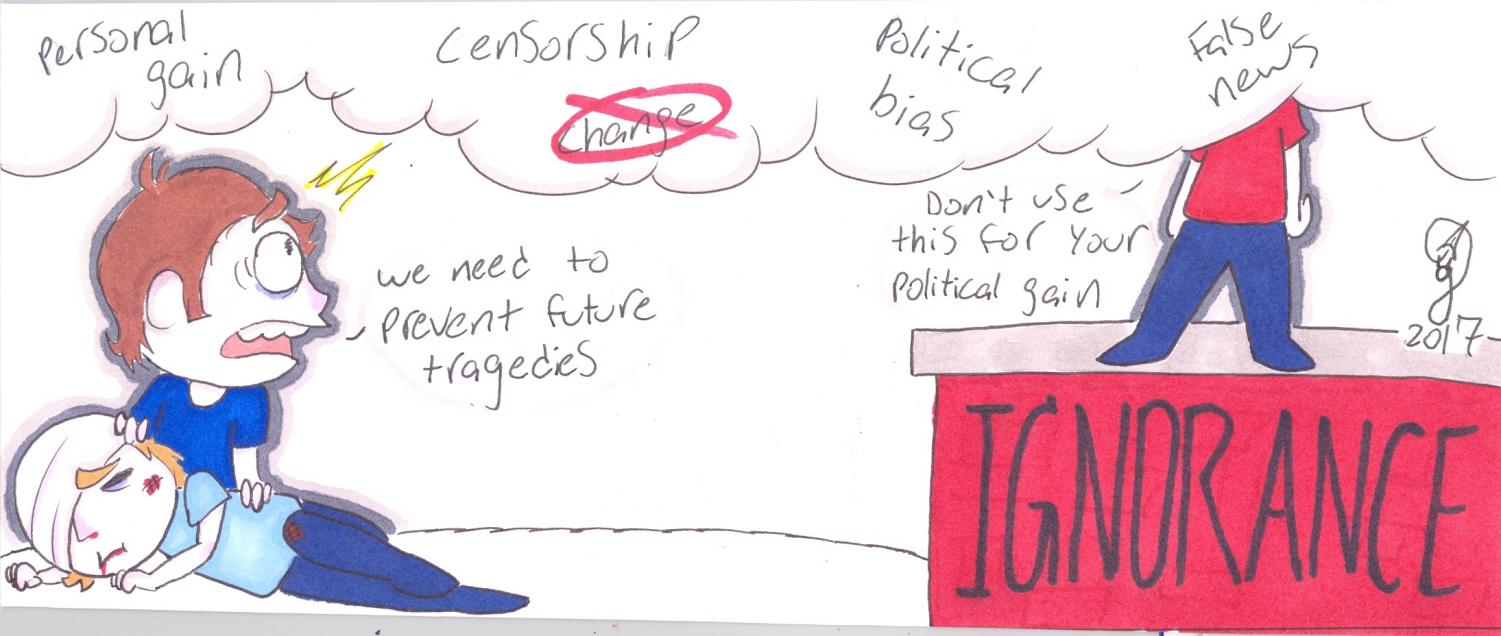 Art by Gage Rabideaux
News media and citizens should use tragedies as a reason to voice their opinion on legislation while still respecting those that the tragedy affected.
The largest mass shooting in United States history occurred on Oct. 1, when 58 people were killed and over 500 people were injured at the Route 91 Harvest music festival in Las Vegas. This event led to political controversy when conservative media outlets reprimanded the liberal media's haste to use the tragedy as a platform for implementing gun laws. However, it is the time after a tragedy that it is most appropriate to move forward with legislation that improves the lives of American citizens.
For the sake of those who suffered, and to keep further tragedies and suffering from occurring, voices must be heard on the matter of changing policies. Paige Gasper, a 21 year-old survivor who was shot at the concert was also the first to file a lawsuit against MGM Resorts (the parent company of the Mandalay Bay hotel, the hotel that the shooter fired from), the maker of 'bump stocks' (a part of the shooter's gun used to make the gun act like an assault rifle) and others. In an article by the New York Times, the lead lawmaker in the lawsuit, Nathan Morris, said about Gasper, "She's not an outlier… But she's got a lot of bravery for being the first one to say we want answers; we want to feel safe."
Gasper expanded her opinion on a governmental level, through a lawsuit, in order to implement ideas that will help her feel safe in the future. Similarly, sharing an opinion to change legislation will make the future safer for everyone.
Some say that it is disrespectful to Gasper and others affected by tragedies to share an opinion on legislation. However, disrespect to the victims of tragedy does not come from sharing an opinion about legislation, but from spreading unfactual information to push a political bias.
After the Las Vegas attack, unfactual information spread across Facebook, Google and other social media platforms. In the article "After Las Vegas Shooting, Fake News Regains Its Megaphone" written by Kevin Roose of the Las Vegas Sun, false statements in social media posts are reviewed such as that the Las Vegas shooter "…was an anti-Trump liberal who liked Rachel Maddow and MoveOn.org… that the F.B.I. had already linked him to the Islamic State… that mainstream news organizations were suppressing that he had recently converted to Islam."
By spreading unfactual information, these social media users manipulated the facts of an event that should be taken as factually as possible, thus disrespecting those it impacted. This is because while stating your opinion after a horrific event is not disrespectful, exploiting facts to fit a political bias is disrespectful since it is untruthful.
Tragedies reveal faults in the government that need to be resolved. Therefore, it is vital and relevant to discuss and change legislation after a tragedy has occurred. As long as they use factual information, citizens should make their opinions known to government officials after tragedies in order to prevent future tragedies of the same type from occurring.
Tonka's Take: 
Junior Kirsti Green
Q: How do you feel about the Las Vegas shooting?
A: "Obviously, I think what everyone else thinks. It was a terrible tragedy, and it should not have happened. We need to find some way, I'm not sure how we can do that yet, but we need to find a way to where this cannot happen again," Green said. "Just a year ago there was already the deadliest mass shooting and a year later it's already topped."
Q: How do you feel about gun laws now that this tragedy has happened?
A: "I think we need to keep guns out of the hands of the wrong people. They need to do more background checks. There [are] also a bunch of other countries, I've heard, who do have the really good, extreme gun laws, and they haven't had a lot of shootings, but I've also heard lots of crime has gone up. I'm not against taking away guns altogether, but I don't really know what can be done about this, honestly. I'm still looking into it."
Junior Courtney Brooks
Q: How do you feel about the Las Vegas shooting?
A: "I thought it was really messed up. I just thought it was really bad. Especially at a country concert. They're just trying to have a good time," Brooks said. "It's literally a country concert where they talk about love and broken hearts. It's just really messed up for someone to do that to innocent people."
Q: How do you feel about gun laws now that this tragedy has happened?
A: "You should definitely look at who has them," Brooks said. "I feel like you should be able to have them, be able to defend yourself. But if someone goes and does this thing, check their backgrounds before they get a gun."
Senior Maria White
Q: How do you feel about the Las Vegas shooting?
A: "It's extremely sad. I saw it and I almost wanted to break down in tears because people wanted to see an event, something really fun in a city that everyone loves and then [they] lost loved ones. I'm embarrassed for our country, and it hurts my feelings."
Q: How do you feel about gun laws now that this tragedy has happened?
A: "I feel like we're way too lenient with who can buy guns," White said. "I feel like we should be like most people. It should strictly be the military. There are too many lives being lost. It's sad."