Competing for a cause
Student Council organizes a new twist on the annual fall food drive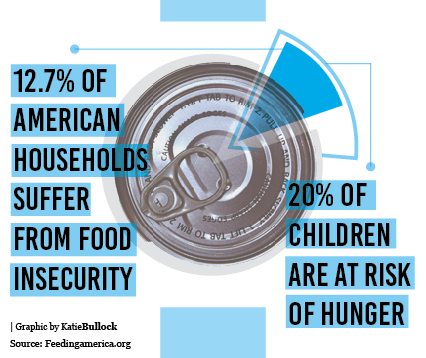 The annual fall food drive has become a matter of pride this year after student council (STUCO) organized it as a competition between Winnetonka and Northtown.
The school that collects the most canned and boxed foods by Oct. 31 will send their school t-shirts to the losing school's administration and student leadership who must wear the spirit wear for a school day.
"Originally we were just playing for pride more than anything," STUCO sponsor and history teacher Sarah Green said. "This was just a way to collect more canned foods, more boxed foods and hopefully get a stockpile for our pantry."
Every year, STUCO organizes an annual food drive during the month of October in order to get students involved in the community. This year, STUCO is collecting non-perishable items such as canned fruit, canned soup, canned tuna, canned vegetables, cereal, crackers, granola bars, peanut butter and rice.
"It's one of those things where we want the whole school to be involved," STUCO member senior Bryton Koch said. "You have to set the example to do events like this so that we can get the whole school involved and show them 'Hey, this is something you should be doing and, guess what, you can enjoy it too.'"
This year, instead of donating the food drive supply to an outside non-profit, all donated food will go to the school's food pantry, which opened on Sept. 5.
"I know the intent, initially, was to support another organization, and I am very excited that our STUCO decided that they are going to support the building's food pantry and do this competition," school community resource specialist Shelly Meinke said. "I think it's awesome and I really, really hope we beat Northtown."
The food pantry is open to everybody, and any students wanting to access the pantry can do so by speaking with Meinke or any other staff member in the counseling office.
"They can speak with me or somebody in the counseling office, and they can access it," Meinke said. "There's no form to fill out, there are no qualifications. You don't have to have free-and-reduced lunch or anything like that. If you come to the counseling office and say 'Hey, I would like to use the food pantry,' then you get to use the food pantry."
The food pantry has already helped many families according to Meinke.
"I know that off the top of my head, we've served at least 15 to 20 families, if not more, and we've had several students return for additional food," Meinke said. "It's been a really successful thing, a really good thing. We've had lots of support from not only district staff, but people in the building."
In order to support the food pantry and the food drive, STUCO took some creative measures, according to Green. They are stacking the donated foods to make a modern sculpture that is located by the attendance office.
"The design is going to come as we add stuff to it. Every time we add cans hopefully it'll look a little different," Green said. "They [STUCO] wanted to make something kind of different, unusual and unique, hoping that would get more people to donate."
Green hopes to get as many donations as possible.
"We have 1,300 kids in this school plus staff members, so if everyone brought one thing in we could get 1,000 canned or boxed foods in the next week," Green said. "That would be awesome, but my goal really is about anything over 200."
To donate canned or food items to the food drive, give your donations to your advisory teacher. The advisory class with the greatest food donations will win a pizza party, courtesy of principal Eric Johnson. To access the food pantry, contact school community resource specialist Shelly Meinke in the counseling office.