Digging for the cure
Volleyball plays the first game on new gym floor to support breast cancer research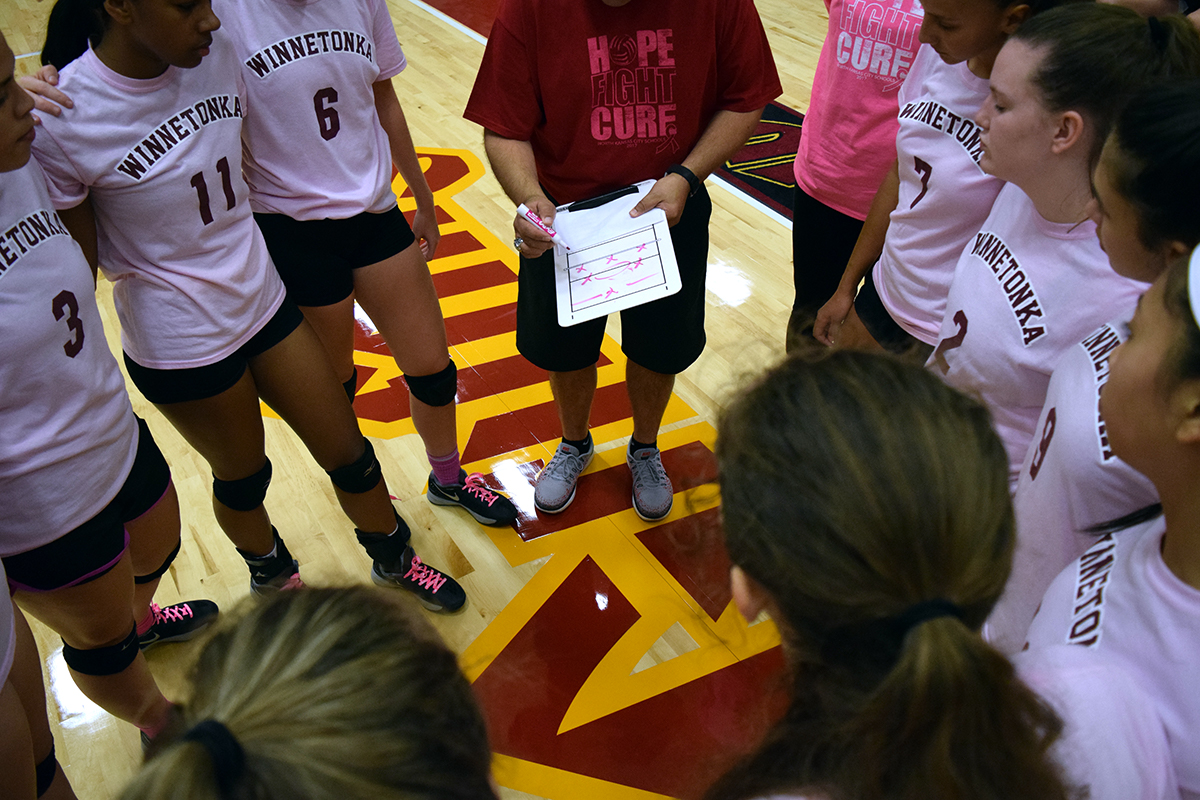 The usual routine of bump, set and spike changed to bump, set and support on Oct. 6 when the volleyball team hosted the annual Dig for the Cure match to raise money for breast cancer research.
This year, the annual Dig for the Cure volleyball match between the four district high schools – Northtown, Oak Park, Staley and Winnetonka – was hosted by Winnetonka in the main gym which recently had new flooring installed.
"It's [the gym floor]  amazing. It feels really great and it looks great," junior Donna Zack said. "It's a little hard to slide on. That makes it kind of harder to play on; you get floor burns so it hurts."
Despite the challenges of playing on a new floor, players like freshman Bella Rodriguez appreciated the extra room that the main gym provides.
"It was really exciting today because we got to play in the main gym," Rodriguez said. "The AUX [auxilary] gym is okay, but it's a lot smaller and more enclosed, and we also practice in the AUX gym so it's not different. In here, it's more exciting and there's more room to move around."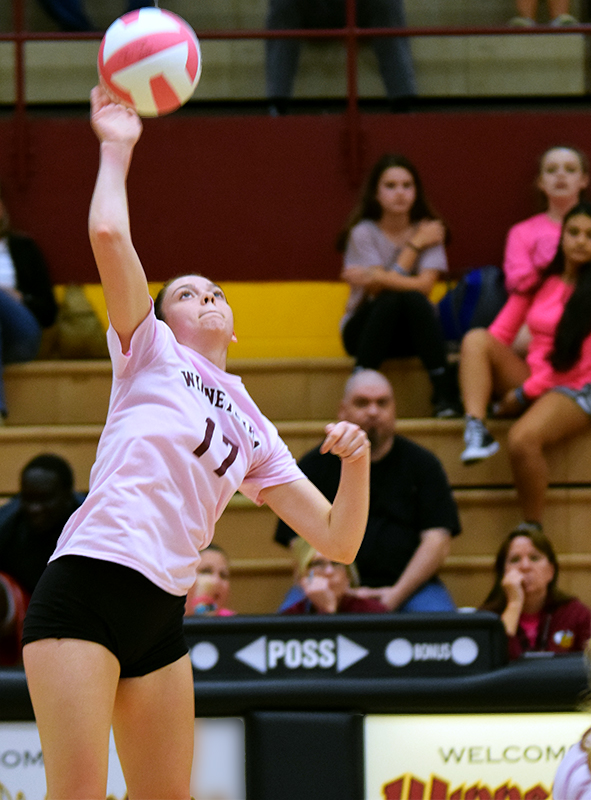 Spectators alike enjoyed being able to see the team in action in the main gym for the first time this year, according to junior Skyler Murphy.
"It was really fun especially since the new gym floor was finally done. It's our first competition here on the floor and it was just really fun to be here and get to see them play," Murphy said. "It's good to come and support the fight against breast cancer and also all of the North Kansas City teams because we're all one big district, one family."
After months of construction, the gym floor was finished just in time for the event which benefited the Side-Out Foundation, an organization that has involved 6,425 volleyball teams around the country to raise $11,705,321 to support breast cancer research since its creation in 2004.
"I think it's [Dig for the Cure] amazing. I think it's incredible that we keep doing this every year," Murphy said. "It's a great way to get everybody together and also to raise money."
All the proceeds from a cookie bake sale as well as $4 from every Dig for the Cure shirt sale went to the Side-Out Foundation. According to Zack, the extra meaning behind Dig for the Cure makes it different than a normal season game.
"It's more special. We're fighting and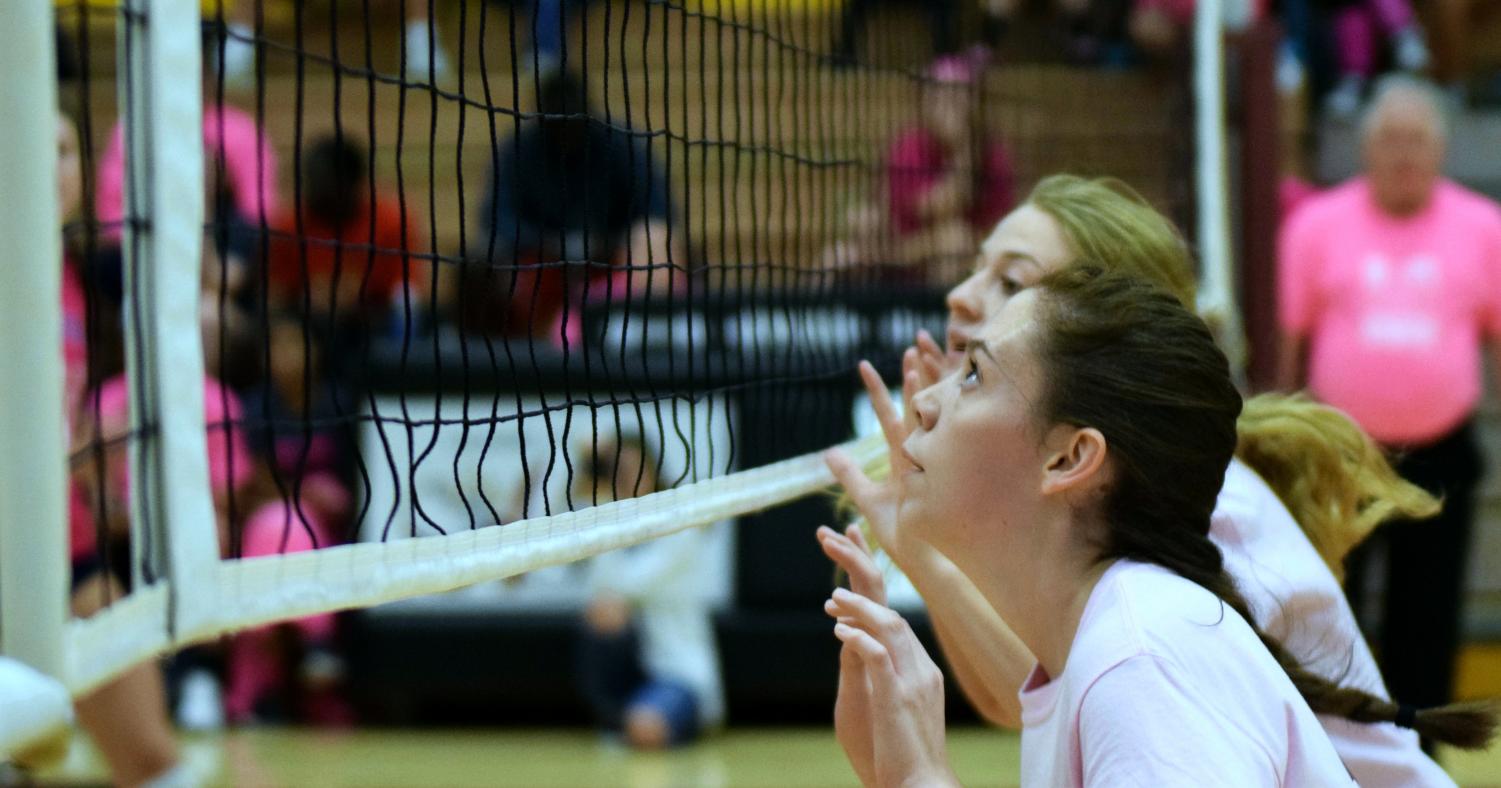 playing for a cause instead of just another game. It means a lot," Zack said. "We set up. We made all of these posters. We have to bring in scoreboards. We have to do a lot. But it's worth it."
The varsity volleyball team played Oak Park at 7 p.m. in a game that went to two sets before the Griffins were defeated by the Northmen.
"We played alright but we all could have played better," Zack said. "It was kind of upsetting, especially since it was Oak Park we were playing and we were at home."
The loss makes the varsity team 9-10 this season.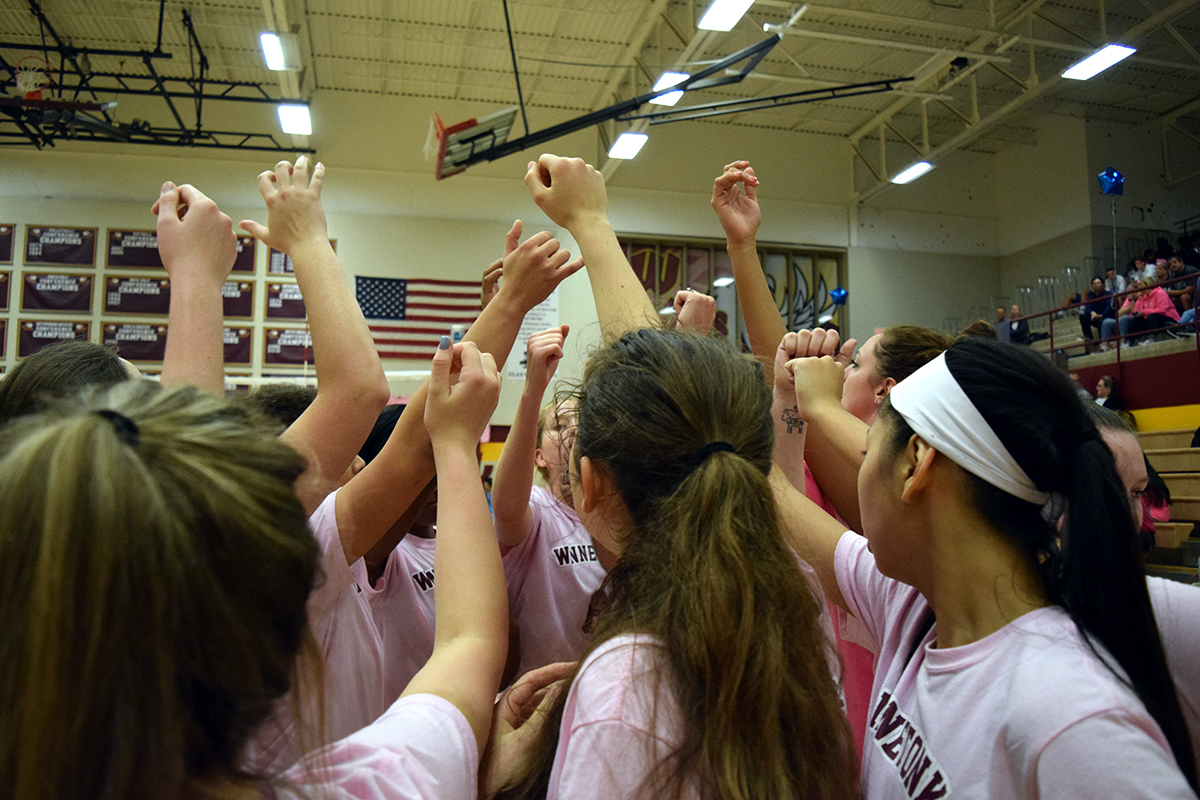 According to Rodriguez, the team is working hard to get better by putting in extra hours at practice.
"We're practicing a lot for sure," Rodriguez said. "I mean, we want to have fun and we've been staying after practice for a few days to set up [for Dig for the Cure]. Coach [Mike Espinosa] actually bought us pizza one night which was crazy. But even though we have fun together we're working hard as a team and encouraging each other."