In the water, your only enemy is the clock
200-free relay makes state consideration cut as boys swim team grows
The clock starts. Freshman Brennen Johnson dives into the water and takes off down the lane. Johnson flip turns and comes back with a lead time of 27.34. Freshman Ray Guerrero dives into the water right after and comes back around. The clock reads 55.3.  Sophmore James Long goes in. Freshman Sullivan Dial waits for Long to come back down the lane. Long finishes with a time of 29.34 leaving Dial to finish out the relay. Dial jumps in as the anchor of the team. He touches the timing pad and finishes with 28.27. The clock stops.
On Sept. 5, Dial, Johnson, Long and Guerrero swam the 200-free relay in 1 minutes 52.92 seconds at the Liberty North swim meet, earning them a state consideration cut.
According to Long it was something they will never forget.
"It's really something that I never pictured myself doing," Long said. "I never thought of myself as an athlete when I was swimming my freshman year. But now that I am a part of this team, it's really cool to say that."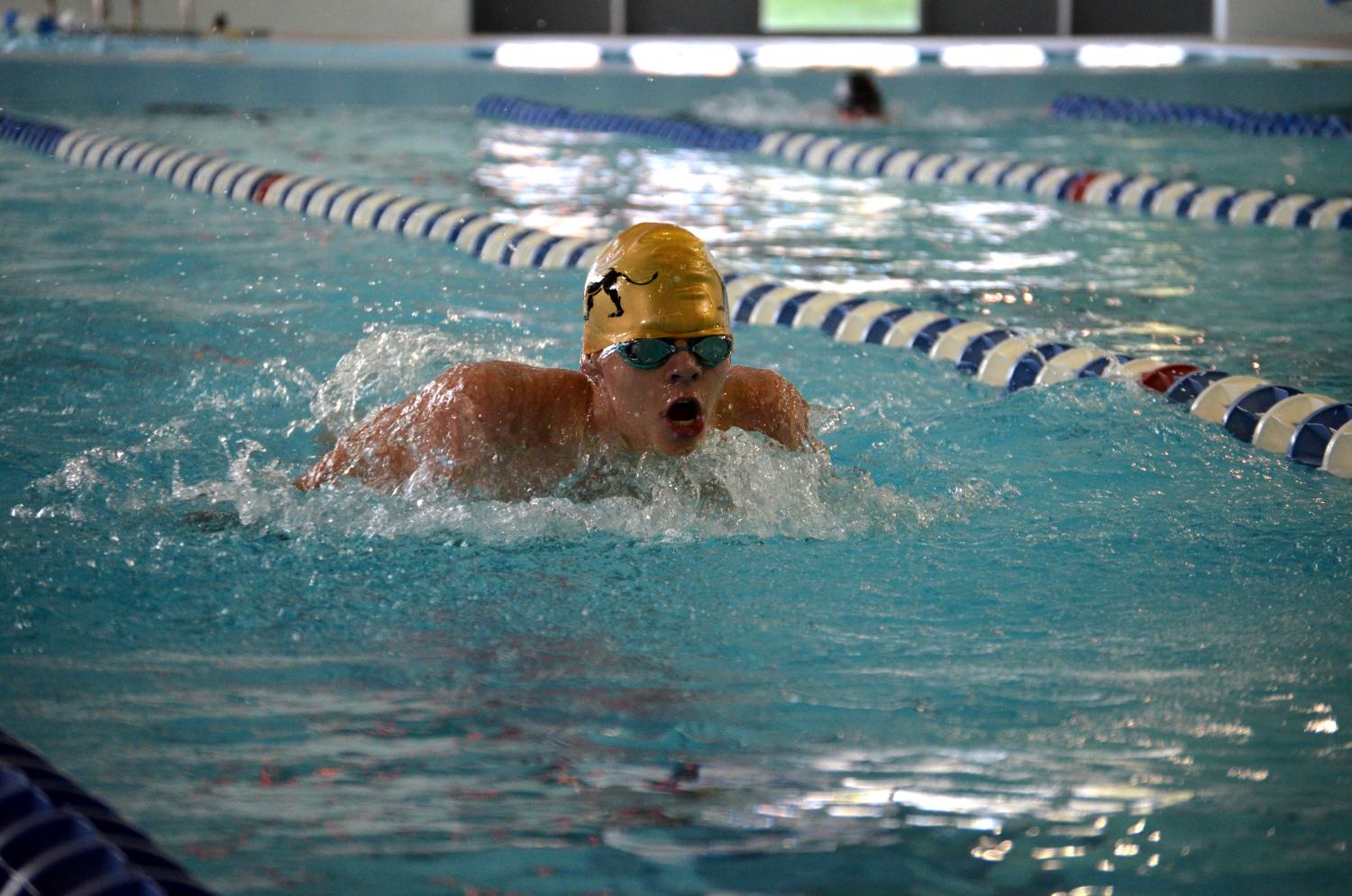 Although many know history teacher Ian Johnston as a teacher, the swimmers know him only as their coach. When his team made the state cut, Johnston said that he was thrilled.
"It felt great [to make the cut]. I knew they could do it," Johnston said. "They did a dual meet which is really nice because you usually swim faster at invites, but it was great."
Now that the boys are considered for state, they want to be a force to reckon with in the water.
"They have work to do now because another team surpassed them. They take the top 32 teams and I think we're ranked 33rd now," Johnston said. "They've got to get faster if they want to go to state. They've got their consideration timed, they just need to get faster, so that at the end of the year, they can be considered for that time."
In the past, the team struggled to recruit students. Swim was not recognized as a big sport. Now, the swimmers feel that they finally have their shot at being known around the school.
"It feels good because I know this is the first time in a long time that this school has had something like that," Guerrero said.
Johnston, who coaches all four district high school boys' swim teams, is very happy with how the Winnetonka swim program is expanding and growing.
"Coaching all four teams is nice because it creates a kind of comradery between the schools and the district which you don't see very often in other sports," Johnston said. "Coaching Tonka is great because ever since I've been in the building, we've almost quadrupled the team. Having this many guys is great and being able to compete at a higher level is nice too, especially when you get a relay that works together as a team and we can qualify. That's fantastic."
Having a team of strong freshman and sophomores is exciting according to Johnston, who said that he looks forward to seeing their improvement in the water over the next few years.
"Having a young team, one that you can mold and shape is nice as a coach," Johnston said. Just continuing to work hard during practice and get better at relay exchanges."
Johnston is working to help the team improve by giving them a variety of different workouts.
"We change up our workouts a lot. Some days we do anaerobic workouts which are short-rest, high-sprint. Sometimes we do aerobic workouts where we do long swimming," Johnston said. "We have race days where we get up and do our lactate workouts, so I kind of run my program like a college program where we're doing all sorts of different things every day."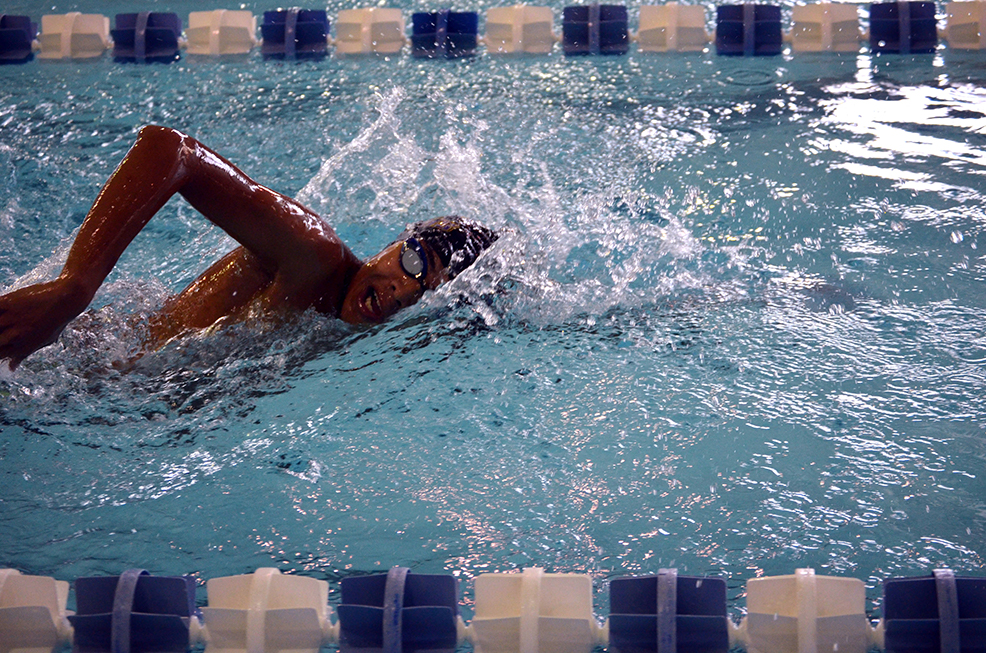 Johnston said the team benefits from working-out with the other three district schools.
"Part of the thing for the swim team is it's called S.N.O.W," Long said. "Which is Staley, Northtown, Oak Park and Winnetonka and it's really cool knowing who you are up against, especially since Winnetonka hasn't had anyone to compete with. It's really cool."
Although they compete against each other, according to Johnston, the chemistry between the schools is strong and supportive.
"The boys all get along well with kids from other schools," Johnston said. "They cheer each other on even though they're competing against each other. When it comes to scores and things like that, the atmosphere is that they're really cheering each other on, so it's pretty cool."
Although he treats all four teams equally, Johnston said it's personally rewarding to have the relay team that made the consideration cut come from Winnetonka.
"I always call them 'my guys'. It's a lot more special when the building that you're in succeeds because usually it's been the other schools that have been succeeding the most in swim, especially Staley and Oak Park," Johnston said. "It's good to see Northtown and especially Tonka rise to the occasion."
Although having state swimmers is good, Johnston said that the most rewarding part of coaching is seeing athletes learn and doing something different.
"I love to [coach]. Just take for example a kid from Northtown that a month and a half ago couldn't swim," Johnston said. "If I would've thrown him into the dive-well, he would have probably drowned. And this past Saturday, he swam his first 50 freestyle off the blocks without touching the bottom or the ropes at all. And that for me is why I coach. I mean, it's great going to state and, I mean, I've coached a state champion in the 100 breaststroke in a state champion relay. That's great and all, but when you have a kid that learns to do something that he'll carry on for life, that's what you do it for."