From sidelines to starters
Varsity soccer players find their place on the football team
Until this year, senior Hayden Weatherman always sat on the sidelines during football games, cheering on the team with the rest of the student body. Now, Weatherman is a starting varsity kicker for the football team.
At Jamboree on Aug. 11, starting varsity kicker senior Justin Hansen suffered a Grade 6 sprain to his shoulder. It was a season-ending injury. With no one to take Hansen's place, special teams coach Jared Buckman sent out a Tweet inviting soccer players to a tryout on a Sunday night.
"As far as soccer goes, all you do is kick," Buckman said. "Without having to coach them a lot, they already have the position and technique. They [soccer players] were the first people that we thought of."
Now, Weatherman – along with junior Cesar Ortiz and senior Lauchlan Ferris – can all be found on the football field after they finish soccer practice.
"With a soccer ball you want to kick it right in the middle to get a nice line drive and you want to lean over the ball so that it doesn't go over the uprights," Weatherman said. "With a football you want to kick under the ball so that the ball goes up over the uprights. You have to lean back more. It's a whole different style."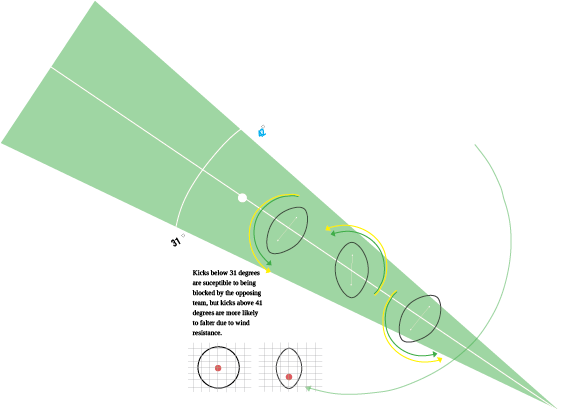 Buckman is helping the kickers learn a new style of kicking, which he said is easier than he thought it would be because of his personal background in soccer.
"One of the good things is that a lot of us [coaches] grew up playing soccer. I played through eighth grade," Buckman said. "We can use that knowledge of how to kick to help train them from soccer to football."
Kicking technique is not the only difference between soccer and football though.
According to Ortiz, there is more pressure to perform during football games because of the extra attention that the kickers receive.
"The first time [I kicked] I think it was at the Smithville game. I was definitely really stressed out," Ortiz said. "They want it far and deep, down the field. I think I did pretty good, but I could feel my heart pounding; just seeing all of those people looking at you, getting ready to kick the ball and if you mess up, all that weight's on you."
Weatherman also feels stress during games, which he attributes to the memorableness of kickers' plays.
"You get in once a game and the pressure's completely on you," Weatherman said. "Everyone remembers the missed field goal. No one remembers the dropped pass or the missed block or the holding call or the pass interference or the cornerback that gave up the touchdown, but everybody remembers the missed field goal."
Although Ortiz has only played in a handful of games, he says that he has slowly been getting more used to the pressure.
"It has gotten better now that I've been kicking a lot more in front of people. I've kind of gotten used to it; just focusing on the ball and kicking it," Ortiz said.
Choosing the soccer players as starting kickers wasn't a hard decision for Buckman, who says that he will play his strongest players no matter where they come from.
"We're going to play the best kickers we have, so if that's a football player then great, but if it's a soccer player then that's great too," Buckman said.
Although the soccer players have only been practicing football since mid-August, their progress has earned them the respect of the coaches.
"It's been a learning curve but they're doing an awesome job," Buckman said. "I mean, they're not scared of getting in there and having 11 guys rushing at them with pads on. They're great people. They're so willing to learn. They're not just saying 'Oh, I already know how to kick a ball. I'm good.' They're not shy about asking questions and that's amazing.""
Finding a place on the football team has its challenges, but according to Ortiz, those challenges are worth the experience of representing Winnetonka on the field.
"I love it," Ortiz said. "Doing two sports at once, it can be a little stressful, but I find it more rewarding. It keeps me occupied more. It's a lot of fun, but at the end of the day you have to take it very seriously because football is a sport and we want to win and represent Tonka the way we should."