Griffin Grounds glow-up
A complete review of the new menu at Griffin Grounds
Last year, Winnetonka began a new project: a little coffee shop out of the library named Griffin Grounds. Today, the humble shop has grown extremely popular amongst students. Clocking in at over five gallons of milk used a day, and 30 to 40 orders delivered each morning, it's no surprise that SPED teacher Larry Magariel claims business has tripled since last year.
Last April, SPED teacher Dale Brown applied for and received a grant which enabled the school to add onto their menu. Over the summer, the space that used to house the thrift store outside the cafeteria was transformed into the new Griffin Grounds.
While the menu and shop location have changed, the direction of the cash flow has stayed the same. Money from Griffin Grounds goes straight to field trips for the SPED students and Miss School Miss Out.
Hot Coffee $1- While I'm not a huge fan of coffee, I approve of this coffee. It is not too strong and there is a great balance of flavors available. The Vengence is bitter for black coffee lovers, while the KC Blend is light and sweet and the Brazillian is the perfect in-between. The best part is that it arrives in a timely manner, giving you just what you need to hit the books in a great mood. The downside is that the coffee arrives scalding hot and remains undrinkable for a half hour. But overall, the coffee is a nice treat. I rate the coffee an 8/10.
Iced Coffee $2-  A recent poll of 100 students deemed iced coffee the true victor; it is most students' favorite drink from Griffin Grounds. Junior Kirsti Greene is obsessed with the iced coffee. "I like iced coffee in general. And they're flexible with how you want it," Greene said. "The coffee shop people in general are very sweet." You can get your coffee however you would like it, Griffin Grounds is always busy, but never too busy to add a little extra milk upon request. She rated it a 6.5 out of 10.
Iced Tea $1- I've never really liked tea of any kind, so rather than giving you my biased opinion, I found someone who does like tea, junior Katie Marshall. "It tastes like a mixture of peach and green tea," Marshall said. "It's cold, so that's a pro. It's also very sweet, even if you didn't have all this sugar." She gave her drink a 7/10.
Hot Cocoa $1- I've always been a hot cocoa fanatic, which only makes the school's cocoa harder to resist. The cocoa and milk blend together in a medley of winter cheer and peppermint chocolate flavor. The peppermint flavor shot makes a splendid treat to amp you up for the holiday season as well. My only complaint is that it occasionally tastes a tad watered down. However, it will still be a delight on chilly fall mornings. I rate the hot cocoa a 9/10.
Frozen Frappacino $2- This drink is a personal favorite among Winnetonka students, and upon trying it, it's not hard to see why. It has the smooth creamy flavor without the bitterness of regular coffee, with a nice icy kick to jumpstart your morning. It is fantastic and I love it! I rate the iced coffee a 10/10.
Strawberry and Banana Smoothie $2- Getting a smoothie whenever she can, junior Annie Pedrino has fallen in love with Griffin Grounds' new strawberry banana smoothie. "It's so good, everyone wants it. That's why you have to wait to get it," Pedrino said. The smoothie is one of the new drinks on the menu, and students all over the school can not get enough. In fact, you have to wait until class starts to order one because the demand is so high. "It tastes more like strawberry, which is why I like it. They also put whipped cream on it, which makes it a lot better," Pedrino said.  She rated her drink a 10/10.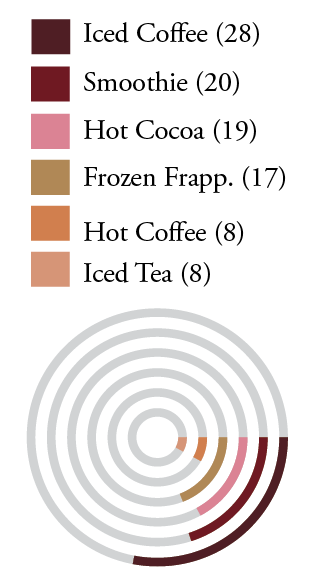 Hot Apple Cider $1-  I've never tried apple cider of any kind before. But now that I have, I'm glad I did. It's like drinking cinnamon apple pie and it is beautiful. While the first few sips were rather sour, it got smoother as I continued to sip. I can really see this drink going hand in hand with Thanksgiving dinners and on chilly December nights. Hot apple cider is basically my life now. The only thing I didn't like was the first sour taste, but it didn't ruin the drink for me. I rate the cider a 7/10.Graphic by Katie Bullock