Views for the eclipse
Students travel to get the best view of the eclipse
August 29, 2017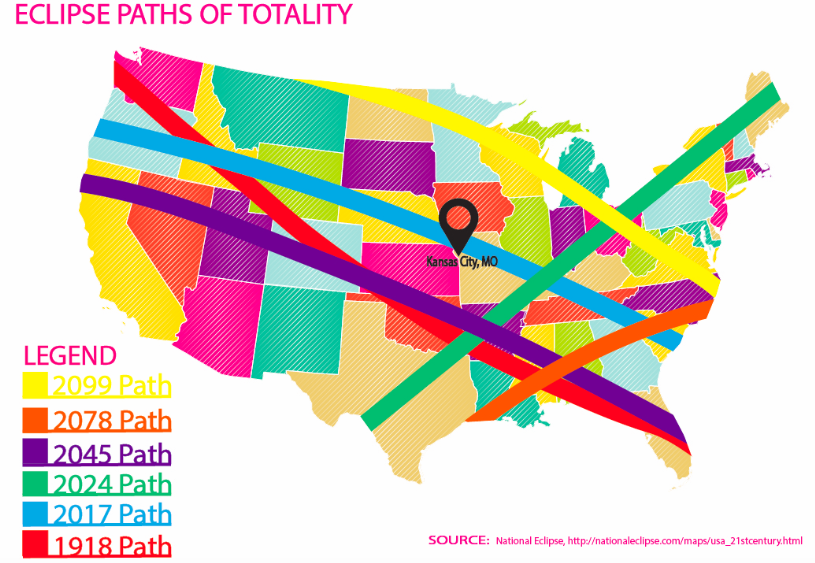 Elizabeth Payton
The eclipse on Aug. 21 was a once in a lifetime moment for staff and students. For some though, it was not only about the eclipse but about where to get the best view.
The eclipse was observed on the football field by most of the students and staff. Some students, like Junior Emma Jameson, were called out by parents to view the eclipse with family somewhere else or traveled to a better location due to weather.
"[We] drove out to a little city called Boonville," Jameson said. "Me and my stepdad went to go see the eclipse. We went to Norborne, MO originally but it was cloudy and rainy so we decided to go east a little bit."
Jameson had mixed emotions about not being able to participate in the eclipse viewing at the school.
"I enjoyed spending the day with my family," she said. "But watching the eclipse with friends would have been just as fun."
Jameson said that although the drive was long, the beautiful scenery made traveling for the eclipse worth it. 
"The drive was a little much, but it was fun to go on an adventure and make memories," Jameson said.
The eclipse is something Jameson said she'll never forget.
"It was beautiful because it was something you see only once in a lifetime," Jameson said. "It was unique to see the day turn into night and then back again."
Senior Jerry Keeny also traveled for the eclipse. Keeny wanted to spend time with family during the eclipse but opted to stay closer to home by going to Charleston Harbor, which is located on 71st Terrace and North Brighton.
"I actually left school during third block to go on top of this hill across from Charleston Harbor," Keeny said. "It was this beautiful view of a once in a lifetime event."
Location had everything to do with Jameson's and Keeny viewing of the eclipse. Jameson went to Boonville because it was clear and it was right in the center of the path of totality. Also because of her location, she was able to observe for 2 minutes and 39 seconds. Whereas here at Winnetonka's location, totality only lasted for 27 seconds.
Even though the eclipse only lasted a couple of minutes, it was a very exciting moment for both Keeny and Jameson. Keeny encourages people of all ages to see an eclipse if they have the opportunity because it is a very special thing to witness.
"I encourage everyone to see an eclipse if they can," Keeny said. "They should cherish and enjoy it because it's a very special thing to witness."