Experiencing the eclipse
Students and staff watch the once-in-a-lifetime event
August 29, 2017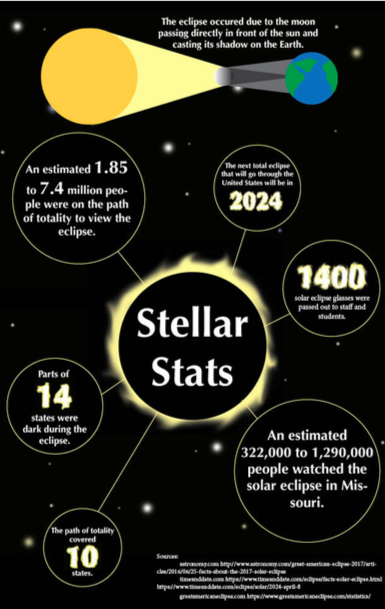 For the first time in 99 years, Kansas City residents got the chance to view a solar eclipse from their homes on Aug. 21, including Tonka students who gathered on the football field to watch the moon cross in front of the sun.
Although total solar eclipses happens about once every 18 months, because the shadow of the moon covers only a small portion of the Earth, they are very rare to specific locations. In fact, the last solar eclipse to pass near Kansas City was in 1918, 53 years before Winnetonka first opened its doors.
"It was happening here in Kansas City and that's a once in a lifetime thing for people who can't travel," junior Halle Clapham said. "I was super excited because I am a total geek about stars and the solar system so this happening right here was awesome."
The North Kansas City School District provided solar eclipse safety glasses to all of its nearly 19,500 students so that they could view the event. On the day of the eclipse, students had an extended fourth block during which they were released to view the eclipse from 11:45 until 1:45.
The eclipse served as an educational opportunity according to Clapham, who had multiple teachers use the event as a way to get students interested in space science.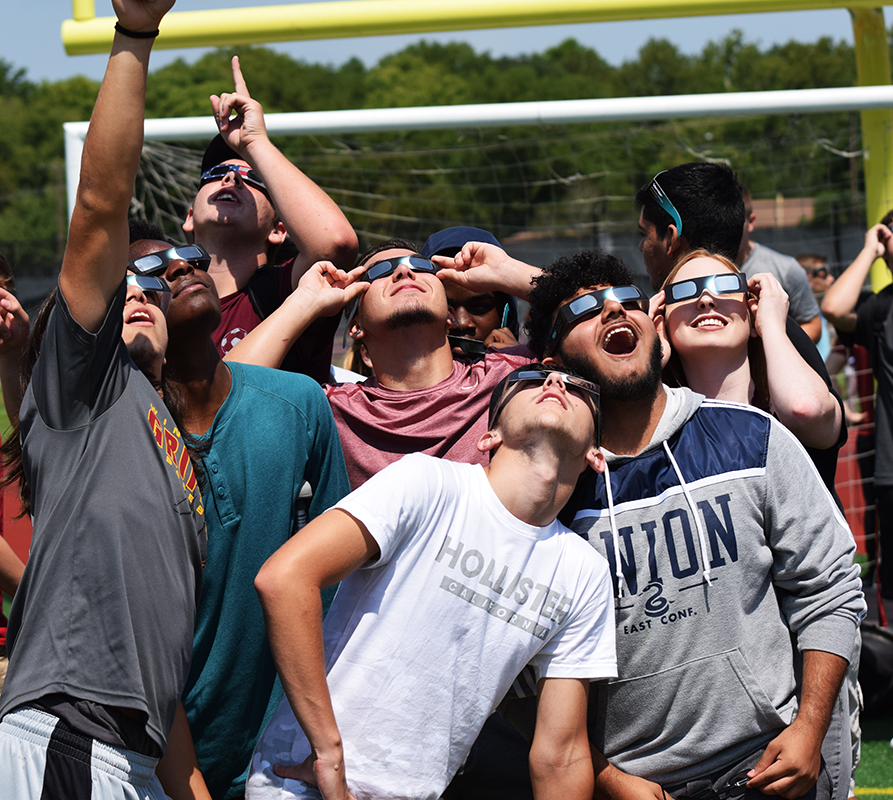 "Mrs.Tiefenbrunn had this whole Powerpoint and we did a worksheet with it," Clapham said. "She gave us some tips on what to look for when it was happening; like how the animals would be confused and think it was nighttime."
During solar eclipses, the lack of light causes many environmental changes since totality mimics twilight. Nocturnal animals come out, and other animals go back to their nightly shelters. In some areas, the temperature can drop as much as 20 degrees.
"I think eclipses are really cool because you're not used to it becoming night in the middle of the day," Clapham said. "Every once in awhile I could tell it was getting darker. I noticed there were crickets chirping and a couple of birds flying."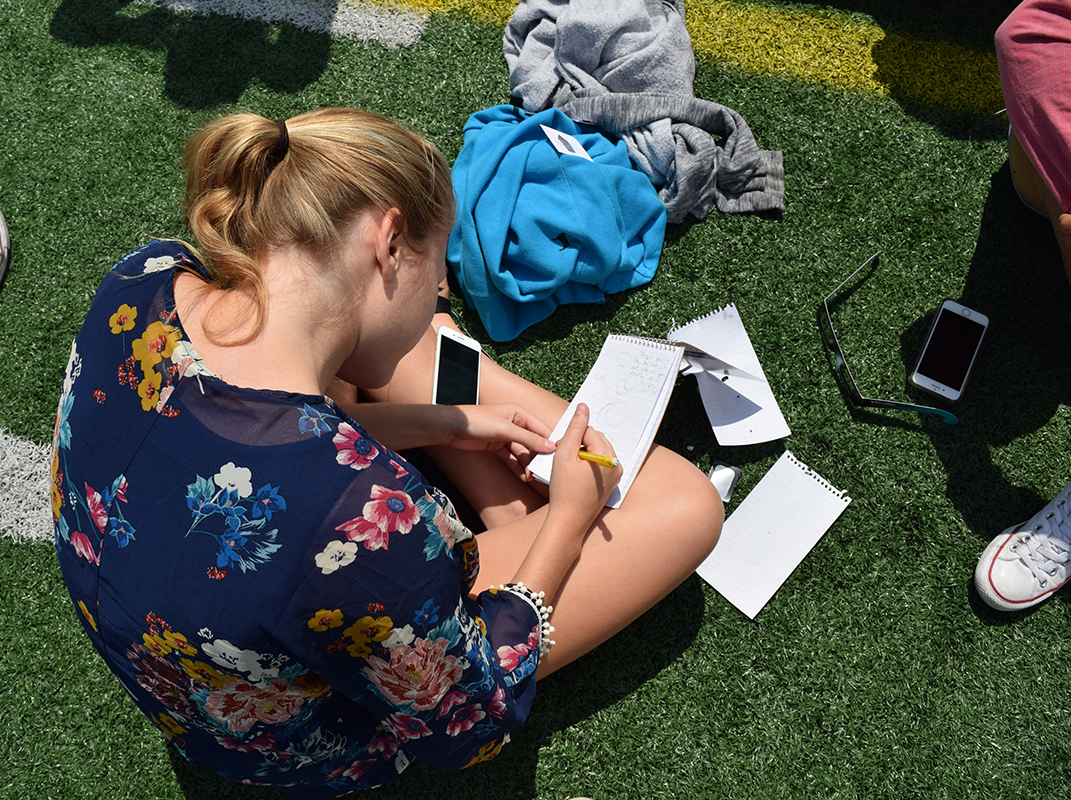 Although the eclipse may not have made any lasting impacts on the Earth, for people like Clapham, the experience of watching themoon block the sun was
"I used to go outside every night with my dad and look up at the stars. We had an app on our IPad that would tell us where all the stars were and what their names were and what constellation they belonged to," Clapham said.
"To look at the sun was incredible. When it was totality, I just looked around and it was this 360 degree view of the sunset. It was so beautiful. I was like, 'Wow, this is the best day ever.'"
The next total solar eclipse that will be visible from Missouri occurs in 2024.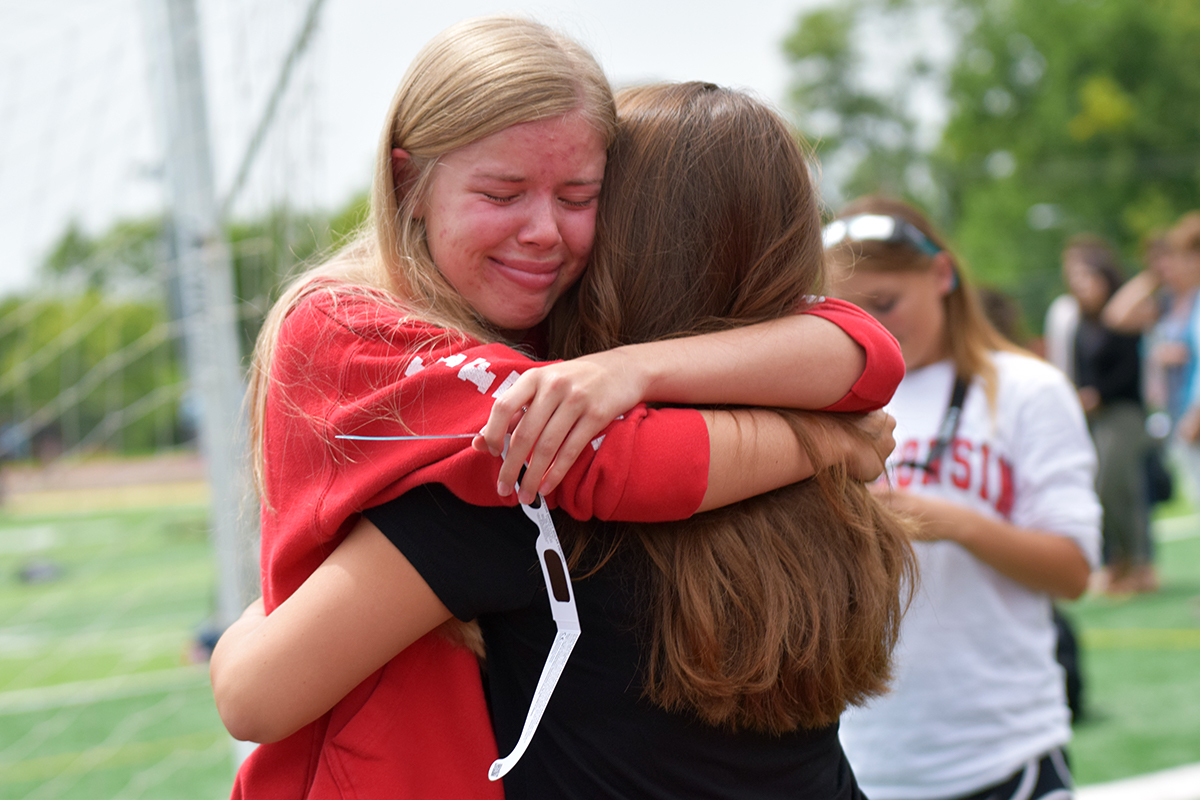 Views for the eclipse
Students travel to get the best view of the eclipse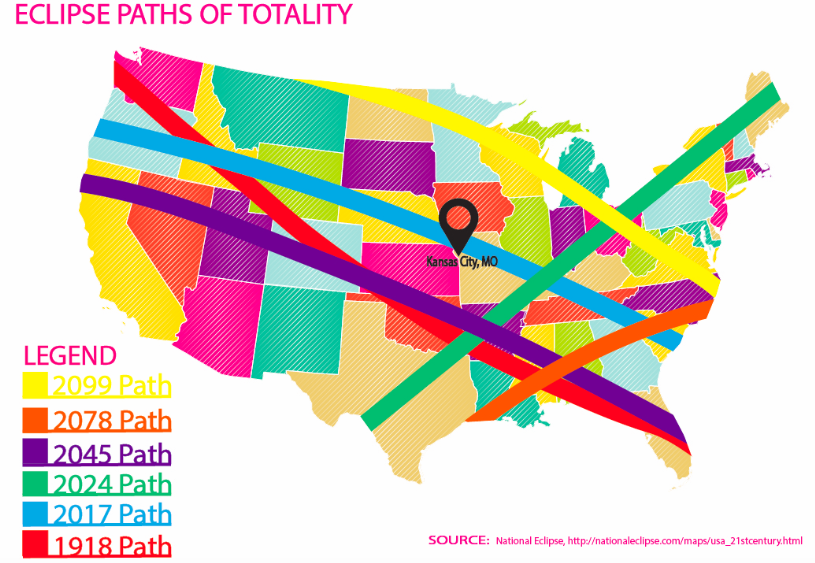 Elizabeth Payton
The eclipse on Aug. 21 was a once in a lifetime moment for staff and students. For some though, it was not only about the eclipse but about where to get the best view.
The eclipse was observed on the football field by most of the students and staff. Some students, like Junior Emma Jameson, were called out by parents to view the eclipse with family somewhere else or traveled to a better location due to weather.
"[We] drove out to a little city called Boonville," Jameson said. "Me and my stepdad went to go see the eclipse. We went to Norborne, MO originally but it was cloudy and rainy so we decided to go east a little bit."
Jameson had mixed emotions about not being able to participate in the eclipse viewing at the school.
"I enjoyed spending the day with my family," she said. "But watching the eclipse with friends would have been just as fun."
Jameson said that although the drive was long, the beautiful scenery made traveling for the eclipse worth it. 
"The drive was a little much, but it was fun to go on an adventure and make memories," Jameson said.
The eclipse is something Jameson said she'll never forget.
"It was beautiful because it was something you see only once in a lifetime," Jameson said. "It was unique to see the day turn into night and then back again."
Senior Jerry Keeny also traveled for the eclipse. Keeny wanted to spend time with family during the eclipse but opted to stay closer to home by going to Charleston Harbor, which is located on 71st Terrace and North Brighton.
"I actually left school during third block to go on top of this hill across from Charleston Harbor," Keeny said. "It was this beautiful view of a once in a lifetime event."
Location had everything to do with Jameson's and Keeny viewing of the eclipse. Jameson went to Boonville because it was clear and it was right in the center of the path of totality. Also because of her location, she was able to observe for 2 minutes and 39 seconds. Whereas here at Winnetonka's location, totality only lasted for 27 seconds.
Even though the eclipse only lasted a couple of minutes, it was a very exciting moment for both Keeny and Jameson. Keeny encourages people of all ages to see an eclipse if they have the opportunity because it is a very special thing to witness.
"I encourage everyone to see an eclipse if they can," Keeny said. "They should cherish and enjoy it because it's a very special thing to witness."
Earth had a pretty good run
By Gage Rabideaux
*THIS PIECE IS ENTIRELY SATIRICAL AND DOES NOT INTEND TO OFFEND OUR AUDIENCE.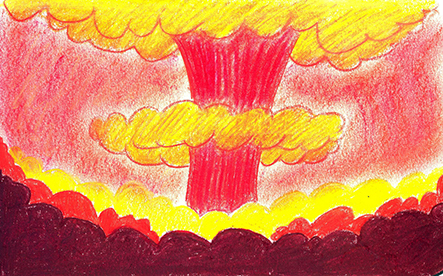 Reports of certain doom have been flooding the media since the eclipse. Students and teachers alike gathered with their loved ones on Aug. 21 on the football field to watch the moon pass over the sun. Since the spectacular celestial phenomenon took place, the public now believes the world is rapidly coming to an end.
"I think I'll take this opportunity to continue to procrastinate," junior Dee Lay said. "I love being able to put off my responsibilities in a relaxed state.
Yet that tiny little voice in my head always comes back and tells me the world isn't actually going to end, then I procrastinate in an intense and stressed state."
Like Lay, the rest of the public insists on making rash decisions, citing their belief that Earth is barreling headfirst into an undeniable Armageddon. Wild actions are already beginning to take place. So far, students have already been observed: watching a ten-hour reading of the Bee Movie, stealing candy from helpless children, writing fanfictions, and falling in love with baked potatoes.
"I ate a burger for the first time in 42 years," sophomore Jim Ratt said. "Normally, I yell at a picture of myself for dinner, then I spoil myself and lick an apple for dessert. Now that Earth is hurtling into sure destruction, I just had to know what happiness tasted like. Now that I know, I can't go back; grease has stolen my soul. I've found joy, it is tangible, it is a chicken nugget."
Surprisingly, the public has quickly become accepting of their immediate annihilation. People are using the world's end to justify their stupid decisions. Students are bringing the unhealthiest of snacks to wild parties, where they snort ungodly hard drugs, such as raw Kool-Aid powder and Pixy Stix sugar, like the devilish beasts they are. Meanwhile, others like freshman Kay Oss are now spending the vast majority of their time on the wrong side of the law.
"I've already torn the tag off my mattress that specifically told me to not tear it off," Oss said. "I don't know what possessed me to do it. I've turned into an animal. But the coppers can't throw me in the slammer if there's no slammer to throw me into. I'm living off the grid where no one can find me now. I ca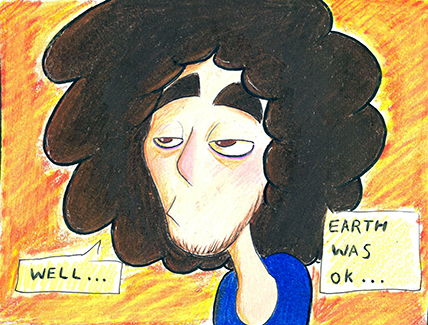 n't take any chances anymore, not when I'm being this reckless."
While no one is exactly sure when the world will finally end, students and staff are taking full and total advantage of their supposedly unfortunate situation. Rather than getting broken up about the end of the world, students are celebrating; maybe something can be learned from them. Instead of weeping about the end, they laugh about what happened in life. Or maybe I'm just looking too hard into this and we're all just finding excuses to be lazy.
The eyes of the eclipse
Key Club collects eclipse glasses to send to foreign countries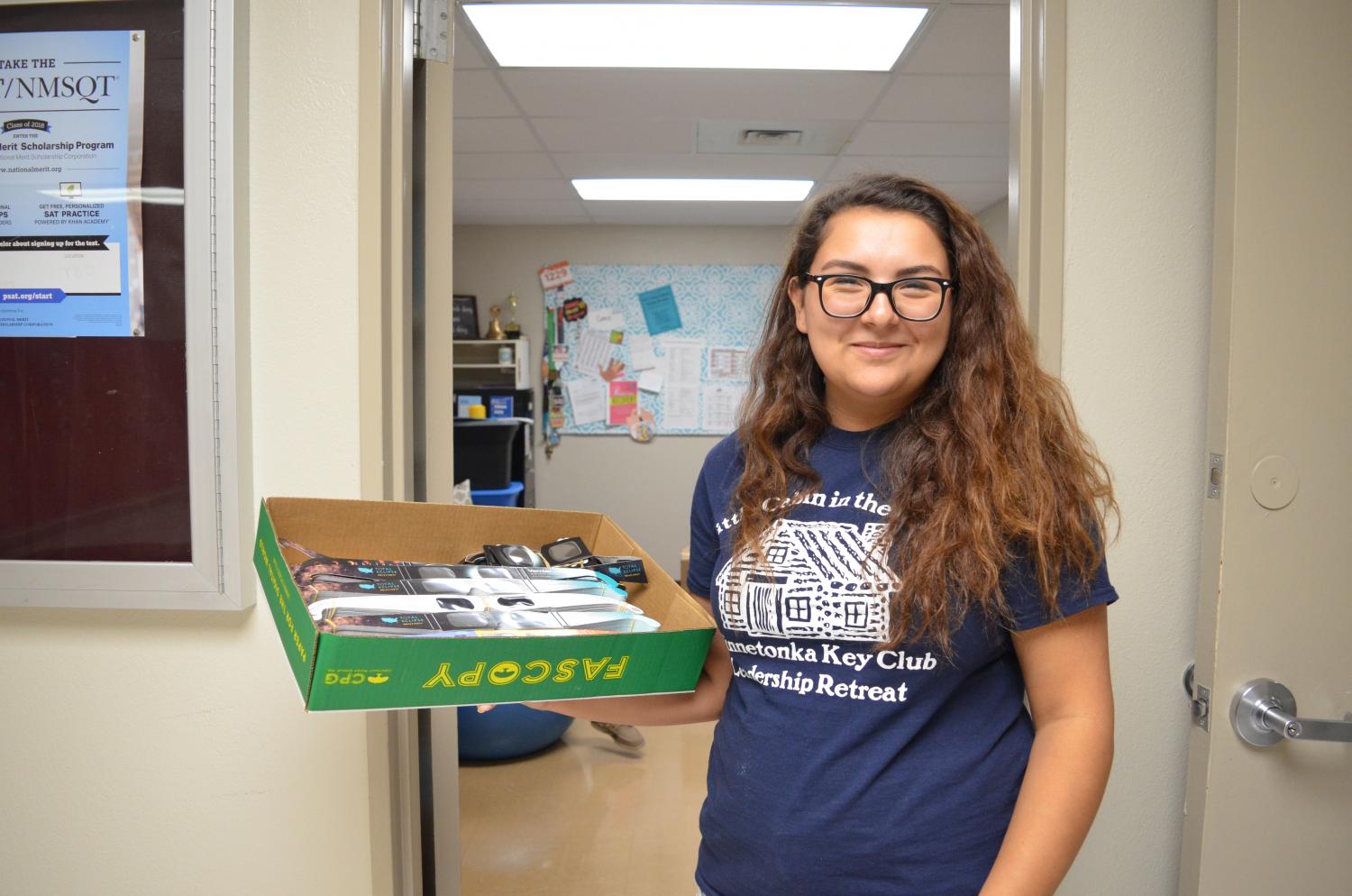 Key club is collecting used eclipse glasses until Aug. 29 to donate to those in Asia who will be viewing another total eclipse in 2019.
"There is an eclipse that is happening over Asia in 2019, so the glasses that we didn't use or that were recycled should be able to go to someone instead of wasting them," senior Key Club president Hannah Hernandez said.
To help with sending these glasses out internationally, Key Club has teamed up with Astronomers Without Borders (AWB),an international organization that brings together people from around the world who share a passion for astronomy.
"We are taking them [the glasses] to a collection site in the city market,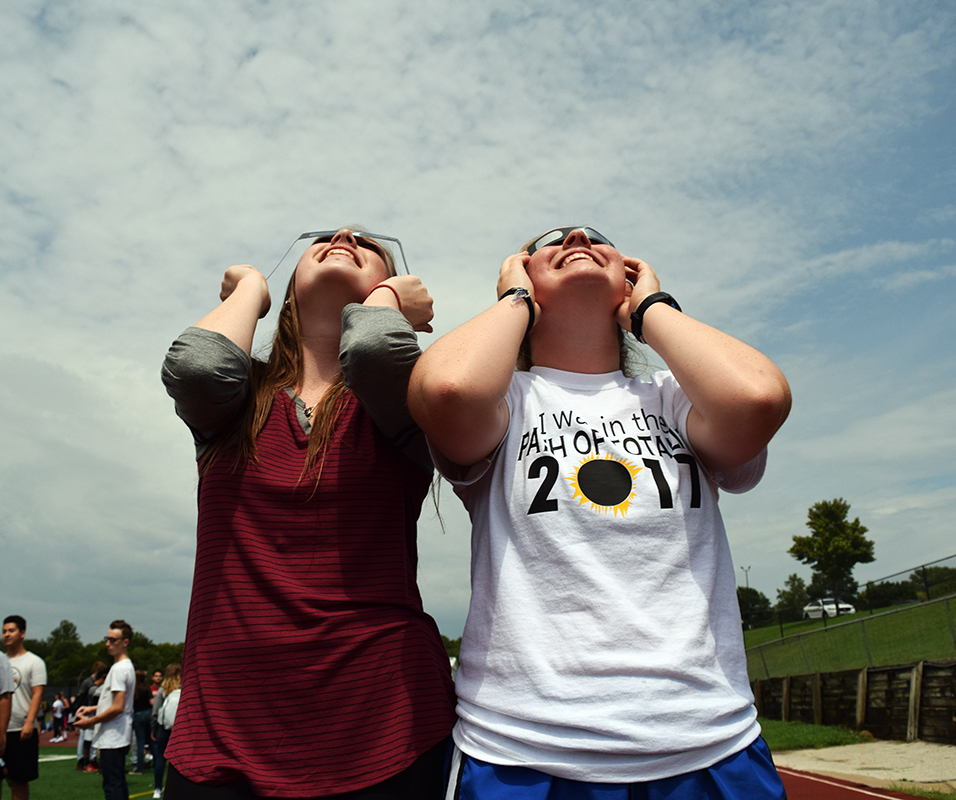 them as a city collection after Labor Day," Hernandez said.
and they [Astronomers Without Borders] are sending
According to Hernandez, Key Club believes that instead of wasting eclipse glasses, Americans should give them to those who need them. Throwing the glasses away would mean that more people would have to spend money to get new ones. Key Club wants Asia to be able to enjoy the eclipse, which is why they are sending out the glasses.
"This project is important because through Astronomers Without Borders, these children can now see a beautiful act of nature and live through a learning opportunity while still being safe."
Eclipse safety glasses protect people's eyes from the sun's harmful rays. The glasses have a thin layer of metal inside of them allowing people to still see the eclipse but without danger. Physics teacher Brice Jensen said the value in the glasses is the metal covering on top of the paper.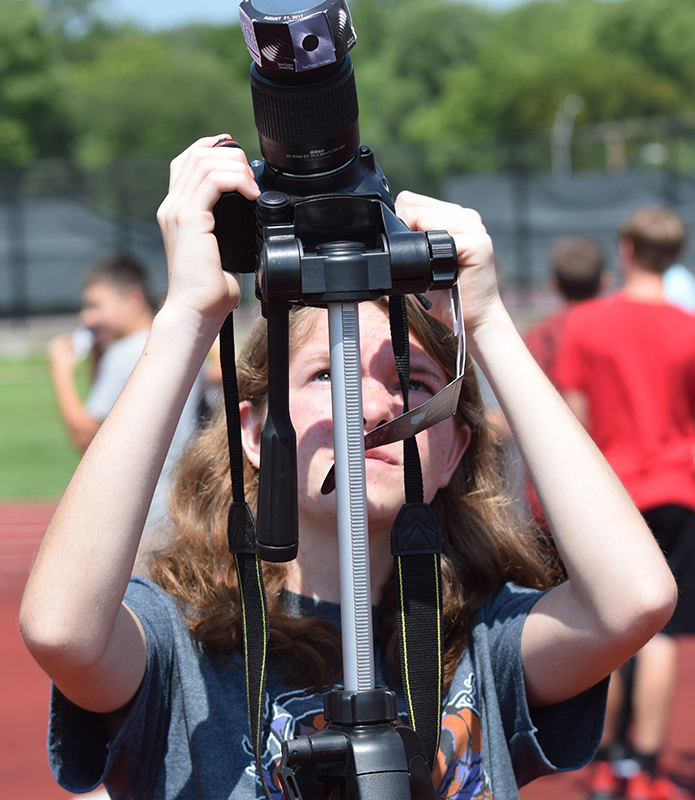 "It's protecting your eyes from looking at something but still allowing you to observe the eclipse," Jensen said.
When humans look at the sun, their pupils contract and block too much light from entering the eye. However, when humans look at the sun during an eclipse, their pupils dilate (open up) because they perceive it to be night since the moon is in front of the sun. When the sun's rays that are not blocked get into people's eyes, it cooks the their retinas and cause people to go blind.
It is important that eclipse viewers in Asia wear these glasses so that they don't hurt themselves. Key Club's mission for the project is to make sure that this also provides a learning opportunity that can foster curiosity and a love of science in those who will be the future of our world.
"This project is important because an eclipse is once in a lifetime experience that everyone should have the opportunity to view," Hernandez said.