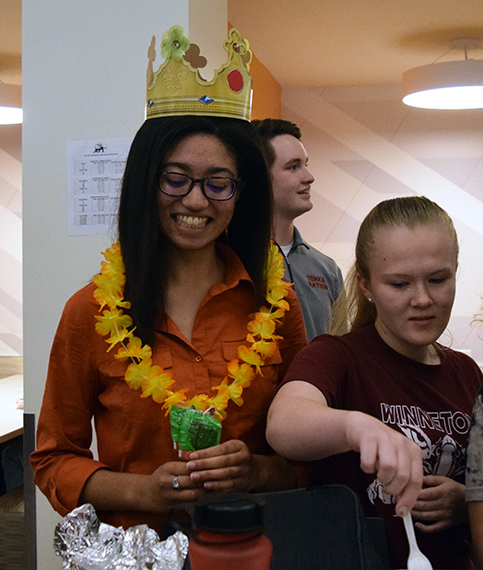 Katie Bullock
Q: What activities are you involved in?
A: "I am a member of Key Club. I'm currently in the Winnetonka production of Aida. I'm on the Superintendent's Advisory committee. I'm in NHS."
Q: How did you feel when you were nominated for Homecoming court?
A: "Really pretty honored and taken aback. I mean, all of my friends are awesome and they deserve the world and I thought that if it went to them I wasn't going to be bothered at all I was going to be so happy. They're all just really really awesome and I'm grateful that I've made such an impact on people here that that they would think to nominate me."
Q: Why do you think people nominated you for homecoming court?
A: "I'm hoping it's because they just see me around a lot. I like to smile at people and I hope that rubbed off on them and stuck with them."
Q: What qualities do you think that people should look for in the candidate that they vote for?
A: "I think it's really important to look for someone who is involved in a positive force in the school and is a positive face for the school. Also, someone who treats people with kindness and respect as often as possible, They can have their bad days too, but someone who really tries to spread positivity.
Q: What is your life philosophy?
A: "I think that homecoming king and queen for Winnetonka represent the best academic, extracurricular and moral standards. They really stand to exemplify all the morals that the PRIDE matrix puts into us and all the values that all the teachers here at Winnetonka are very adamant about encouraging.
Q: If you had a superpower that could affect the school, what would you have and why?
A: "If I had a superpower I would probably pick super-speed because it would give me more time to get more stuff done and I wouldn't feel so behind all the time. I just think it would be really cool to run around the school and no one would even know that I left."
Q: What advice do you have for underclassman?
A: "Surround yourself with people who are going to lift you up and motivate you during the hard times, because those times are definitely going to come and it's important on the days when you can't remember reasons to like yourself that they give you the reasons.