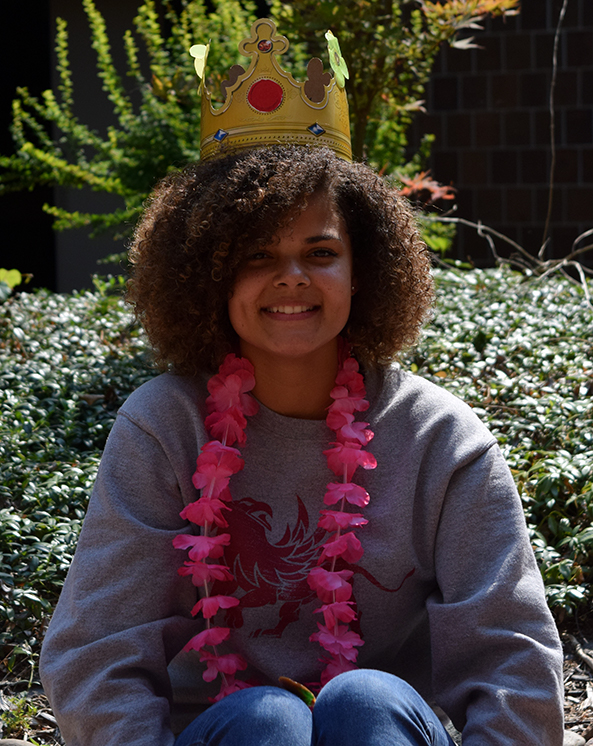 Katie Bullock
Q: What activities are you involved in?
A: "I'm in cheer. I'm actually the only senior cheerleader."
Q: How did you feel when you were nominated for Homecoming court?
A: "I was excited. I wanted to do it for the experience. I figure it would be pretty fun and now I get to do it so I'm super happy."
Q: Why do you think people nominated you for homecoming court?
A: "I have no idea. I know I nominated myself, I feel like everybody did that, and then people were telling me 'Ya, I voted for you,' and that made me feel pretty good."
Q: What qualities do you think that people should look for in the candidate that they vote for?
A: "Somebody that tries to always be happy and spirited. They don't have to be in any certain activity or anything to be spirited, but people should look for someone who's not negative all the time."
Q: What do you think that the homecoming court, especially the king and queen, represent?
A: "They kind of represent the school in a way, at least for their year. I think they really represent the positive stuff about the school, especially because I know that Tonka gets a bad rap. No one really recognizes the good stuff that we do, and I feel like they [the HOCO court] kind of show that side of Tonka."
Q: If you had a superpower that could affect the school, what would you have and why?
A: "I think I would have the ability to help everybody with their grades and stuff so that everybody would pass."
Q: What advice do you have for underclassman?
A: "Get active. Be active in school. Don't be afraid to try out for a sport or for theatre or anything. Get active because it's super fun and rewarding."