Hidden Heroes
A look into the mindset of behind the scene staff members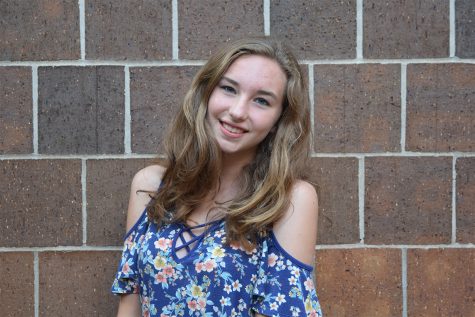 More stories from Katie Bullock
They are the people students rely on to stay safe and in a healthy environment. They are the ones students go to when they need their transcripts sent to colleges.
Their names: unknown to most students.
In a poll of 100 students, zero percent reported that they could name all of the custodians or food service employees. However, 100 percent of students said they believe these people are important. This survey showcases the tendency to forget those people who work behind the scenes to help students succeed. Despite the fact that so few students know their names, these staff members still come to work every day with smiles on their faces. Although the following are only three of many, they represent a larger group of hidden heroes working behind-the-scenes at Tonka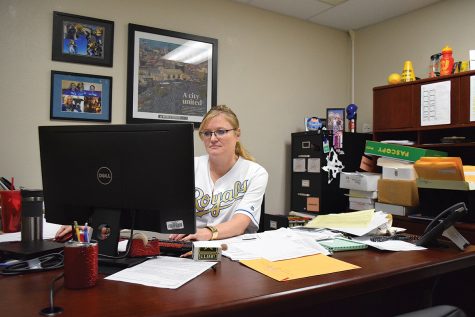 Registar Tabatha Wano
For every college bound senior, there are dozens of transcripts to be forwarded, scholarships to be proofed and letters to be sent. Registrar Tabatha Wano takes care of them all and a whole lot more.
"Any senior who is college bound has come to see me more than a few times this year," Wano said. "I see mostly upperclassmen, when they need transcripts to go to college or the military. I also meet with every new family that comes to Winnetonka to discuss their needs and residency verifications. Right now, I am also working on the commencement and baccalaureate programs."
According to Wano, her job is a source of joy in life despite the busy schedule and overwhelming work load that it comes with.
"I absolutely love it," Wano said. "I have been here 16 years and there is not a day that I am not excited to be here. Every day is just amazing. I never dread coming to work, and I know a lot of people find that hard to believe but I just don't. I love my job."
Wano believes her love for the job derives from the students that she works with, all of whom remind her why she does what she does.
"Working with the students is my favorite part of my job," Wano said. "It's very exciting [to see students get accept- ed to college]. I love watching students achieve things they didn't think were possible. That's what I'm here for."
For Wano, the job description of registrar means more than just sending tran- scripts, it means helping students overcome obstacles and giving them the ability to achieve their dreams.
"It is so fun to watch them [students] as they grow and progress through ages, to see them achieve things they never thought they'd be able to do," Wano said. "I am de nitely here because of these stu- dents and what they are achieving. And you know, we all have our own goals, we all achieve those little things that people don't even know we've overcome. I get to help students do that, and to me they're the real heroes."

Assistant Manager of Cafeteria Jaimee Henderson
Jaimee Henderson wakes up every morning at 4 a.m., gets her two chil-dren, Jenna (12) and Paige (10), ready for school, and goes to a school of her own.
Henderson, along with the rest of the food service staff, feeds nearly 400 stu- dents breakfast each morning along with about 900 students lunch each afternoon.
"A lot of these kids are on free and reduced lunch," Henderson said. " is may be the only meal they get in a day. I'd like to see us do more for them. One of the things we've been talking to Mr. Maus [in- terim principal Mark Maus] about this year is doing a food pantry as well as pro- viding meals just so that we can ensure that everybody is getting what they need. We [foodservice] just want to help the kids out."
Henderson sees her job as a way to make an impact on every student who walks through the lunch line.
"We're usually the rst people kids see in the morning if they're eating break- fast and our attitudes have an impact on them," Henderson said. "If you come in upset or angry, it will rub o on them. I'd like to see more participation in being positive from the whole staff . We have to make sure the kids have everything they need, part of that is being happy."
At the end of the day, Henderson walks out of the building with the same smile she walked in with, all because of her outlook on her job.
"I come to work every day and I look at every single one of these students like they are my own kids," Henderson said. "It's my favorite part of my job – seeing the students. It makes my day, every day."
Custodian Alma Perez
Every morning, students can find custodian Alma Perez going from door to door, checking every single one to ensure it is locked and the students are protected. ough it is her job to do so, she does it out of a caring spirit
"I really do love my job," Perez said. "I like talking to the students. ey always have something positive to say. So I check every door. I make sure the building is secure and the students are safe."
Perez began working at the school years ago. Since then, she has watched as three of her own children have graduated.
"My kids, my family, they inspire me every day," Perez said. "I try to give a good example to them and the other students. I care. I care if the microwave is working or if the school is clean. I care if they [the stu- dents] are safe."
Despite the dirty work, like empty- ing trash cans and cleaning up spills, Perez comes to work every day loving what she does and doing what she loves.
"I just love Winnetonka," Perez said. "Whatever happens here, no matter what, I love it and I love the kids. I don't plan on leaving anytime soon."