Dictionary Distribution
Key Club partners with the North Kansas City Kiwanis Club to give dictionaries to third graders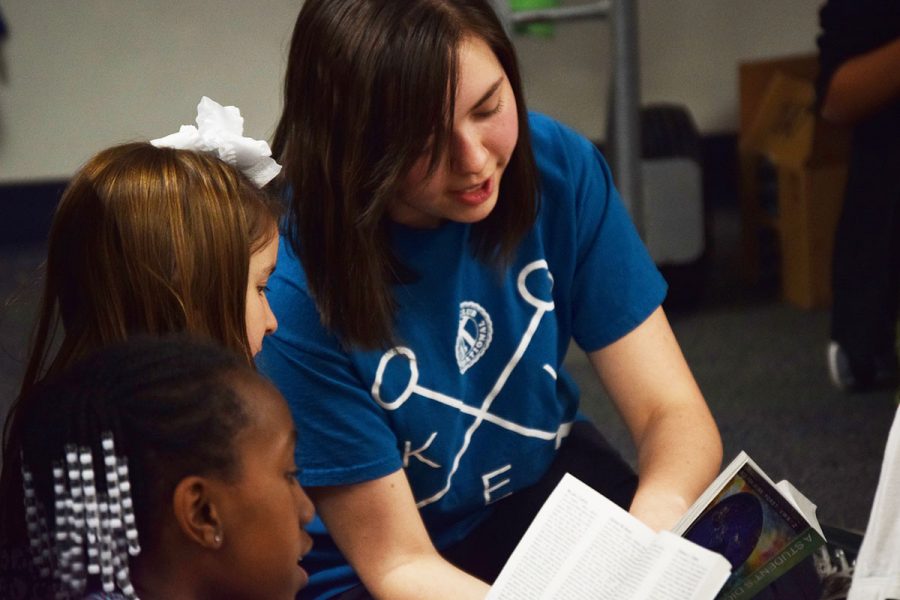 Key Club members visited Topping Elementary School to give third graders dictionaries provided by the North Kansas City [NKC] Kiwanis Club on March 16.
"We spent over $700 on dictionaries to go to the different elementary schools," Kiwanis member Dick Hinderliter said. "This is one of our [the NKC Kiwanis Club] favorite projects. We've been doing it for about 10 years now and all of the kids seem to enjoy it. It means so much to them. They really appreciate it."
Topping was one of eight schools to receive the dictionaries from the NKC Kiwanis Club who sponsors Key Club.
"I enjoy working with Key Club," Hinderliter said. "Our goal is to help children around the world and I feel personally that the world starts right here in our community so we ought to be helping kids in our community. I'm especially drawn to people who want to do community service because that's exactly what we want to do. When we found out there was a club for that – Key Club – it seemed like a perfect fit."
Sophomore Savannah Brown, one of the Key Club members who helped to distribute the dictionaries, said that the dictionaries are an important asset to the educational advancement of the third graders,
"It's so important [to give out the dictionaries] because it encourages these kids to continue learning and to actually want to learn," sophomore Savannah Brown said. "By having such a great dictionary at their disposal, that is filled front to back with a lot more than just words and definitions, they can expand their minds and get a head start on the rest of their educational careers."
According to Brown, the dictionaries are also a way to help encourage literacy and communication skills.
"With the dictionaries, the third graders have the opportunity to go beyond their current level of reading and writing," Brown said. "[They] have the ability to express themselves freely. Literacy is everything, as we grow older it becomes even more important to have mastered that because it is expected that our communication skills surpass the standard. Reading and writing are typically thought of as being on paper, but those skills translate to face-to-face communication too."