The art of concentration
Students prepare their concentration portfolios in AP Studio Art throughout the whole year
In AP Studio Art, the many worlds and concepts of creativity, determination, hard work and talent are expressed through art.
Students choose a theme to create a portfolio throughout the school year, containing 12 total works of art. This makes up what is known as the concentration portfolio. The concentration themes can vary depending on the individual. For example, one person's art can reveal the effects of hoarding while another student's theme can display oppositional forces that create irony.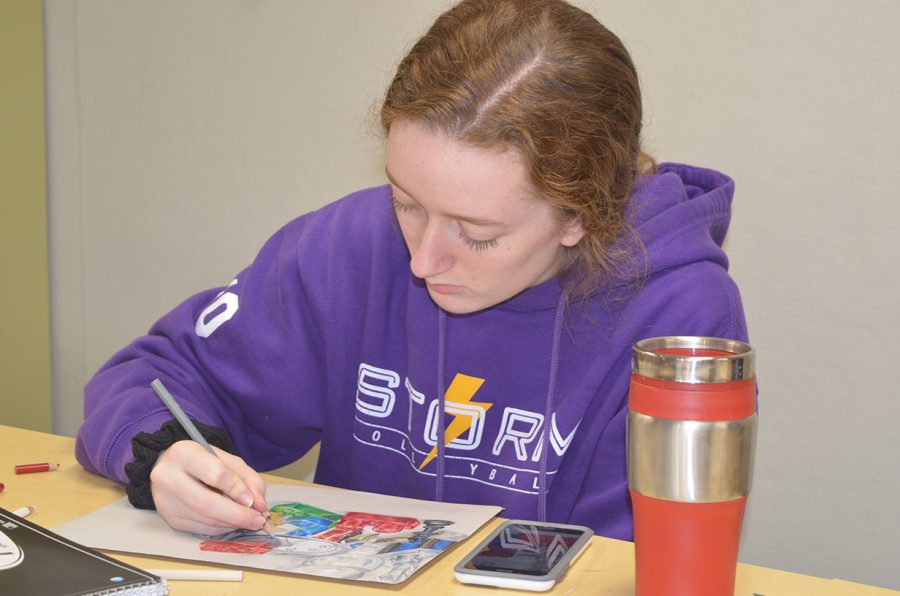 "It [concentration] really gives you the ability to do your thing," senior Marissa Foster said. "For your concentration, you pick your thing and explore it."
Junior Linsey Brewer decided to choose a topic that closely relates to her life.
"It [concentration portfolio] is drawings of my personal spaces that I feel comfortable in like my room and an art room," Brewer said. "It's just a simple thing that I can easily get motivated to do because it deals with my life."
Senior Sierra Arzola had difficulty deciding on a topic for her concentration portfolio.
"As of the beginning of the year, my concentration was involved with nature and human organs and incorporating them together," Arzola said. "But as the year went by I kind of stopped having any ideas for it, so it became hard again. We switched me to a new concentration, so now my concentration is focused on tea and tea bags."
Unlike Arzola and Brewer, senior Marissa Foster had a different challenge. She was able to stick to her concentration theme, but she still had struggled with the decision making process.
"It [finding a topic] was a little hard, but mainly because I couldn't find the right way to word it," Foster said. "I knew what I wanted to make art about, but I didn't know specifically what that was."
Foster's concentration topic compares being trapped and being free in reference to her life.
"I've lived my whole life being very different, always being the odd one out and always being expected to conform to other people's expectations," Foster said. "I just want to kind of embody that feeling of fighting the norms."
One of Foster's concentration art sculptures shows two heads, one covered in bright colors and flowers, and the other in a black mask.
"My first one [sculpture] is entitled 'Breaking Free' that really demonstrates the parallel between trapped by society's views, like how you feel when you're trying to do what everyone wants versus how it feels to let it all out and to be yourself."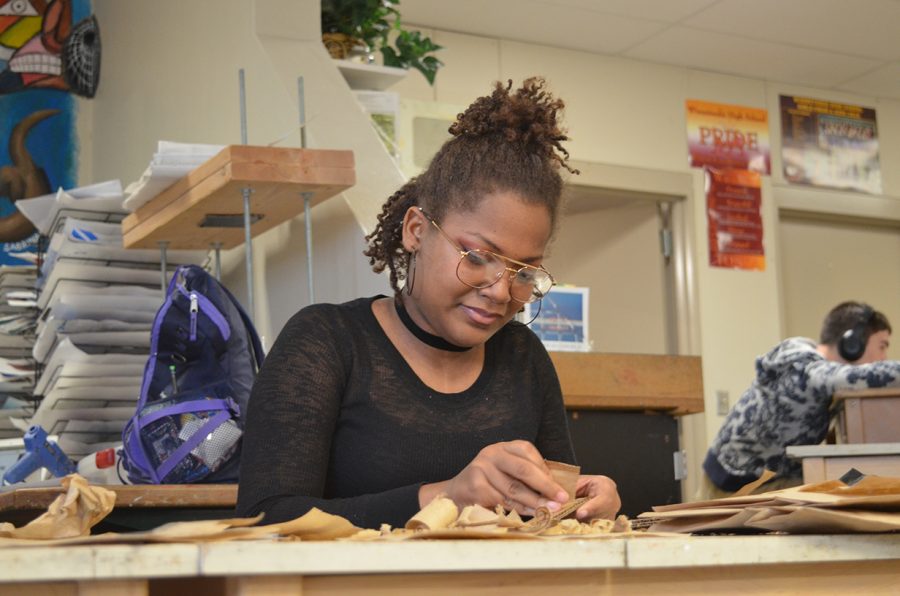 The students relate to one another as they have all struggled with staying motivated because they have to stick to the one topic.
"I have to focus on the same thing for the next year," Brewer said. "I've always done multiple stuff. One thing, that's new to me."
AP Studio Art not only focuses on the concentration portfolio, but is a course where students learn more than art, according to students. Being able to critique others' artwork is a learning process that is challenging, but is preparation for college.
"You have to be willing to experiment because more likely than not you're going to come in and have one specific thing that you want to do. But Sulzen, who teaches it, she's usually able to recognize your potential elsewhere," Foster said. "You'll have to be willing to listen to criticism and stuff like that to help you better yourself in art."
Foster agrees that the students are understanding and are a part of making the class enjoyable.
"We have a mutual understanding of the hardships that come with being an artist, but also the joys of it," Foster said.
Along with critiquing others' artwork: the students encourage one another.
"Every single time any of us has any doubts of our art and our skill level, there is always someone there that is going to tell you otherwise and tell you that you're awesome," Foster said. "We all just keep motivating each other and keep each other moving."
Students look forward to the challenges that come with being in AP Studio Art.
"I like the challenge," Brewer said. "I'm glad it's not a class I can slack in."
According to Foster, despite the difficulties of AP Studio Art, the effort involved is worth the outcome.
"I look forward to going into that class every single day. I've never had an instance to where I've not wanted to go to class," Foster said. "Doing what you love is possible with the right amount of effort."
Brewer gives advice to incoming AP Art Students about how to be the most successful in the class.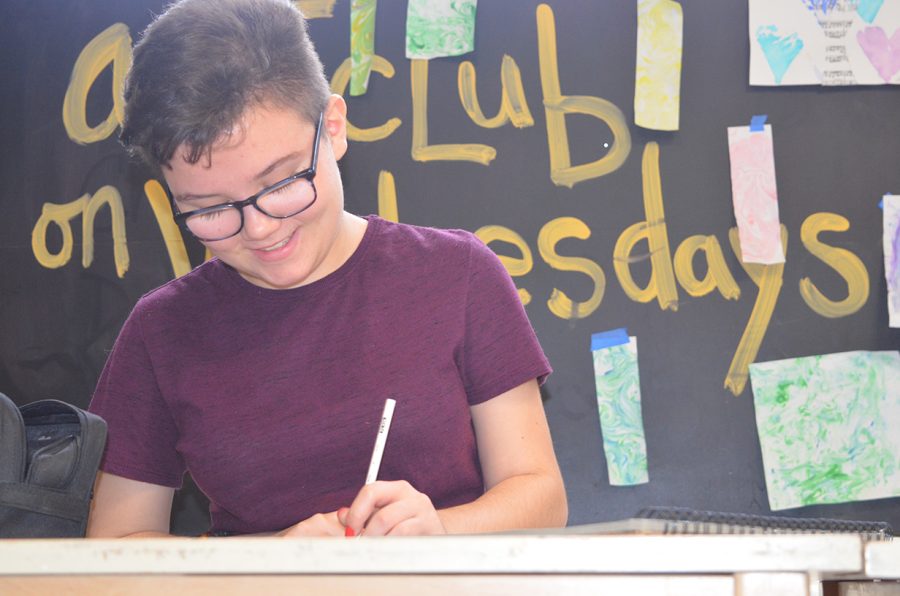 "Don't do what everyone else does," Brewer said. "Don't be generic. Don't draw flowers and hearts. Don't focus the concentration on something that's so generic. Be expressive, and do not fall behind. If you have a concentration due, just turn in something rather than nothing."
The environment helps students accomplish the challenges of choosing a concentration topic, staying motivated doing art on that topic and having to critique others' artwork.
"The atmosphere is really quiet and calm, and you connect with other people," Arzola said. "Everyone's working in their own world, in their own space and just concentrating on their own stuff."
According to Arzola, AP Studio Art as a different structure than the typical educational setup allowing creativity.
"We're not sitting here at a desk the whole hour just looking at the teacher while they talk or they're just showing us something," Arzola said. "We go to the front, we discuss our work, she tells us new ideas, we maybe experiment with new things and then we go back and we work individually or we get up and talk to other people and collaborate. It's something that's a lot different and it's good to experience."