Volleyball Victories
Coach Mike Espinosa is awarded the Peggy Johnson Lifetime Achievement Award
On Feb. 24 head volleyball coach Mike Espinosa will be awarded the Peggy Johnson Lifetime Achievement Award at the Missouri High School Volleyball Coaches Association Clinic in Columbia, MO.
"It's an award to honor the dedication, commitment, and sacrifices made to coach high school volleyball," Espinosa said.
Espinosa has gone to state as a volleyball coach six times in the last 30 years, making him the only Missouri coach to ever take teams to a state tournament in three different decades. But according to him, it was still a shock to be given the award.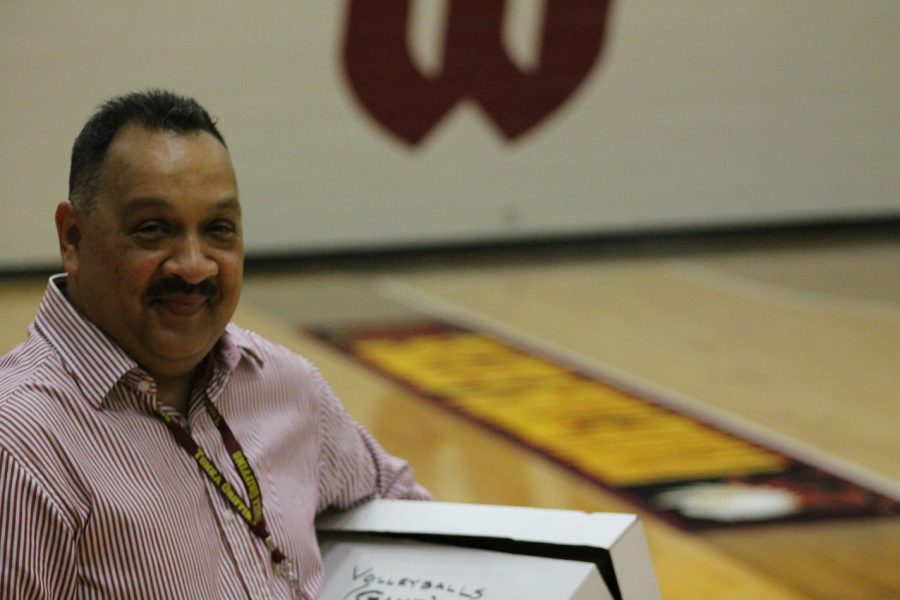 "I was sitting on my couch at home when the president of the association called me and told me," Espinosa said. "I was shocked because usually this award goes to people who have already retired from coaching but I don't see myself throwing in the towel for another five or ten years. I'm really just going to keep going until someone tells me to get off the court. I still have the passion for the game, so as long as the kids want to play I'll keep coaching, because it's the greatest sport in the world."
Receiving the award, which is voted on by all Missouri volleyball coaches, means a lot to the Espinosa.
"A lot of the names that have received it before me are really great people," Espinosa said. "It's an honor to be linked in with them."
However, Espinosa still believes that his biggest achievement is not an award but rather inspiring the young girls that he works with both on and off the court.
"I've had over 50 girls go on to play college volleyball," Espinosa said. "But I've had 24 who have gone on to teach and coach at the high school level. And that's probably my biggest achievement, motivating those girls to become teachers and coaches."
Sophomore Maggie Williams, who is on the varsity volleyball team, has seen Espinosa's encouragement and its effect on the team.
"He's really supportive," Williams said, "But he wants us to do well at the same time. He pushes us every minute of every game. It makes us feel together as a team, and even if we're down, if we're losing, we still stick together."
The energetic coaching style that Espinosa embraces helps to propel the team to win more games now than ever before.
"They only won six game last year, 19 total from the past three years, but we won 19 matches this year," Espinosa said. "That was really great to see, especially for the seniors because they've been down a few years, but now they have a bit more pep in their step."
Although he is a celebrated coach, Espinosa remains humble in that he does not value the awards he has received above the girls that make his teams what they are.
"It's not about winning. It's about achieving something," Espinosa said, "And sometimes achieving something isn't a matter of points gained or lost, it's a matter of the kids I coach, because those are the lives that I touch and that have touched me."