Eric Johnson introduced as new head principal
District reveals its pick for new principal at morning staff meeting
On Feb. 6 an early morning staff meeting was held before school in the Little Theatre to announce and introduce the new principal Eric Johnson, who will begin working at the start of the 2017-2018 school year.
Since the arrest of previous principal Matthew Lindsey last month, the district has been working with staff to appoint a new principal.
"We talked with the staff and students to put together the qualities that Winnetonka wants in a new principal. Based on that, we screened over 35 applicants, brought in four for interviews and Johnson just stood out among those four," North Kansas City School District Superintendent Daniel Clemens said. "He's a kid magnet, he has knowledge of A.V.I.D., he's got a great ability to create relationships with the community and he has instructional knowledge. Plus, he's the sitting principal of a school even larger than Winnetonka. Having that kind of experience is hard to beat."
Johnson has received numerous honors such as the MU College of Education Outstanding Young Professional in 2013 and was named one of the Columbia Business Times's, "20 Under 40," in 2014.
"I taught at Rockbridge High School in Columbia [Mo.] for three years," Johnson said. "I taught World Studies and the African-American Experience there as an English teacher. After that I became an assistant principal at Hickman High School for four years and then I became the head principal there for three years."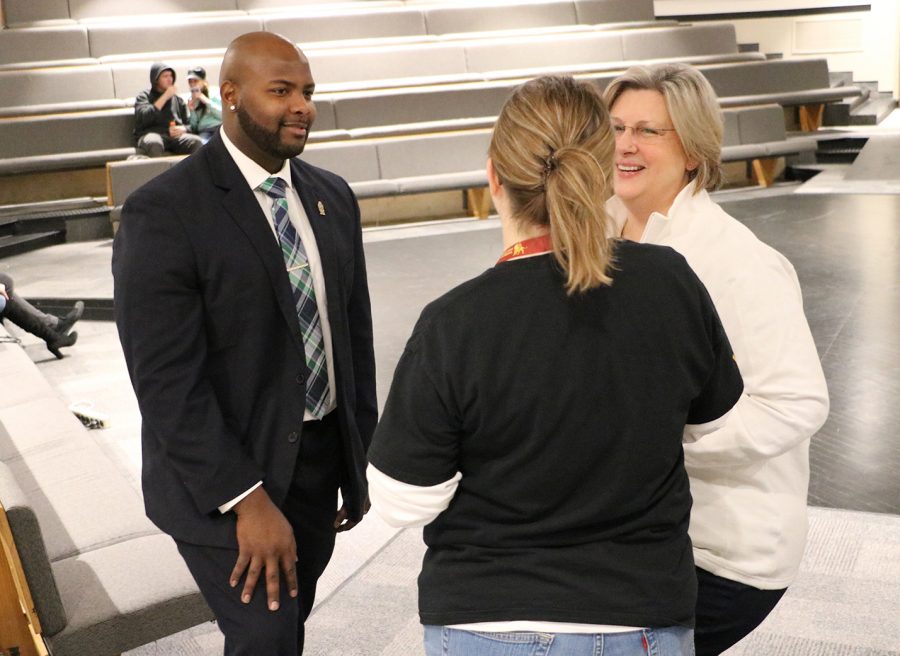 Johnson has a bachelor's degree in secondary education with an emphasis in language arts from University of Missouri. He also has a master's of education in curriculum and instruction and recently obtained his doctorate in organizational leadership after going through the MU fellowship program.
"I chose education as a professional field because I wake up knowing that each day is an opportunity to change the course of someone's life," Johnson said in his Linkedin profile. "Instructional leadership, relationship building, and systems management at the building and district levels are avenues that I use to ensure student success."
Johnson has also made a point to celebrate diversity in the school system during his three years as principal at Hickman High School, including addressing local protests that occurred on his alma-mater's campus in 2015.
"There are national discussions regarding social injustice that can be very beneficial to our progress as a  nation. However, instead of making progress, we can run the risk of these discussions further tearing at the social fabric of our nation if we take binary stance on topics….we have to seek to understand one another and our own positionality," Johnson said in a morning announcement to Hickman High School during the protests at the University of Missouri. "I chose education as a professional field because there are things about how we treat one another, view one another, and experience this world alongside one another that need to change. I invest in you [students] because you are the people I trust to change it."
Columbia Public Schools, where Johnson is currently employed, has also taken steps to close the achievement gap according to the Columbia Missourian. From 2012 to 2015 the graduation rate of African-American students within the district increased by 13 percent. According to Clemens, the prospect of having a principal who addresses the celebration diversity is exciting to both students and teachers.
"The [Tonka] students were very eager to have more diversity," Clemens said. "They wanted someone that knew them when they walked down the hallway and held higher expectations for students, someone that would be very visible."
Johnson is familiar with a diverse student population; 37 percent of Hickman High School's students are minority, compared to 39 percent of Winnetonka's students according to US News and World Report. For history teacher Ian Johnston, this is one of the most appealing aspects about Johnson in addition to his willingness to listen to students.
"I got a good feeling from him [Johnson]," Johnston said. "He's coming from a school that's the same size and demographic which makes me excited. I wanted a principal that would be grounded among the students, and from what I heard he sounded like he wasn't going to come in and shake things up too much. He was going to listen to the students and do what's right for them."
Listening to students before changing anything was something that Johnson emphasized during the staff meeting.
"I want to talk to students first," Johnson said. "When you step into someone else's environment it's smart to listen, observe and learn from them first. I want to talk to the teachers, figure out what they love about this school and also what they feel we need to do to continue progressing and then I want to do the same things with the students. I want to know what I can do to ensure that the students have an excellent overall academic experience here. I want to learn and listen about the depth of the school and then decide what my vision will be."
Math teacher Melanie Fender also said that being student-centered was one of the most important things to her and the rest of the staff.
"I'm really excited to work with him," Fender said. "He seems very energetic and very student oriented which is what we [the staff] were all hoping for."
Although Johnson is student-oriented he also believes that working together with teachers and administration is critical to the making of any school.
"I love students and I want to make the students feel like this is their place, but I also believe in shared leadership," Johnson said. "I cannot do this alone as a principal, my administrators and assistant principals cannot do this alone either. It is the leadership of teachers that makes schools great and it is the empowerment of emboldening of kids through teachers that makes a school fantastic."
According to Clemens, choosing Johnson as new principal was not only an important decision but a great one.
"I'm very excited about the future of Winnetonka High School," Clemens said. "I think that the sky's the limit, that once Dr. Johnson gets in here and starts to work with the students that this could be one of, if not the top high school in the state of Missouri."
Johnson will not start as principal until the beginning of the 2017-2018 school year, although he said he will try to be present at many school events up until that point.
"I am so excited, so excited, to be able to serve as your principal," Johnson said. "I know that you don't know me yet, but I hope I can gain your trust and that you will see from my actions that I am all for Winnetonka."